Effective types of employee training reduce employee turnover, drive employee productivity, creates a healthy culture built on feedback, and help your employees feel confident that they have what it takes to do their best work.
And as digitalization continues to occur at a rapid pace, the evolution of both the workplace and the expectations of employees are changing too. This requires the attention of L&D teams to focus on a plan to upskill employees for a digital age.
But it's not as simple as gathering staff into a conference room and giving them a three-hour lecture. For one, traditional learning approaches like lectures don't work — they're the least effective way of teaching and engaging employees.
In this article, we'll explore how to make employee training work for your company by looking at:
the challenges enterprises face as they upskill their workforce,

why employee training can be so hard to figure out, and

a snapshot of the employee training programs you can roll out across your organization
What are the biggest employee training challenges organizations face?
Reskilling & upskilling for a digital workplace
Complex enterprise software
Adapting to remote learning
Ineffective and outdated training methods
Lack of employee feedback on training
Measuring ROI of training programs
Scaling personalized training & development
Developing leaders from within
Busy employees finding time for training
Why Is Employee Training Difficult?
Part of the reason why employee training is hard to get right is that the modern workplace is changing.
Case in point: in 2020, when the pandemic struck companies had to beat a hasty retreat from the office and everything from stand-ups, weekly briefs, design sessions, company announcements, and even happy hours had to be done over Zoom.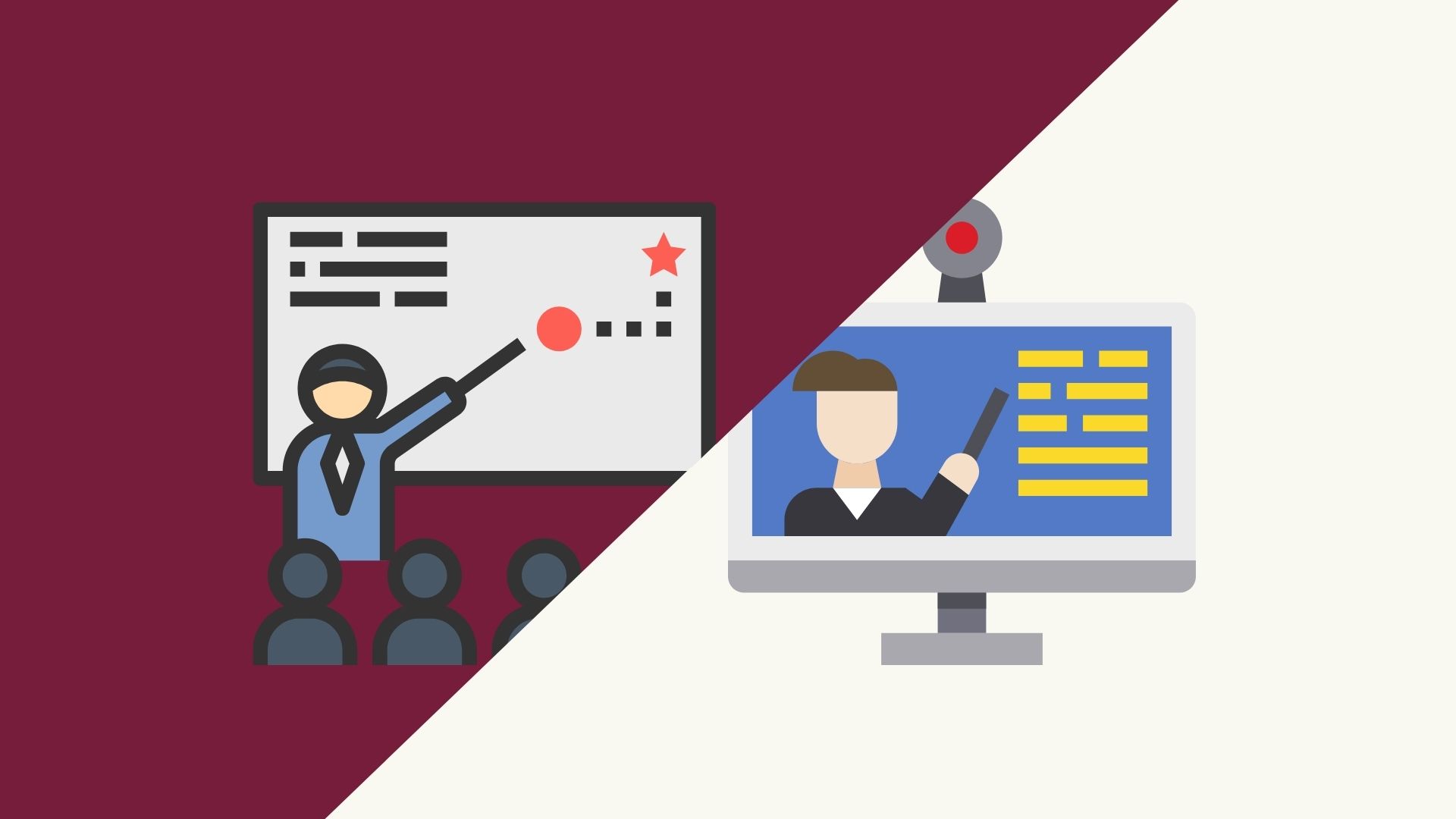 If you try to stick with your old, traditional methods of employee training and coaching programs, you may find it's no longer as effective and you might be looking for alternatives.
1. Employee training is not cut and dry
As you may have discovered, there's no right or wrong way to do employee training and companies have to figure out a model that fits their company culture.
Also, you can't throw money and expect it to go away: according to a 2019 Harvard Business Review survey, companies spend $350 billion a year on learning and development programs for employees. Little of that makes any impact, and the cost of employee training all adds up to a $13,500 wasted per employee.
Put it this way: if your company's headcount is currently at 100 employees, you will spend $1.35 million training them with a huge chance of not seeing any ROI.
Employee training is dynamic and programs have to be tailored to suit your company's culture, your current working model (onsite, remote, or hybrid) should be designed by stakeholders who're close to your staff and who understand where they need improvement.
2. There are numerous training options
Video conferencing, courses and certifications, off-site training, hands-on projects, 1:1 executive coaching, etc. There are so many employee training methods to choose from and each of those requires different levels of investment: so, how do you figure out what works best for your organization?
For instance, research shows that 1:1 executive coaching produces anywhere between 500% – 700% ROI for companies. But, before you call everyone back to the office for such a program, you might want to look at the financial implications and your employees' preference.
It's like that all over: whatever training method you opt for has positive upside but you need to make tradeoffs that may not sit well with decision-makers in your company or even your employees, for that matter.
3. Employees have diverse needs
If you've ever sat through a Zoom meeting longer than 30 minutes, you probably understand this one quite well.
After a while, Doug's son walks in and he has to leave for a few minutes to give him some candy. You can't wait for the meeting to end, and there are three others with their cameras turned off who almost seem unresponsive.
Different channels will affect your employees differently and will ultimately affect how much of whatever they're learning they can retain. So, the trick is to design multimodal learning programs employees can access through whatever channel they think is best, right?
That works great, except for cost and cohesion. It will cost a lot to invest in all those courses, certifications, and coaching programs instead of just going one-size-fits-all. The question remains: how do you scale your training program to accommodate everyone, or at least provided contextual help for the majority of your workforce?
Employees may go along with any channels made available but ultimately, their performance won't show significant improvement if they can't retain and develop what they've been taught.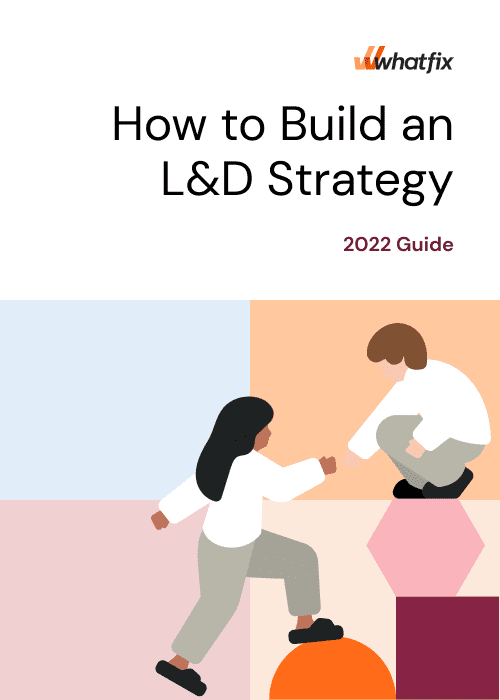 How to Create an Enterprise L&D Strategy in 2022
9 Top Employee Training Challenges Impacting Enterprises in 2023
We're going to further break down these reasons why employee training is so difficult into specific challenges enterprises face with employee L&D and how you can solve them to build a more engaged workforce.
1. Reskilling & upskilling for a digital workplace
In 2020, McKinsey surveyed some C-level executives and they estimated it would take them 454 days to increase support for remote work within their organization. When the pandemic struck, that timeline shortened and many completed the switch in just 10 days — 43 times faster than they had thought.
As remote work becomes the norm and companies go through digital transformation, there's a need to reskill and upskill employees so that they can stay on the cutting edge and understand how to continue to meet their job requirements in a digital setting.
Add to that the cost: a 2019 paper by WEF and the Boston Consulting Group estimates that companies have to spend roughly $24,800 on upskilling and reskilling initiatives which include funding learning materials and training for employees to develop subject matter expertise.
Now, companies have to juggle training programs designed for large numbers of their workforce, while trying to pony up the resources required to make it happen.
2. Complex enterprise software
The majority of enterprise software is unusably user-hostile. Salesforce has a UX from 2001, other enterprise CRMs aren't much better. The majority of enterprise software has a steep learning curve.
However, these tools are crucial keys for organizations to drive innovation and productivity. SaaS applications provide companies with the features and systems they need to automate routine tasks, improve productivity, and empower employees. 
A major challenge for organizations is how to onboard and train their employees on how to best use these SaaS applications – and provide ongoing development and support to empower these users to get the most out of these digital tools.
With a digital adoption platform like Whatfix, organizations are empowered to build in-app guided content to help provide contextual experiences for employees to become expert software users. 
With Whatfix, L&D teams can build:
Product tours

Interactive walkthroughs

Step-by-step tutorials

Task lists

Smart tips

Knowledge bases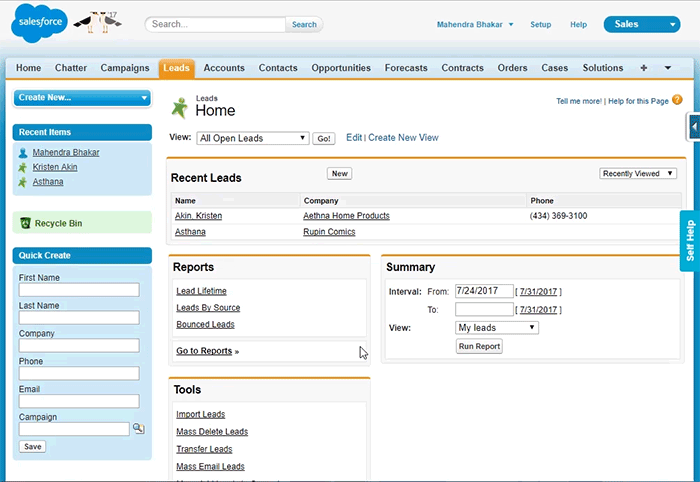 These contextual learning experiences are embedded directly into a software application, allowing employees to learn in the flow of work and receive on-demand support. L&D team and corporate leaders are able to then capture employee behavior data and events to understand how their enterprise software end-users are using these tools – allowing them to adjust their onboarding and training to accommodate gaps in their learning experiences.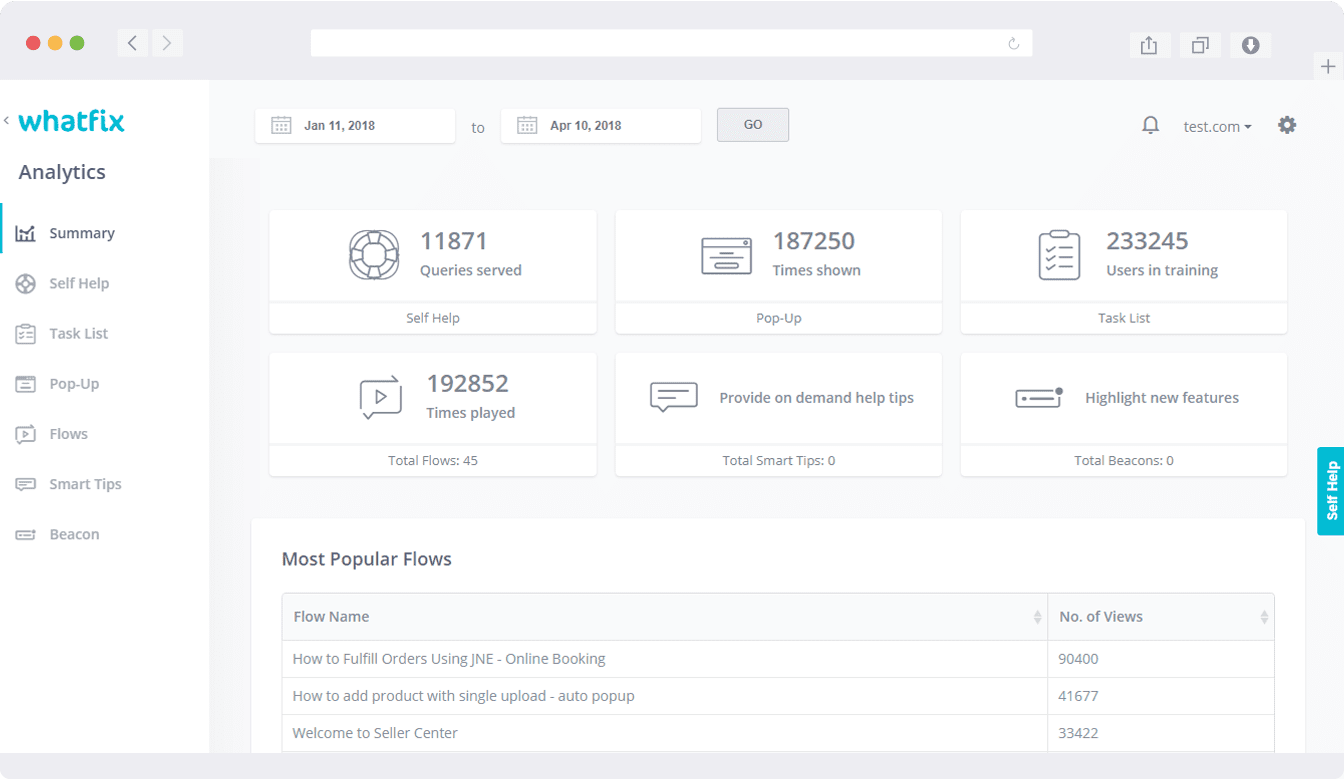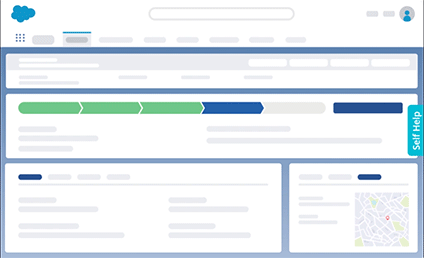 Create personalized learning & training flows for your enterprise apps with Whatfix
3. Adapting to remote learning
While technology giants like Apple, Google, and Meta insist employees will eventually return to the office, at least for a few days per week, you may not be able to weather the turnover if you insist employees should work onsite as a policy.
According to a survey by Bloomberg, 39% of American employees would consider quitting if they didn't have the option of working remotely, at least a few days a week. The only way forward is to adapt your planned learning programs for a remote audience.
That in itself is a huge challenge as you have to carefully test to figure out how to best engage employees remotely, roll out your remote learning strategy at scale, and customize it to suit the majority of your employees.
4. Ineffective and outdated training methods
Employee training isn't as simple as gathering staff into a conference room for a three-hour lecture — lecturing is officially the least effective way of training people.
Edgar Dale's Learning Pyramid visualizes how learning methods promote retention and not surprisingly, lecturing is at the end where listeners only retain 5% of what they've been taught. That figure keeps reducing as the memory curve grows and on a long enough timeline, it's hard to see any such training having an impact on employee productivity.
Companies that stick with ineffective training methods may make significant investments into training and equipping staff with the skills they need to do better, but they'll never get a decent ROI because their training methods only tick a checkbox but don't serve employees' needs.
5. Lack of employee feedback on training
If we agree that ineffective training initiatives only tick a checkbox without equipping employees with any long-term skills, it follows that feedback is required to assess what your employees are learning and if your programs are impacting them.
In the absence of a feedback loop, it's easy to continue running ineffective programs with large training gaps, putting the blame on employees for poor performance, and ultimately driving down staff morale.
With Whatfix, employees are prompted with feedback surveys, in the flow of work, directly when they engage with an L&D flow. This allows organizations to organically embed feedback loops into their training and derive real insights from their individual learners.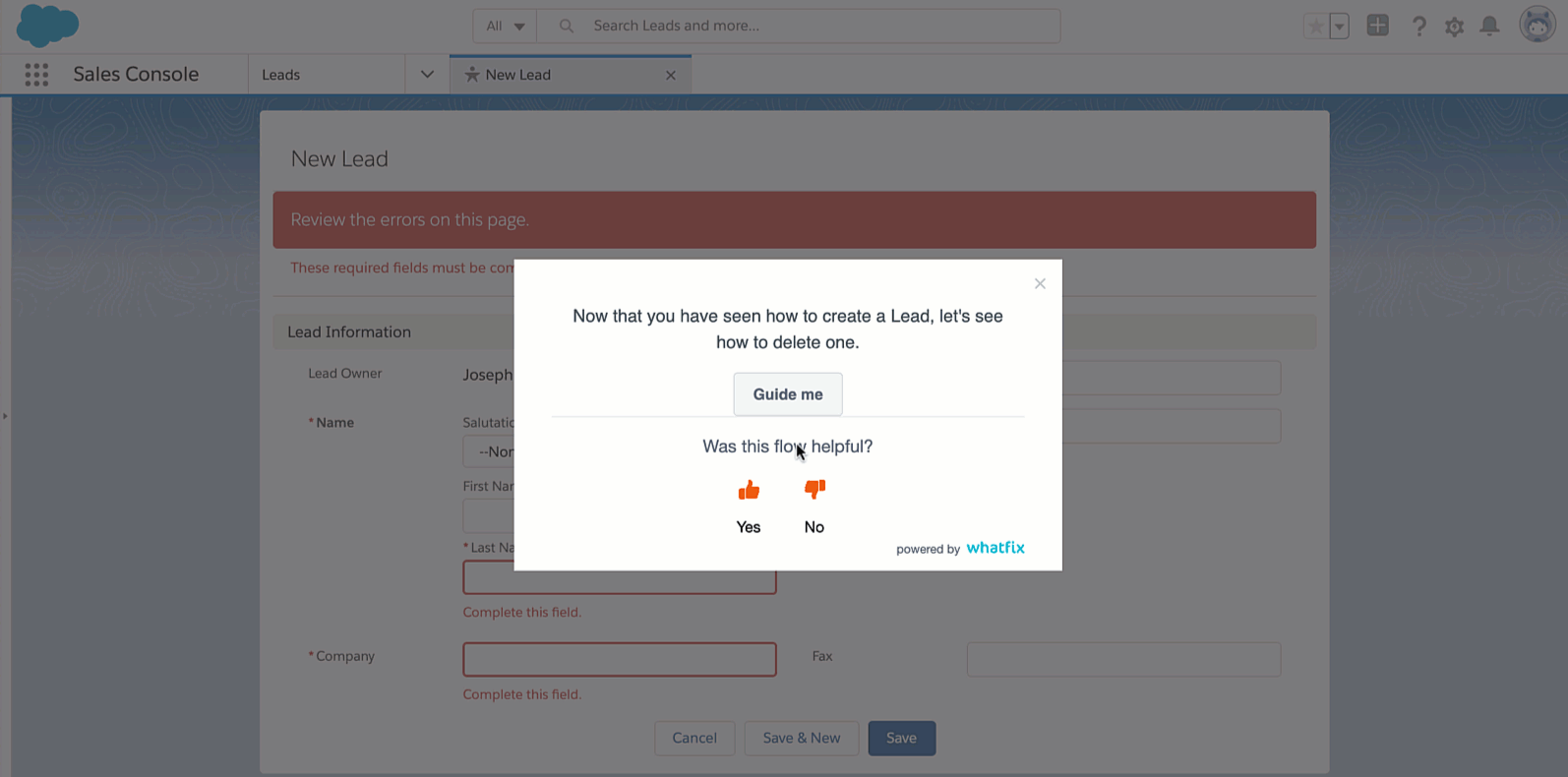 6. Measuring ROI of training programs
Management guru Paul Drucker noted that, "what gets measured, gets managed." As it were, it's a pointer that no matter how effective your training programs are designed to be, they actually won't be if you don't have definite metrics for tracking performance.
You can decide to use productivity, revenue, profit, or some other metric tailored to your company's structure but it's essential to define how a training program should increase performance and to track if it's doing exactly that.
7. Scaling personalized training & development
91% of employees want personalized training programs, and an even greater number (94%) would stay longer with a company if their employer invested consistently in their career growth.
Great, but how do you scale it? If you're training a team of five, you can easily opt for 1:1 coaching that educates your staff and tracks their progress proactively. But enterprise training programs are often designed for hundreds, if not thousands of employees.
It becomes a challenge when a company has to roll out programs designed to engage employees across different channels and help them build relevant skills at scale.
8. Developing leaders from within
Ultimately, the aim of employee training should be to build capacity in-house. With time, senior staff should be able to mentor their subordinates, provide closer guidance, and help them get better on the job by acting as a training facilitator.
Such a model saves money, helps build trust between colleagues, and increases engagement by up to 300%. At the same time, it makes significant demands on the time your key players need to work on high-priority initiatives and will ultimately fail if an organization doesn't figure out how to balance it.
9. Busy employees finding time for training
94% of employees feel burned out at work and only 6% are not stressed at work. With those figures in mind, your employees may be reluctant to see upskilling programs as a step forward if they still have to tackle their normal workload —now, with less time.
It doesn't matter how much you invest into your employee training programs, how much you're expecting productivity to increase because of it, and how much better your industry peers are performing: the human factor needs to come first if you want to build an organization that works for your staff.
Otherwise, you can expect turnover figures to tick up as revenue and worker satisfaction drops.
Shield HealthCare reduced employee time-to-competency with Whatfix
Empower your employees with a more contextual, engaging style of learning with Whatfix
With $350 billion being poured into training programs a year, employees are still not satisfied and being prepared for their responsibilities, but it's not for lack of effort. You might be making the very process of learning tough for your employees, and as a result, your training programs will produce underwhelming results.
Whatfix offers employee onboarding, digital adoption, and remote training solutions designed to help you:
Equip your employees with engaging training programs designed for the future of work

Teach your staff how to use Salesforce, Workday, or the hundreds of other tools they still can't figure out

Provide handholding on how your systems work with popup guides that teach your employees at their own pace

Provide on-demand, 24 self-help support for employees using complex enterprise software
Learn how Whatfix helps organizations win the race of digital transformation by investing in your employees.
Subscribe to the Whatfix newsletter now!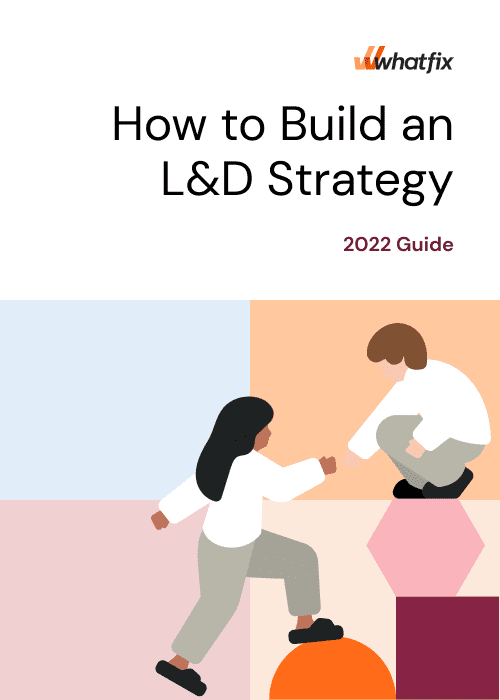 How to Create an Enterprise L&D Strategy in 2022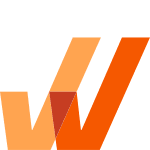 Request a demo to see how Whatfix empowers organizations to improve end-user adoption and provide on-demand customer support