As the world learned to live with COVID, organizations faced challenges across the board. As stay-at-home orders were mandated across the globe, remote work became the new normal. 
Organizations were tasked with learning how to run a successful business virtually – from remote onboarding, training workforces on how to use new digital technologies, how to be productive at home, and everything in between. Everyone played their part in making these initiatives a success – but the crux of the burden fell on learning and development (L&D) teams.
What are the 7 biggest challenges facing L&D teams in 2024?
Digital Transformation

Change Management

Scaling the Role of L&D

Using Data to Make Better L&D Decisions

Company Culture for a Virtual Workforce

Soft Skills & Emotional Intelligence

The Hybrid Workplace
The pandemic has emphasized the importance of investing in learning and development – and now HR teams are faced with new challenges that come along with the added pressure of creating an L&D strategy aimed at reskilling and upskilling entire workforces for whatever may lie ahead.
With organizations now heavily invested in new L&D trends, here are seven of the most critical challenges facing L&D teams in 2024: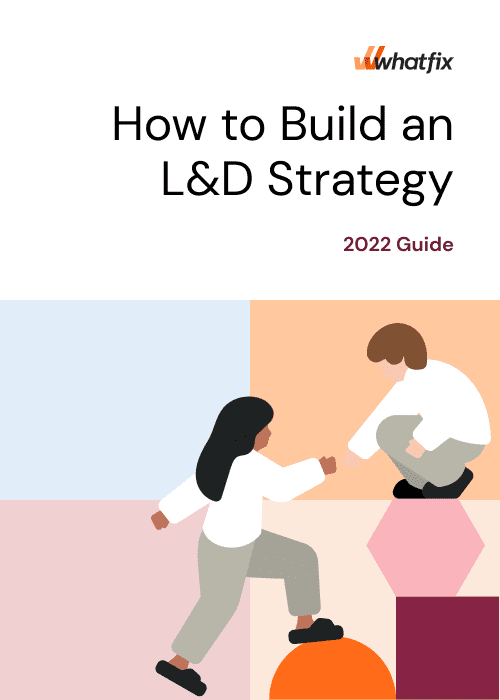 Building out your L&D strategy?
Download our new strategy guide now!
1. Digital Transformation
Digital transformation is the act of modernizing business processes by replacing traditional, legacy processes and systems with new digital technologies and software applications. A report from World Economic Forum in 2020 said that the shift of moving manual labor from humans to machines with lead to the loss of 85 million jobs by 2025 – but also create 97 million new ones. 
Some industries were undergoing digital transformation before the pandemic, but since March 2020, all industries have been forced to rapidly adopt new technologies.
Examples of digital transformation in various industries include:
Enterprise companies adopting AI and machine learning into their marketing, sales, and recruiting processes to eliminate manual processes – as well as employee engagement, employee performance monitoring, online learning, and remote onboarding to manage a remote workforce

Restaurants adopting QR code menus, online waitlist apps, mobile payments, and integrated POS tools with loyalty features.

Multifamily property companies adopting video intercom systems, amenity reservation apps, online payment systems, property management software, and more to manage their community virtually.

Universities adopting remote student orientation, fully-virtual classrooms, and online assessments.
With such rapid adoption of new technologies and processes, L&D teams are faced with the challenge of digital dexterity, that is, enabling the workforce to harness the power of new digital tools and adopt new, more efficient processes.
Organizations must reskill their entire workforce on how to best utilize the new organization-wide practices – while also keeping day-to-day productivity high. They will also face challenges around evolving job duties – as new tech will make certain job functions obsolete – while creating new opportunities. 
L&D teams will need to understand their workforce well. This means creating user personas on different learning personality types in their organization, as well as understanding how to best support employees that fall into different stages of the technology adoption curve.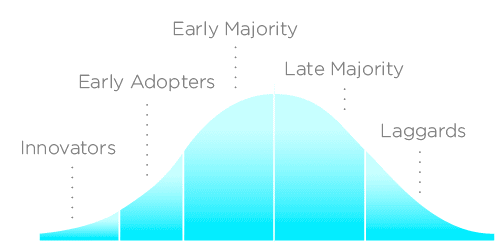 Digital transformation is a major challenge across all organization types and departments – but the success of these initiatives will heavily fall on L&D teams that will be challenged to create an effective migration strategy.
As organizations transform business with digital practices, processes, and tools through digital transformation efforts, there this a need to manage the migration phase. This is referred to as change management.
L&D teams will be challenged to create cross-functional change management teams to champion and communicate change across the organization. At its core, change management is a people-focused initiative that requires adequate employee onboarding and training.
What are the top reasons organizations fail at change management?
Low internal buy-in

Lack of communication

No goals, KPIs, and measurement

Not people-centric

Not enough or ineffective training

Poor digital adoption strategy
L&D professionals will need to create an effective strategy in order to successfully transform their business and drive company-wide change.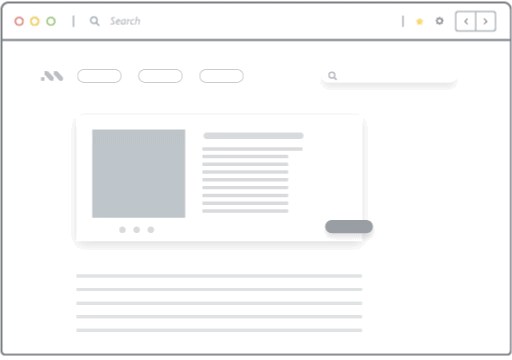 Support digital transformation by driving adoption of your enterprise apps with Whatfix
Whatfix empowers your users with interactive walkthroughs, contextual guides, and self-help widgets, improving adoption, productivity, proficiency while cutting training and support costs.
3. Scaling the Role of L&D
COVID taught us that change is not only necessary but can be done rapidly, while significantly improving individual processes and organization-wide performance. Before the pandemic, HR teams were tasked with creating L&D strategies for siloed processes. 
These pre-COVID L&D initiatives often involved new hire onboarding, individual skill development, and other required employee training programs that were dictated by one-off events, local regulations, or department needs. These programs mostly revolved around the entire organization learning company policies and ethics, as well as traditional group training tracks.
Post-COVID, organizations' leadership and c-suite teams have taken notice of the success L&D teams have had with attacking large problems (ie. remote work, racial injustices, employee shortages, digital transformation) head-on through training and employee support programs. Organizations see the value of investing in employee learning and development – and want to foster a culture of learning for their companies.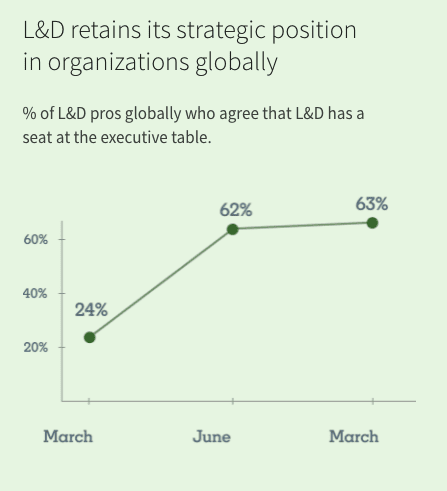 LinkedIn's 2021 Workforce Learning Report reinforced this idea, with 63% of L&D professionals say they have a seat at the c-suite table, up 38% from the previous year (24% in 2020.) L&D professionals will be challenged with continuing to scale employee development and training efforts to improve productivity, upskill employees, foster adaptability in the workplace, and create a system that works to promote employees internally.
4. Using Data to Make Better L&D Decisions
With traditional office culture, it was easier for L&D teams to monitor employee performance and productivity. With out this constant in-person interaction, L&D leaders will need to rely on new tools to softly monitor employee development, overall performance, and productivity levels.
This is a huge opportunity for organizations. The ad-hock way of judging performance with in-person interaction was never backed by data. By using tools to develop, training, and improve employees, L&D teams now have the ability to collect data – allowing them to benchmark and set KPIs for improving employee skill level, identifying training gaps, monitoring onboarding and training completion, measure employee training effectiveness, and enhance overall performance levels.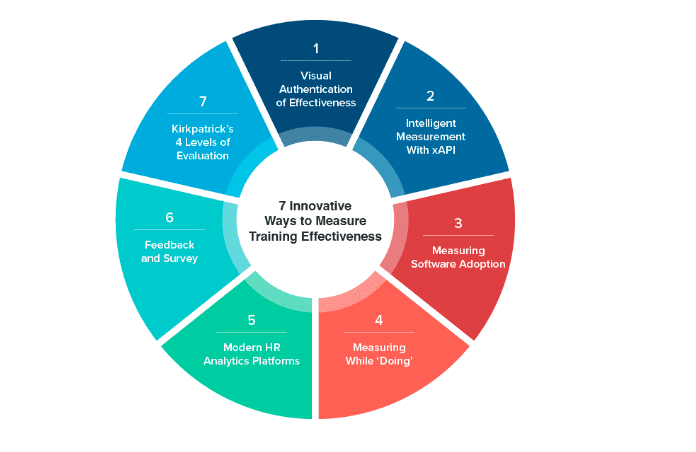 5. Company Culture for a Virtual Workforce
Before the pandemic, companies spent large amounts of effort on creating a vibrant, productive, and fun company culture. It was used as a barometer for hiring people that were a "culture-fit", as a tool for recruiters to lure talent with the glam of in-office amenities, for keeping employee satisfaction high, and to foster better communication and collaboration between teammates.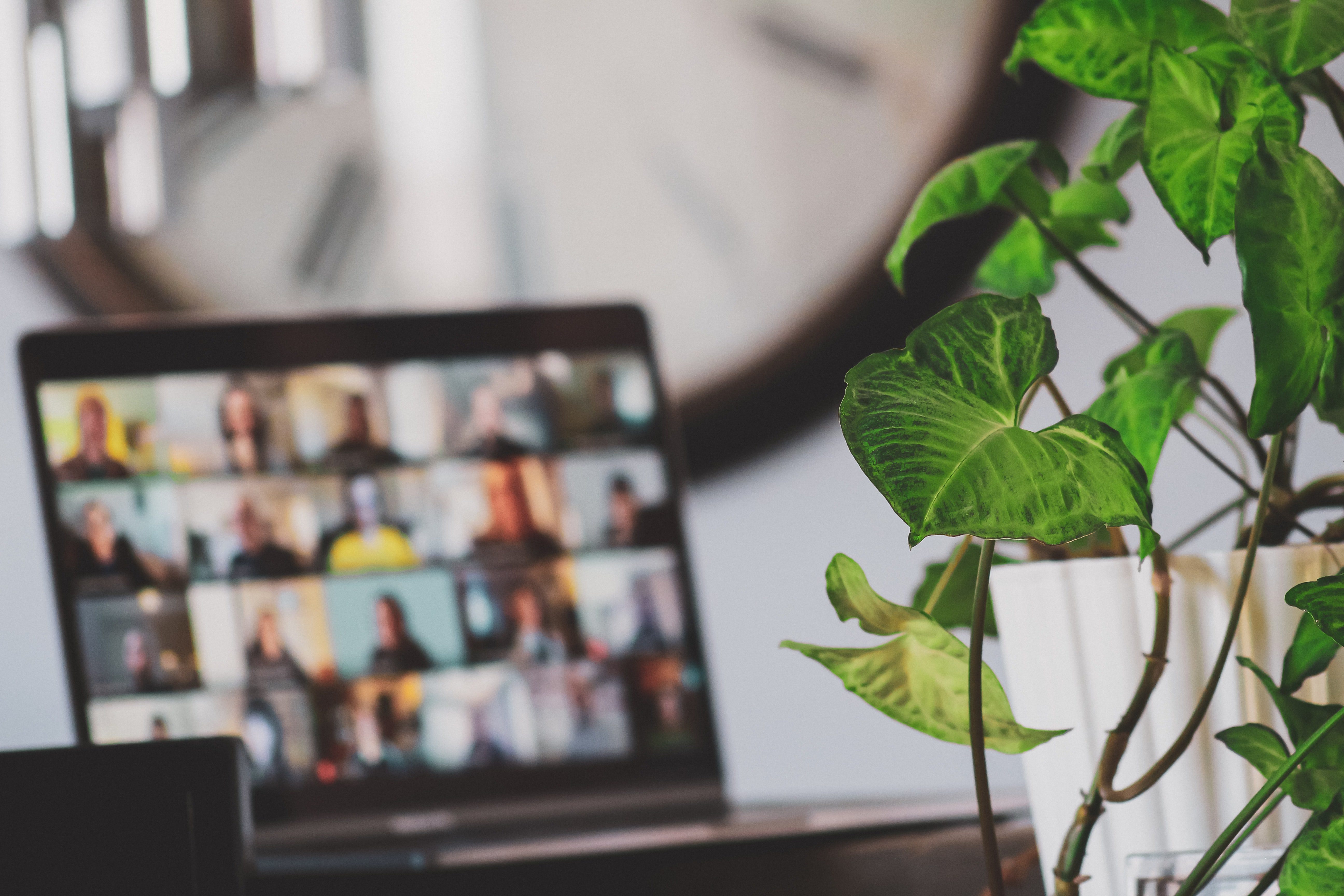 Companies are hosting Zoom-based happy hours and culture-based events to foster a sense of community for remote workforces.
With teams now being scattered across the globe, and many teams permanently implementing a remote workplace, it's a challenge for HR and L&D teams to define what company culture is – and find new ways of fostering culture virtually.
6. Soft Skills and Emotional Intelligence
With social distancing and Zoom meetings now the norm, soft skills and emotional intelligence has taken a critical role for L&D teams. Much of our people skills have become rusty over the past year – and leaders need to realize the toll COVID has taken on everyone. From high anxiety levels, new outlooks and priorities in life, and so forth.
L&D teams are challenged with the task of finding ways for leaders to become more empathetic and compassionate, as well as refine soft skill training for everyone in their organization.
7. The Remote and Hybrid Workplace
The remote and hybrid workplace is here to stay. 
While many commercial property groups and office space companies would like you to think that organizations and employees alike are excited and ready to get back to the traditional office life by releasing in-house reports, third-party research shows that is not factual.
Employees are refusing to come back to the office, and instead are quitting their jobs in lieu of being forced to give up their remote style of work. 39% of employees said they would consider quitting their job if employers were not willing to be flexible with remote work. Among millennials that make up a large percentage of technical and in-demand talent, that number was 49%.
This makes sense – employees no longer need to commute to and from work every day, no longer need to spend money on the logistics of getting to the office and grabbing food from the food court for lunch, are able to be more flexible in their hours, can knock out home tasks during the day, are able to spend more time with their family and pets, and are generally more productive.
For organizations, this should be a win-win. There is a large reduction in the need for office space, meaning companies can save money with less square footage. It means happier, more productive employees. It also means organizations can stop focusing on in-office culture benefits such as stocked kitchens, office decor, office entertainment, and more. 
With a move to a fully remote (or hybrid) workplace comes the need for L&D teams to continue to invest time and resources in building processes that are built for virtual and distributed teams. If presented with this challenge just two years ago, L&D teams would be scrambling to meet this demand. However, with COVID forcing the hand of organizations over the past few years to move to WFH, L&D professionals now have experience creating these journeys – and will not need to build these processes from scratch.
✓ Thank you, the template will be sent to your email
Remote Work Policy Template
Get a free remote work policy template to customize for your organization now!
Investing in a digital adoption platform to solve your L&D challenges
One of the biggest challenges facing L&D teams is driving adoption of new software and digital processes throughout their workforce. L&D professionals should also look to take advantage of new technologies in employee training to support these initiatives.
Whatfix's digital adoption platform empowers L&D teams to create in-app interactive workflows, onboarding tours, tooltips, data validation, and embedded FAQs – all built directly on their organization's software applications. These tools allow for employees to become proficient in new tools by learning in the flow of work with just-in-time support resources.
Set up a demo to learn more about driving digital transformation with Whatfix.
Subscribe to get new content delivered directly to your inbox.