In January 2020, Salesforce officially enabled the new Lightning Experience (LEX) for all customers. And while they aren't retiring Salesforce Classic (yet), the CRM giant is only releasing new features only for LEX. That means one thing: It's time to build your Salesforce Classic to Lightning migration plan.
When Salesforce Lightning launched in October 2015, performance issues and general discomfort with the new user experience limited implementation and adoption rates. Salesforce has addressed the vast majority of those performance concerns—but LEX adoption is far from universal.
Companies with complex Salesforce Classic configurations continue to resist Lightning rather than manage the challenges that come with upgrading a CRM. However, the Salesforce Classic to Lightning migration doesn't have to be so daunting with the right approach to change management.
Salesforce Lightning vs. Classic: Why It's Time to Make the Switch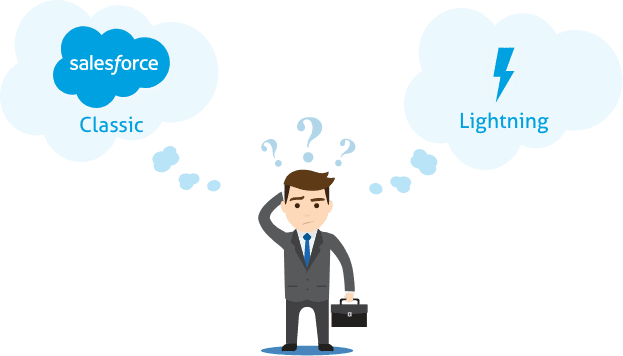 Companies that avoid the upgrade to Salesforce Lightning miss out on a new UI and a growing library of exclusive features. And, more importantly, they could be putting themselves in a difficult position to migrate as Classic support disappears.
Salesforce built LEX to improve the user experience. Lightning has a modern interface that, because it was built on top of Salesforce's mobile application technology, is more responsive across devices. Salesforce Lightning promises faster navigation and a more intuitive user experience thanks to features like a Kanban view, native data visualizations for reporting, and customizable dashboards.
But Salesforce Lightning isn't meant to only improve the experience for end users. A new back-end design system and set of components offer low-code frameworks for developers to easily customise their Salesforce organisations.
In addition to a new UI and streamlined developer experience, Salesforce has committed to updating Lightning with more innovative features compared to Classic, including the following:
Instant Search: Salesforce Lightning provides suggested search results from recent and matching records across objects, speeding up the process of finding individual data points regardless of where the user is searching from.
New Salesforce Einstein functions: Salesforce Lightning expands the Einstein feature set, adding artificial intelligence (AI) to a number of sales functions. A few exclusive Einstein features include Account Insights for giving employees real-time access to customer data; Automated Contacts for streamlining data entry based on event activity; and Opportunity Insights for predicting which deals are most likely to reach closed-won.
Activity Timeline: Salesforce Lightning provides instant access to a task list for each opportunity, lead, account, and contact. This timeline includes insight into open tasks, planned meetings, recent accomplishments, and more.
Path: Salesforce Lightning guides users through sales processes by providing advice and resources specific to each stage of an opportunity. This includes surfacing information about following up with new leads, moving records through the sales funnel, and closing deals.
The reality is that the longer LEX is out, the bigger the difference between Salesforce Classic and Lightning will be. And even though Salesforce allows users to toggle back and forth between the Classic UI and the Lightning UI, the initial migration can be long.
According to Salesforce's migration timeline, rolling Lightning out to all users could take companies anywhere from a couple of weeks to a few months—and that's without any speed bumps along the way.
The best thing any enterprise on Salesforce Classic can do is make the move now. You don't want to find yourself in a difficult position when Salesforce eventually decides to phase out Classic.
4 Phases of a Seamless Salesforce Classic to Lightning Migration
There are four distinct phases of any Salesforce Classic to Lightning migration process: discovery, planning, training, and optimisation.
One of the great things about Salesforce is that it allows you to customize it to your company's precise CRM needs. But that also means that no two Salesforce Classic to Lightning migrations will look the same. Knowing what each phase requires and what to expect along the way can help you avoid costly mistakes as you upgrade your CRM.
1. Discovery: Will Salesforce Lightning Work for You?
There are four important questions to answer to decide whether Salesforce Lightning can properly replace your Classic organisation.
It's not enough to simply ask whether the Salesforce Lightning experience will suit your organization or whether the new features seem valuable. Rather, you need to dig deeper to understand whether Salesforce Lightning is the right CRM option for you. Ask yourself:
Does LEX offer the same set of out-of-the-box features that your sales team uses regularly in Classic? Salesforce Lightning should introduce a new interface and features to improve user experience and productivity. But it must, at a minimum, allow users to continue to work as smoothly as they always have in Classic. In the discovery phase, talk to end-users and run surveys to determine which features they depend on the most in the sales workflow. You might find that relatively few employees absolutely need Classic features. In this case, you could deploy LEX to the broader workforce while using permission sets to keep certain users on Classic to start.
Will LEX help your team sell smarter and improve ROI? Every new Salesforce Lightning update introduces new features that should help maximize sales productivity and ROI. More accurate pipeline reporting, expanded applications of AI, and more functional performance charts can increase efficiency. A Forrester Total Economic Impact report found that Salesforce Lightning increased productivity for the average salesperson by one hour per week.
Is there any real innovation that makes a Lightning migration worthwhile? Salesforce is no longer adding new features to Classic, which means any innovation in that environment will require custom development. Salesforce Lightning, on the other hand, gains potentially hundreds of new features each year. You can decide whether those features are worth the time, effort, and money it will take to migrate to LEX. But the innovation gap between Classic and Lightning continues to widen.
Does LEX match your company's technical road map? In the early days of Lightning's release, technical debt was a major concern for anyone considering a migration. If you had invested in third-party apps or customizations for Classic, did it really make sense to accumulate technical debt by migrating? Now, technical road-map concerns focus more on the commitments in your pipeline. Do you currently have the capacity for potential downtime throughout the Salesforce Classic to Lightning Migration?
Tools like Salesforce's Lightning Experience Readiness Check can help you evaluate your company's needs and answer these critical questions. They'll help you identify potential feature gaps between your current Classic organization and what you should expect from Lightning. And they'll also map compatibility issues that need to be fixed before the migration process.
With all of this information at hand, you can build a business case for LEX to convince leadership it's time to migrate. Explain how there won't be any business disruptions during the migration. Show which features will be most beneficial for your sales team. Identify the benefits of more advanced reporting capabilities.
Once you've made the business case and leaders accept the Salesforce Classic to Lightning migration, you can move on to the planning phase.
2. Planning: How Will You Migrate to Lightning?
The basic steps of a Salesforce Lightning migration are no different than any other tech implementation project. You need to set timelines, outline responsibilities, identify key milestones, and create a rollout plan.
Set SMART goals
The first step of migration planning is to set starts with SMART (Specific, Measurable, Achievable, Realistic, and Timely) transition and adoption goals. Depending on your business needs, your goals can range from improving productivity and reducing support ticket volume to improving data quality, increasing sales leads, boosting opportunities, and streamlining account creation.

There are two types of KPIs that will help you track your SMART goals—mid-transition adoption metrics and post-transition productivity metrics. Adoption metrics can include time taken to successfully complete actions within Classic, daily active users Classic, and a number of employees switching to the LEX interface. Productivity metrics focus more on what happens after the LEX transition—time is taken to complete actions in Lightning, change in the number of calls logged, change in lead conversion rate, etc.
Develop a change management strategy
When you've set your goals and KPIs, you can start to develop a change management strategy that will drive adoption while keeping salespeople happy (and productive). Start by surveying your Salesforce power users to get an idea of their pain points in Classic and which features they're most excited about in Lightning. Then, map out exactly what new sales workflows will look like in Lightning, and craft a communications strategy that highlights the key benefits for users.
Remember that you're trying to get the sales team to buy into the migration process. That means you'll have to market the project to Salesforce Classic users and generate demand for the CRM upgrade. To do that, you could:
Participate in internal forums: Monitor Chatter Groups within Salesforce to see what employees are saying about the migration. Where appropriate, jump in and address specific concerns, and be sure to integrate feedback into your communication process throughout the LEX rollout.
Plan an email campaign: Create an email sequence to tout the benefits of Salesforce Lightning internally. The more consistently you can present the benefits of LEX, the easier it will be to upgrade smoothly.
Build accountability: As you make the transition to LEX more permanent, ensure that users are clearly instructed to use the Lightning interface for all sales functions. You could use the Whatfix Digital Adoption Platform (DAP) onboarding overlay widget to play a welcome video as soon as users open the new Lightning interface. That kind of video can reinforce the benefits of the upgraded CRM, make the onboarding process smoother, and increase adoption rates.
Your change management strategy could have a massive impact on the success of your Salesforce Lightning migration. Research from Prosci found that projects with excellent change management were six times more likely to meet objectives and deliver cost savings.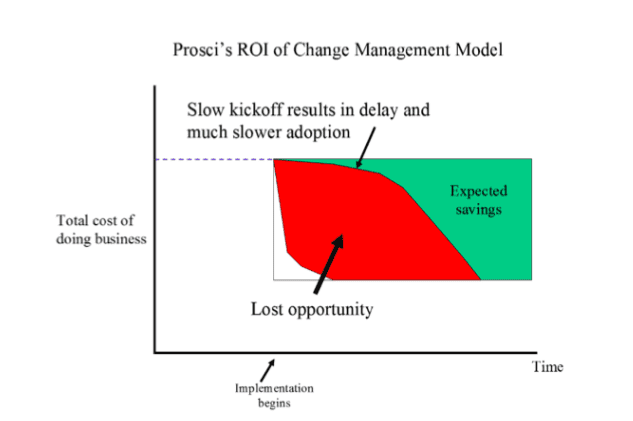 Source: Prosci
Run trials
With a strong change management strategy in place, you can start to run trials of Lightning in the Salesforce Sandbox environment. Check performance tests, load tests, and see how custom features look in staging. The more bugs you can work out in the testing environment, the smoother your eventual launch will be.
The last aspect of planning is how you'll phase the rollout. In most cases, it's best not to migrate all users at the same time. In fact, your best option is to create a pilot group of handpicked users to test Salesforce Lightning, identify blockers, and help you finalize a seamless process for wider implementation. From there, taking an incremental approach helps you stay in control of the process and limit the impact of challenges as you progress.
3. Training: Get Employees Comfortable Without Salesforce Classic
The most effective way to make employees comfortable without Salesforce Classic is to offer on-demand Lightning training with a DAP like Whatfix. We believe on-demand training in the flow of work—a mix of micro and macro learning—is the best way to address challenges during Salesforce Lightning adoption.
Every employee's experience and training needs will be unique, but there are certain common challenges for many new Lightning users. First, Lightning presents a steep learning curve due to the significant UI change. Salesforce has always been a complex tool. And while Lightning aims to simplify the interface, it's always difficult for employees to get comfortable following such a jarring change.
The second challenge is the fact that Salesforce continues to supply a never-ending stream of new features for employees to learn. With as many as three updates per year, Salesforce releases new features at such a rapid pace that continuous training is essentially required.
Training new Salesforce Lightning users in the flow of work might start with traditional methods, such as using an LMS to distribute presentations, PDFs, and videos and give employees onboarding lessons. These traditional materials can cover the big-picture impact of the new CRM, while informal training tools like Salesforce's Trailhead platform provide more granular support. Trailhead offers interactive learning materials like quests, quizzes, badges, and guided paths to make the training process more engaging.
But, ultimately, on-demand training is the most effective method because it allows users to practice using Lightning in the live environment with the help of contextual, automated, bite-sized lessons.
Here are some of the Whatfix training features that can help in a Salesforce Classic to Lightning migration:
Tooltips that explain button functions, and self-help widgets that surface contextual help documents to respond to queries on demand
Interactive walkthroughs that offer highly segmented guides for things like creating new opportunities and setting up user profiles in Salesforce Lightning
A Tasklist that groups related walkthroughs together and encourages continuous learning, acting as a mini LMS
A scheduling system for providing advance notice of migration steps to employees
Automated training material conversion, which can turn one piece of content into a variety of formats, including PDFs, videos, and slideshows
Data analytics that map how employees use the new CRM, providing insights to help you create the right learning content for the sales team
Beacons and smart pop-ups that provide navigational messages to train users on new Salesforce Lightning features.
Each of these features supports a training process that shows users the exact steps for completing tasks within the CRM—without taking them out of the app and hurting productivity. This kind of seamless learning experience will keep your Salesforce Lightning migration from falling into the implementation dip.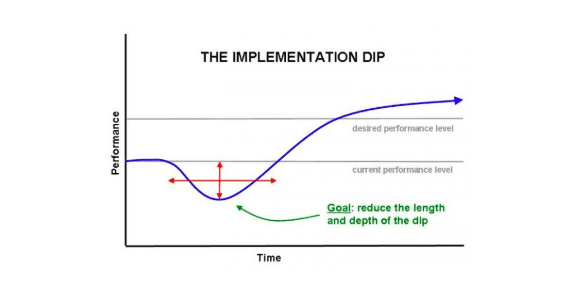 Source: Big Think 
The last thing to think about regarding Salesforce Lightning training is the power of change champions. You'll inevitably identify a group of super users—the employees who are truly passionate about the new CRM. As they learn more about Salesforce Lightning features, give them opportunities to train others who aren't as quick to embrace the new interface and features.
Drive a successful Salesforce adoption strategy with the Whatfix
Unlock higher sales productivity, save training costs and achieve faster Salesforce ROI with Whatfix Digital Adoption Platform.

4. Optimisation: Track Usage Rate for Salesforce Lightning
Full adoption of Salesforce Lightning will likely be a slow process, which is why you need training materials and tools that can track usage rates throughout the migration process and beyond.
If you're using a DAP like Whatfix, you can leverage the tool's usage analytics and embedded survey features to gauge the adoption of individual Lightning features. That data unlocks the insights necessary to start personalizing Salesforce Lightning training. Especially as the transition becomes more permanent, you'll need to make every effort to ensure that all employees are up to speed. Personalizing the processes with in-app guidance increases adoption by addressing the granular challenges that hold individual employees back.
Perhaps the most important part of the optimization phase is remembering that Salesforce still has a "Switch to Classic" button for every user. In the early days of the transition, let your employees switch back and forth between the Classic interface they're comfortable with and the Lightning interface they're still getting used to.
Giving employees that freedom to learn at their own pace maintains accountability while ensuring that no user is overwhelmed by the migration process.
Overwhelmed by a Salesforce Lightning Migration? Don't be.
Salesforce Lightning is only as powerful as your ability to help employees take advantage of its features. Don't let a seemingly daunting migration process keep you from starting the shift to Lightning. We have migration experts who can help you plan your transition and make the move as seamless as possible.
But what really matters is how smooth you can make the adjustment period for your employees. That comes down to the training strategy, which is why DAPs are so valuable in a Salesforce Classic to the Lightning migration process.
Start a free trial of Whatfix, or get a quick demo to see how Whatfix maximizes the effectiveness of ongoing training and gives you the tools to make Salesforce Lightning adoption easy.