For the last 20 years or so, Salesforce has been (arguably) one of the most powerful, customizable and scalable CRMs on the planet. And as with most technology vendors that have stood the test of time, Salesforce also believes in devising new and creative solutions in response to changing market and user needs. It is this spirit of innovation that led Salesforce to, three years ago, launch its signature CRM in a new and improved avatar – called Salesforce Lightning. But when it came down to Salesforce Classic to Lightning Migration and user adoption rates, Lightning was not seeing the traction everyone expected it to achieve. In fact, according to the 2017 SFA Magic Quadrant report implementation and adoption of Lightning Experience has been something of an issue.
The reason for the low success of Salesforce Classic to Lightning migration was simple – Lighting posed to the user a foreign (and thus uncomfortable) experience. This made them want to revert to the familiarity of the original Salesforce platform (now called Classic) — because humans are such creatures of habit!
You must remember what it was like when the Windows 10 OS was launched. Most people still wanted to stay with Windows 7, because they were so much more confident using it. But eventually, everyone moved on, for they knew that Windows 10 is where the upgrades, innovation, greater customization and better security is at.
Similarly, Salesforce Lightning Experience(LEX) is the future – there is no getting away from it. 
It is just a matter of 'when'.
So, Should you Opt for Salesforce Lightning Migration?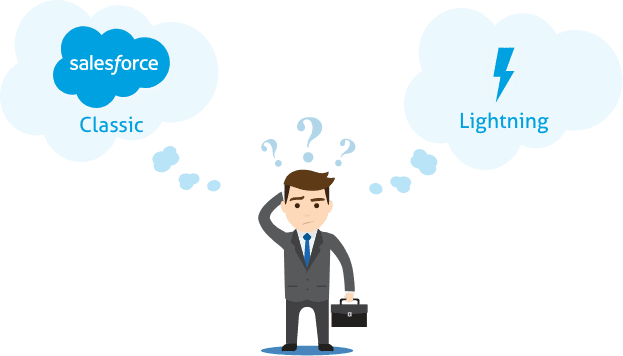 Salesforce recently made it clear that they will release new updates only for LEX. So, if you want better responsiveness and a more flexible UX, then consider a Salesforce Classic to Lightning migration.
Easier said than done, though. The transition can end up being a time and effort-intensive process, depending on your company culture and size.
Remember, it's a big adjustment to make for all stakeholders. You would require significant change management efforts and multiple sessions of user training (Make this step easy through Digital Adoption Platforms (DAPs) such as Whatfix , click here for a live demo). So, don't wait until the last minute to migrate to Lighting. 
Also, the Salesforce Classic to Lightning migration is quite expensive. But that's nothing compared to the cost of a failed migration. 
So, whenever you decide to make the move, plan well and plan ahead. This will ensure that the migration is a runaway success.
4 Steps to a Seamless Salesforce Classic to Lightning Migration
It is possible to ensure a smooth migration to the LEX by investing in the right research, planning, testing, and training – a complete Salesforce Lightning migration strategy.
Every organization is unique, and so there is no one-size-fits-all means to managing the Salesforce Classic to Lightning migration. But, here is a Salesforce Lightning migration guide to get you started on this journey of maximizing Salesforce adoption in your company. Feel free to adapt this Salesforce Classic to Lightning migration steps to your organization's needs.
Step 1. Discovery Phase
Like every other Salesforce customer, you're probably thinking: "Will the new Lighting Experience suit my organization?"
To answer that very pertinent query, you will need to ask yourself a few more questions:
Does LEX have the same set of out-of-box features that your sales team regular uses in Classic? 
Salesforce Classic to Lightning migration

 should mean that users can continue to do their jobs as smoothly as they previously have.

Find out from Classic end-users what features they depend upon the most in the sales workflow. Sometimes, only a subset of users absolutely need the Classic features. In such a scenario, you may choose to deploy Lightning Experience to the rest of the sales force using profiles or permission sets. 
Can LEX be harnessed to improve ROI and sell smarter?
If harnessed properly, LEX's new features such as more accurate pipeline reporting, performance charts, top deals, enhanced calendar and sales path can make selling so much more efficient and effective. 

According to the 2017 Lightning Adoption Survey, Lightning has increased productivity for users by

41%

.
Are you missing out on real innovation by sticking with the Classic system?
An audit and comparison of the features offered by Lightning and Classic will show you that the former offers 3x innovation than the latter.

Still choose to stick to Classic? Then bring about innovation yourself by building your own apps or subscribing to third party app vendors

 

Is the opportunity cost worth it? 

Salesforce Classic to Lightning migration

will mean investing time and money in retraining people and the actual migration of systems. It could also result in a temporary slump in productivity. Will the returns from

migration from classic to lightning

make up for this?
Does LEX match with your organization's technical and business roadmap?


Chances are your organization has already invested in third party apps or customizations, for the next few years, that work only with Salesforce Classic. So, the question is with such a considerable technical debt is it worth

migrating to Salesforce Lightning

right now or should you wait it out?

Or does your business too many other commitments in the pipeline, that it doesn't leave room to focus on a

migration from Salesforce Classic to Lightning

?
To better evaluate if LEX meets your organization's specific needs, run Salesforce's in-built Lightning Experience Readiness Check. It will help you understand what features and customizations you're using in Salesforce Classic. Then you can perform a gap analysis to see if LEX can match these offerings. 
It can also help you map compatibility and code issues. Best of all, the report will tell you exactly what issues need to be fixed before choosing to migrate Salesforce Classic to Lightning.
Convince leadership

– To ensure that there are no disruptions in the migration due to objections around budget, timing, and implementation; get

executive

buy-in early on.
For this, you need to present a strong business case for LEX. Show the top brass what real value it can deliver. For instance, you could point out how the LEX's new feature, Einstein (Wave) Analytics reporting, can identify why the company's margins are shrinking without having to endlessly comb through spreadsheets. Such clearly outlined benefit-propositions should leave the bosses with just one question: 'Where do I sign?'
In case you need some help in making your case, Salesforce has a very convincing 'Lightning pitch deck' and even demo scripts. 
Step 2. Planning Phase
Planning for the migration is by far the most important step. Much like a traditional project plan, your migration plan should also have timelines, outlining of responsibility, and milestones. And since I believe that lists make everything better, here is one with that features basic steps in planning for migration to Salesforce LEX: 
Set SMART transition and adoption goals:

To know if your transition to the latest Salesforce edition is a success, you need to first set Specific, Measurable, Achievable, Realistic, and Timely(SMART) goals. They can range from improving productivity and reducing the number of support tickets from sales reps to improving data quality, sales leads, opportunities and new account creation.
Some of the KPIs that would help you reach these goals are:
Transition adoption metrics

–  Time taken to successfully complete an action or goal with Classic, daily active users, number of users switching to Salesforce Lightning, etc

Post-transition productivity metrics –

Time taken to successfully complete an action or goal with LEX, increase in calls logged, lead conversion rate, etc 
Once KPIs and goals are set, institute a dedicated Salesforce migration taskforce to drive these goals.
Devise change management strategy

– Salespersons are known to be quite picky about the tools they use, while also being too technically savvy. So, if you were to suddenly change Salesforce versions with such end-users, pandemonium would ensue. And the migration is doomed to fail from the start. That is why you need a well-structured change management plan.
Since the salespersons perform a critical function, i.e bring in new clients (and therefore money), it wouldn't bode well for the company to not shock or displease them. So, ensure that you set their expectations about life after the migration; early on by. 
Surveying the Salesforce power-users to understand what features they are most thrilled about from the LEX bouquet and what concerns they have about your current Salesforce platform. 

Mapping out how the sales workflow and activities will change with the new Salesforce.

Tailoring your communications strategy and adopt consistent messaging, according to your assessments, to explain to users why Lightning is the better option. For this, here are some of the marketing tactics you could implement:

Participate in internal forums

: In these forums, or 'chatter groups' as its called in Salesforce, users can discuss the migration freely. And members of the Salesforce migration taskforce can address concerns or queries relating to the migration. Any feedback shared in the early stages can even be incorporated during the implementation of LEX. Keeping channels open for two-way communication will make the users feel involved in the decision-making process.

Plan an emailer campaign:

Promote the many benefits of the Lightning Experience and show users what's in it for them through various emailers. These email chains could explain the reason for the migration and also outline the different stages (timelines) of the change.

Build Accountability: To build accountability, ensure that users are clearly mandated (through various communication tactics) to only use Salesforce LEX to execute sales tasks. Through the Whatfix DAP's onboarding overlay widget, you could even play a welcome video (maybe featuring the sales head or CEO) as soon as users open the new Lightning platform. This video could further reinforce the benefits of using the new CRM. And such a top-down directive can go a long way towards improving onboarding.
Host a launch migration party

: Let users know that the migration to Salesforce LEX is nothing to fear, instead, it is a cause for celebration! Plan a cracker of an event that is upbeat and showcases how happy and proud your organization is about making the switch. Live Salesforce Lightning demo and Lightning themed cupcakes and photo booth anyone? 
Excellent change management makes it 6x more likely to meet project objectives while also improving on savings. So, make this stage count.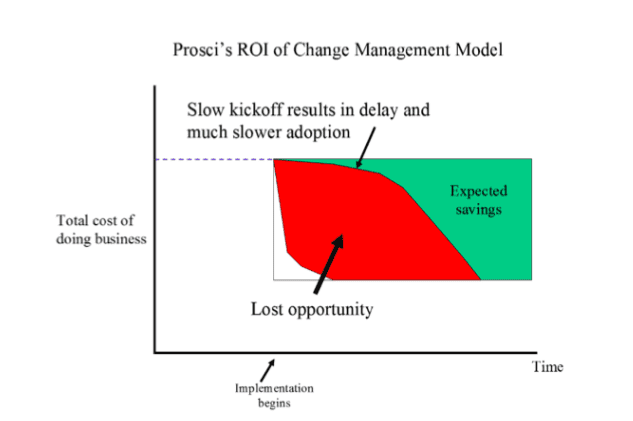 Source: Prosci
Run trials of Salesforce Lightning

: In the Salesforce Sandbox environment, run trials of customized features with performance testing, load testing, and staging. You can even adjust existing customizations to work in Lightning Experience. This testing environment will ensure that bugs are removed before the launch, without affecting the actual Salesforce data and configuration.

Phase the rollout: You do not have to migrate all users, across your organization, at the same time to Salesforce Lightning. In fact, the mark of a successful migration is that it is an incremental and well-defined process.
It would also be wise to start migration with a pilot group of hand-picked users, especially for large organizations. Find out what works for the select users and then tweak the platform before rollout. Once the pilot is a success, you can get down to migrating each function in the organization.
How you do this is: First, take stock of all the functions that use Salesforce such as sales, operations, back-office, customer service and marketing. Then, identify which of these users would it be easiest to migrate. Start on the next group once they are successfully moved to the new system. You could even recruit the Lightning 'converts' from one function to guide the others on how to use the upgraded tool!
Step 3. Train, train and train again
You have started the transformation and change management program with a bang! Great! Now, be proactive in training salespersons to use Salesforce LEX. Create user personas and flesh out individualized 360-degree training approach that covers different training tactics, tools and timelines.
Here are some big Salesforce Classic to Lightning migration challenges that you will need to overcome through training:
Lack of awareness:

There are several functionalities that Lightning lacks vis a vis Classic and vice versa. So the learning curve is steep with this new version of this complex tool.

Users are always one step behind:

Salesforce constantly rolls out updates, often

three per year

. Users have to be constantly retrained in this situation. Salesforce does offer release notes to understand the new features, but they tend to be quite long and technical to consume for the average user.
'Training in the flow of work' – a mix of micro and macro learning – is the best training format for software migrations. And here are the most important training elements to adopt:
Traditional training techniques

: Use your LMS to disseminate longer pieces of training in the form of presentations, pdfs and videos. This is great to help users see the bigger picture to promote onboarding, by highlighting the broad changes and advantages that Lightning will bring to the sales workflow. You could also employ classroom training, handouts and the like to set the foundation for using Lightning. But this will prove to be too time consuming, inaccessible and really expensive.

Informal training: Salesforce's Trailhead platform strives to make learning fun and engaging with its quests, quizzes, badges and guided learning paths. It has recently also introduced Salesforce walkthroughs that help users navigate the CRM as they use it. There are several other third party applications, called digital adoption platforms (DAPs), that also aid users to learn as they work on Salesforce LEX. This leads us to the next pointer.
On-demand learning:

'What does this new form do?' or 'where did that button go?" are common questions that regularly pop up in the case of a refreshed Salesforce system. 
The most effective way to offer Salesforce LEX training (that deepens understanding and aids in retention of information) is through DAPs such as Whatfix (request a demo). It allows users to practice using the CRM in its live environment, with contextual, automated and bite-sized lessons. 
Here is a quick summary of some of the salient training features of Whatfix:
Responds to queries and concerns as they arise via:

Tooltips

that lets users know what each feature/button is for 

Self-help widgets

that provide contextual help documents, videos etc

Offers interactive

step-by-step walkthroughs

(flows) to help with onboarding. It will offer highly-segmented guided tours on 'how to' create new opportunities and setting up user profile in the new system etc.

Groups related walkthroughs and encourages continuous learning with its

Tasklist

feature. This is a mini learning management system, within Whatfix, that complements your existing LMS. 

Alerts

and

announcements

relating to the migration can be scheduled in advance 

Automatically produce training content in different formats (pdf, videos and slideshows) to cater to any learning style

Maps how the CRM is being used, with superior

data analytics

, in order to create the right learning content for your sales reps

Notifies users of any new updates to the Lightning CRM. Whatfix

beacons

(to draw peoples' attention to new features) and smart pop-ups with navigational messages will then train users on the latest release.
This way, your users know the exact steps needed to complete the task on the CRM  without losing out on productivity (owing to lack of commitment and doubt in the adoption process). And this will help escape the dreaded Change Valley of Death or implementation dip.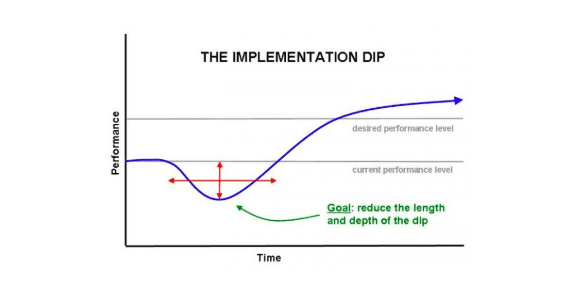 Source: Big Think 
Leverage power-users or change champions


: Work with the Salesforce migration taskforce to identify a group of super users who are truly passionate about the Salesforce tool. Then, give them early opportunities to train on the new technology. Once trained, you can employ them as change agents and have them train other users.
Step 4. Optimization Phase
Check if you are meeting the migration and adoption goals you set at the beginning of this guide. Via Whatfix's usage analytics or embedded surveys, you could even gauge which Lightning functions are being used, what queries users have etc. Then, you may personalize Salesforce LEX training content to further improve adoption rates.
Remember, Salesforce has a 'switch to Classic' button. So allow your users to move between the two versions, until they are comfortable with Lightning. Then, turn off Salesforce Classic for your organization and call the transition a wrap!
But what is most important is to sustain the training efforts and keep the accountability alive, or your users will just quit using Salesforce (be it Lightning or Classic) all together and get back to their excel sheets.
Overwhelmed? Don't be. We have Salesforce Lightning migration experts who can guide you through this whole journey. 
Especially for the on-going training, make sure to check out the digital adoption platform Whatfix. For a free trial of this tool to see how it helps your employees adjust to Salesforce Lightning. We are also happy to offer a quick demo to show you how Whatfix can help improve adoption rates post the Salesforce migration.