Are users reverting to spreadsheets to update and track sales leads and forecast trends, even though the latest Salesforce CRM tool is at their disposal? Do they not know how to use powerful, new Salesforce Lightning features such as Einstein Search, Lightning Dialer or Kanban? Are they unaware of every new Salesforce update? 
If you've answered 'yes' to any of these questions, then you are reading the right blog. This Salesforce End User Training Guide, curated by our in-house experts, aims to help your employees extract maximum value from the CRM software.
So, are you ready to mold your employees into model Salesforce CRM users and ensure that the platform revolutionizes the way they work?
Best Practices for Salesforce End-User Training in 2021
Every company, seeking a competitive advantage, is embarking on the migration from Classic to Lightning Experience. At the same time, the CRM has become more firmly entrenched in the business workflow (no matter how big or small the enterprise) – increasing the need for higher user proficiency.
To ensure none is left behind in the learning curve; preparing and executing a strategic Salesforce end-user training plan is non-negotiable. Here is are the best practices for Salesforce end-user training that will help kickstart your training efforts:
The adjectives that should define your salesforce end-user training goals are 'realistic', 'specific' and 'staggered'.
With the right research on the business and employee pain points, you can identify the most realistic training goals. Then, instead of keeping the goals vague or broad, such as 'improve customer experience', you should strive to be as specific as possible. Examples could include:
Expanding Salesforce usage to new users, departments, and regions
Increasing engagement of existing sales reps with key Salesforce features
Increasing new leads from existing customers
Improving customer satisfaction
And finally, you need to prioritize the training goals into, 'critical' and 'good to have. This will help define the purview of training.
These goals can then be used to set objectives and KPIs. Once you achieve the first lot of goals, you may always action the next set in the priority list. 
2. Personalize Your Training to End-Users
The first step in the journey towards personalization is segmenting users, according to their roles and departments. Then, you need to run surveys to understand what each user group's functional challenges and training needs are, relating to the new software.
Next, based on the insights secured, you may work towards delivering need-based training modules to fix the knowledge gaps/problem areas. 
For instance, you could focus more on training sales reps about how to track contacts or opportunities, while the sales managers could be tutored on predicting sales forecasts, sales collaboration etc. 
3. Outline Training Tactics
Some organizations see merit in adopting the blended learning format – featuring a mix of structured training, such as in-person classroom-style sessions or bulky physical guides, and self-paced training as offered by Digital Adoption Platforms.
But increasingly, owing to the high cost of trainer-led sessions and shrinking attention spans of users, companies are starting to lean heavily towards learning in the flow of work. The logic here is that you need to teach people how to become intuitive users rather than simply forcing the 'train and then execute' process down their throats.
To this end, you need learning vehicles that are more user-friendly, engaging, and interactive. So, be sure to leverage:
Power users: New Salesforce users could benefit from interactions with power users or early adopters who have already mastered the tool and are truly passionate about propagating its benefits within the organization. The organization could incentivize these software mentors/influencers to support new users,  whenever they are facing any issues when using the tool.
Microlearning: Microlearning is defined as breaking up training modules into smaller, snackable modules and experiments with different formats – email, short videos, infographics, social media posts etc.
Digital Adoption Platforms (such as Whatfix): These platforms offer in-app interactive guidance and contextual support that guides new users through your enterprise software in real-time. Whatfix is a great example of a DAP that enables learning through following on-screen prompts to execute in-application asks, which (in turn) ends up making the behavior second nature to the user. Some of the salient features of Whatfix include:

Interactive walkthroughs that help users navigate Salesforce Lightning in real-time, avoiding any break on the workflow and clearing queries at the moment of need.
The ability to turn walkthroughs into multi-format content makes content creation code-free and simple. Updation is automatic as and when you make changes to the walkthroughs.
Knowledge base aggregation and contextualization, making help content easily accessible to the user.
4. Constantly Measure Training Efficiency
Keep a feedback loop running, so that you have an ear to the ground about how the end-users like/benefit from the training. This will enable you to continuously improve the quality of training, in turn, making it possible for users to harness the platform in a more productive manner.
You could even harness Whatfix's superior analytics feature to measure your training effectiveness and track the engagement with your walkthroughs, task lists, beacons, smart-tips, and other in-app training content. Some of the insights thus secured are :
Task List progress: Completion rate of a set onboarding activities to understand initial engagement

Insights into who prefers what type of learning formats to further improve content creation

Unsuccessful search terms can be tracked to understand what new content needs to be provided to end-users

Flow/Walkthrough exits tell you if they were intentionally closed by the user. This helps understand gaps in the flows and in the content

Flow completion rates can be measured  to find out how many users are looking for answers in what areas of the application

Smart tip views: analyze what areas of the application can be enhanced

Beacons engagement analytics highlight how many people are aware of the updates and have adopted the same
All of this, and more, can be viewed on the DAP's analytics dashboard and will help you understand what changes need to be made to your Whatfix content.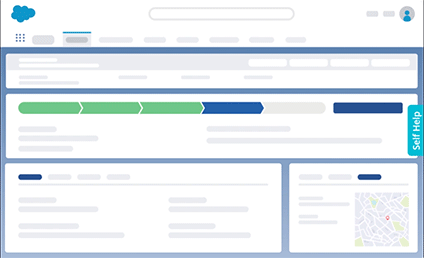 Create personalized learning flows for your Salesforce training with Whatfix
Whatfix empowers your users with contextual flows and self-help widgets, improving productivity and proficiency while cutting training and support costs.
Digital Adoption Platforms and Your Salesforce Training
Can you learn swimming through a book or online videos? Not a chance. Similarly, I'm sure you would agree that learning by doing is the best way to train users on the Salesforce Lightning Experience(LEX), or any enterprise software for that matter. The biggest torch-bearer of this style of training is Whatfix. 
In fact, this DAP is perfectly suited to help your sales team catchup with the Salesforce CRM because it:
Offers self-directed learning 
Delivers training as you use the software, in real-time
Offers contextual-support around the clock
Automates creation of training content in several formats
Is SCORM compliant – so it can share content easily with other eLearning software
These particular Whatfix features really helped Trotec, a world leader in the laser technology space, strategically improve Salesforce Lightning adoption – across its global markets.
The firm had already created its own in-house LMS, Moodle, to generate and dispense Salesforce training courses to all sales employees. But soon, it realized that scaling training content creation, to suit the needs of employees in its many geographically disparate business units, would be expensive and time-consuming (30-40 days per course) via Moodle.
To bridge this gap & improve Salesforce adoption rates, they choose the learning in the flow of work solution; Whatfix. This DAP, via its automated in-app support and training modules, helped with the following three things:
Reduced dependence on expensive training experts
60% reduction in training content creation efforts, by repurposing the Whatfix walkthroughs for use in Moodle 
50% reduction in time taken to create the training material
Before you can design your change management game plan, determine the type of organizational change you'll be making. Once you figure that out, you can execute the right change management plan for the best possible results. Knowing the type of organizational change will also help you choose the right change management tools.
In this example, we see that Trotec knew exactly what they wanted from Whatfix, and we helped them achieve it. By the same token, if you have a clear understanding of your training problem and objective, then there is no limit to the benefits the DAP can bring to the table. Whatfix can help you figure out what features would fit into your overall training plan to deliver maximum ROI on the Salesforce software.
Free Salesforce End User Training Checklist
Convinced to start planning your Salesforce training? Yes? Then, here are the broad steps that every company needs to follow in order to get their employees to extract maximum productivity from Salesforce CRM – whether you have 5 or 500,000 users. 
Build a training proposal
Get leadership buy-in
Set up a training A-team
Roll out the change management
Continuous learning in the flow of work
Measure and optimize training effectiveness
✓ Thank you, the checklist will be sent to your email
Salesforce End User Training Checklist
To take the stress out of planning, we've created a detailed end-user training checklist for Salesforce. Don't worry, it's free to download and use.
Just be sure you give yourself enough time to plan and sort the tasks month on month to ensure that the project will be far more manageable. We believe that Salesforce end-users training should be contextual, analytics-driven, and personalized. And that is just what the digital adoption platform Whatfix has to offer.