Digital transformation has empowered organizations to become more automated, have more efficient workflows, and provide better customer experiences. ServiceNow is one of the most widely used cloud-based systems that helps enterprise businesses modernize with features such as automation, machine learning, artificial intelligence, and more.
ServiceNow is a cloud-based software platform that has the features to combine IT operations, HR service, security systems, IT business management, and customer services into one single system of record. The platform is based on ITIL guidelines to provide service orientation for tasks, activities, and processes. It uses machine learning to leverage data and workflows and offers the flexibility, power, and dependability to achieve incident and problem management goals.
7 Best ServiceNow Training Delivery Methods in the Workplace
We've put together seven of the top ServiceNow training delivery methods for you to implement to get the most out of your investment.
Who better to teach your employees to use the platform than someone specifically certified to do so? ServiceNow offers live, instructor-led classes, and hands-on labs, which you can sign up for via the Now Learning platform. It allows you to get insights on specific ServiceNow applications and concepts such as ITOM (IT Operations Management), CMDB (Configuration Management Database), and GRC (Governance, Risk, and Compliance).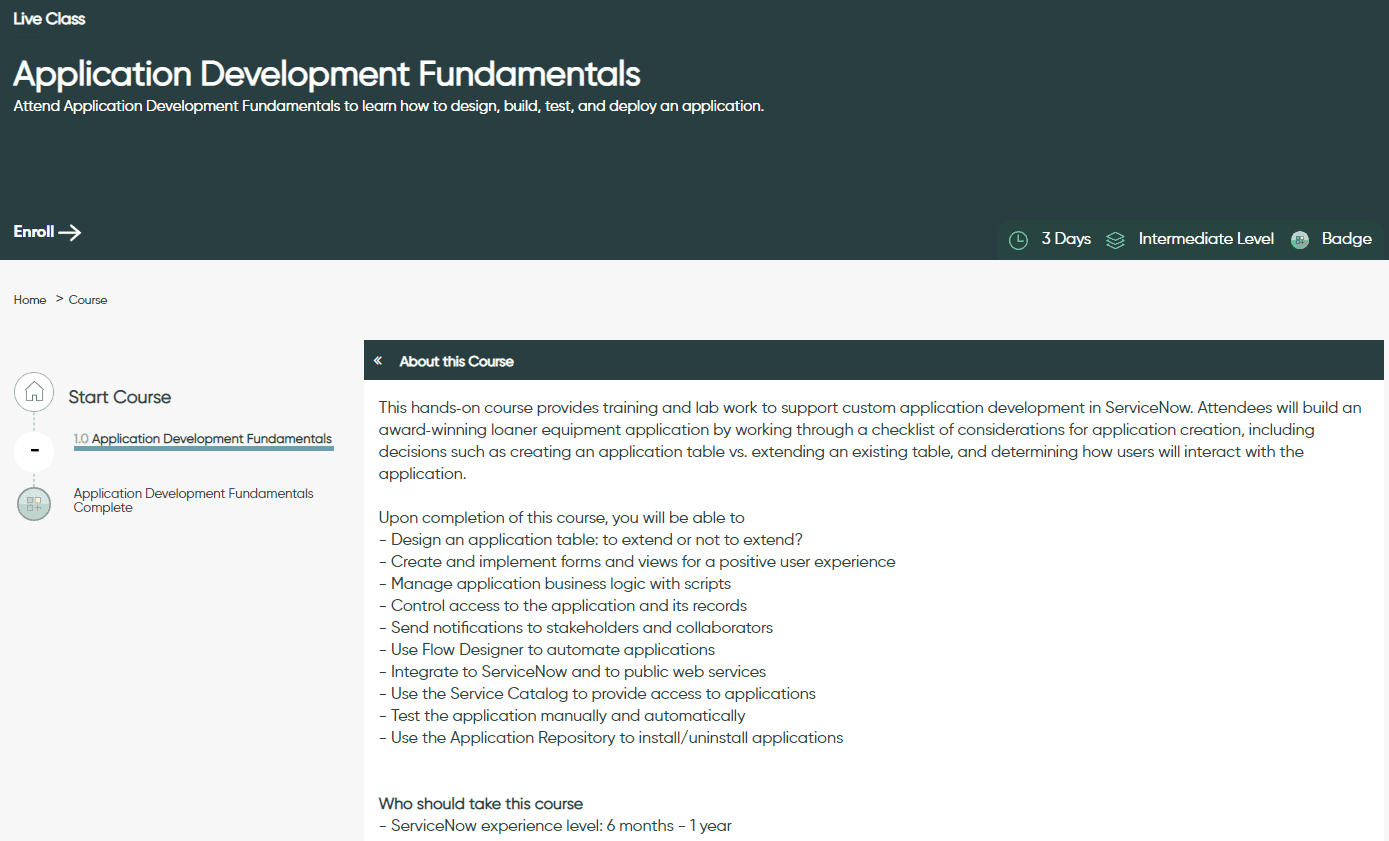 The courses run for multiple days and ensure trainees get an in-depth understanding of every concept via online classes, which include a combination of lectures, group discussions, and hands-on work on the platform.
Another learning resource that ServiceNow provides is ServiceNow Docs. This site hosts the product documentation for all features of the platform. Once an employee finds the feature they're interested in, they can see a breakdown, including how to use it and how it can benefit the company. The feature pages also have video demos to show best practices.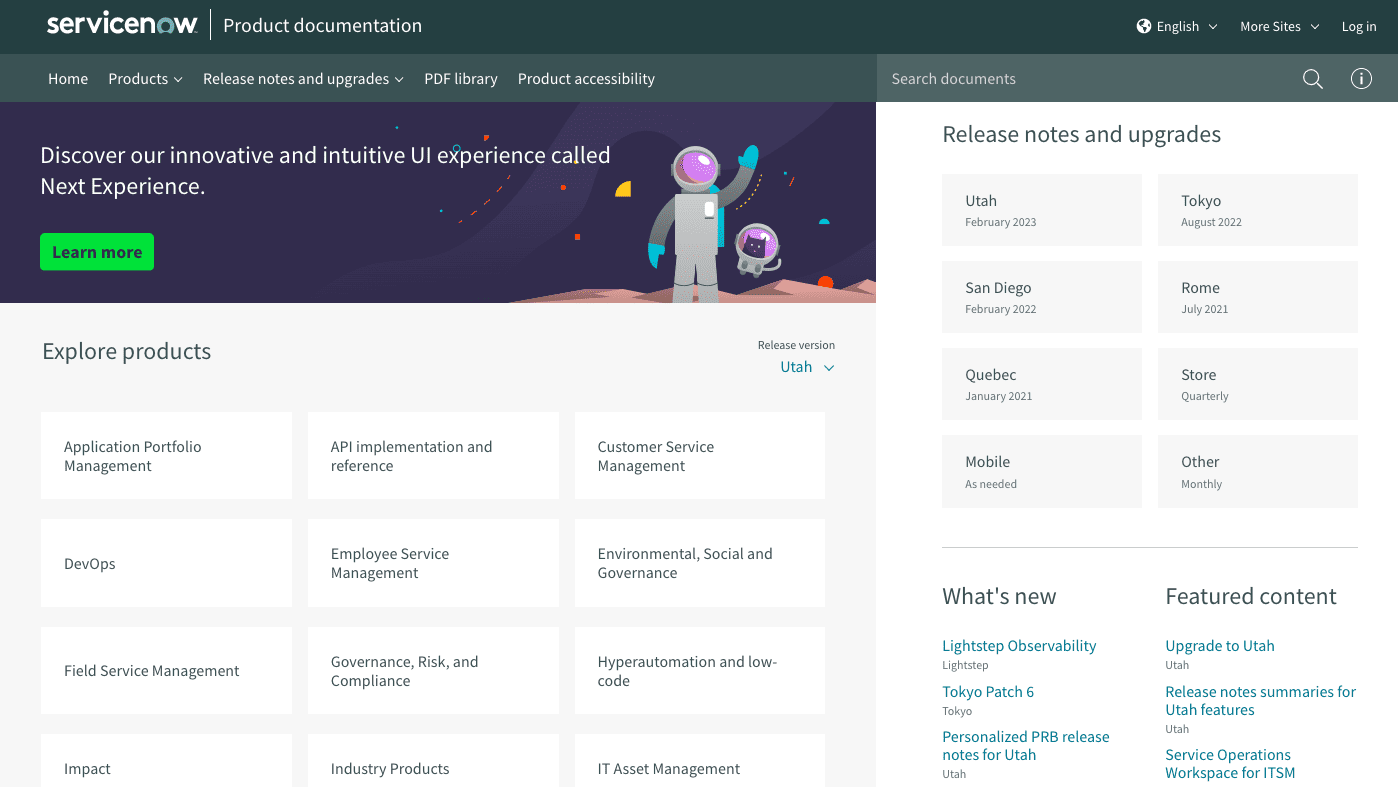 ServiceNow Docs also makes it easy to stay up-to-date on all aspects of the platform your company uses. The pages have release notes, a PDF library, product accessibility, and information about upgrades.
3. Digital Adoption Platform
One of the best ways to get familiar with a platform is to actually use it. By implementing a digital adoption platform like Whatfix, you can provide trainees with step-by-step guidance on the ServiceNow platform. The platform enables learning while doing, where employees can train and practice using the platform simultaneously.
Whatfix guided walkthroughs take employees through each step of different processes or features on the platform, ensuring they complete their tasks successfully.
The three most commonly used types of ServiceNow training in Whatfix are:
1. Product tours: When employees first begin to use the platform, Whatfix greets them with a product tour pop-up that, once clicked, initializes a walkthrough of all the major touchpoints of your customized ServiceNow software.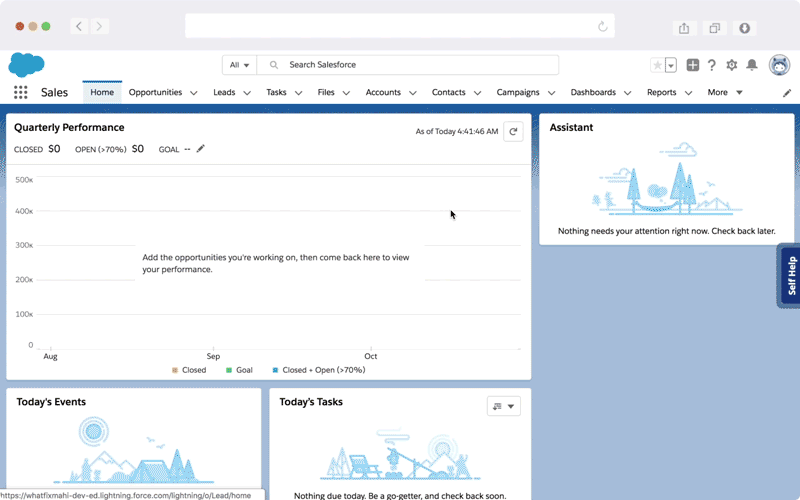 2. Task lists: The task list allows managers to create a list of to-do tasks for every employee to help them kickstart the software onboarding process. The task list engages and reminds users to complete the tasks at hand by enabling them to self-track their individual progress against their assigned tasks.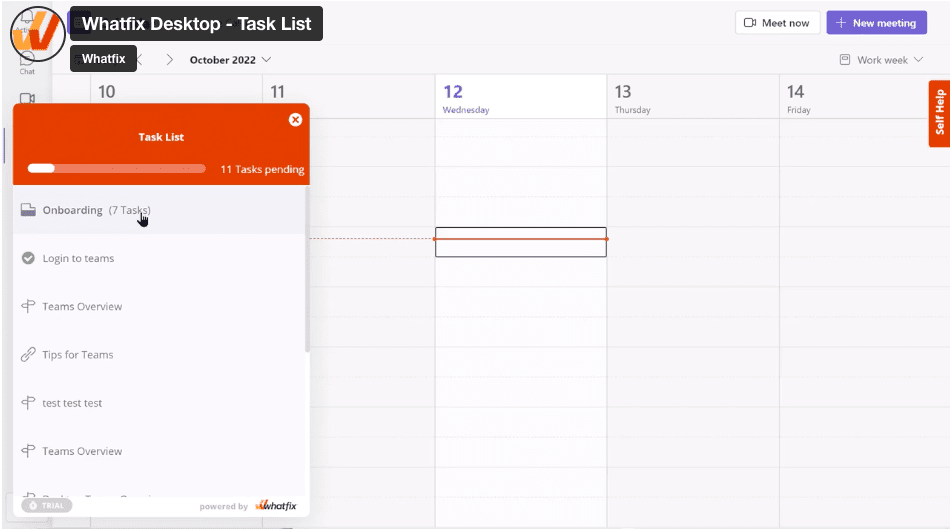 3. Self-help menus: Self-help menus offer instant access to walkthroughs, videos, and knowledge base articles for the users to proactively complete tasks without any external support. The menus update as the employees move through the platform, so the first results are always relevant to the feature they are currently using.
By providing in-app guidance, DAPs ensure that your employees can take full advantage of your new ServiceNow implementation without spending hours and hours in training before practicing on the platform.
4. Learning Management System
Another option for in-house ServiceNow training is implementing a learning management system (LMS). LMS such as Adobe Captivate Prime or 360Learning offer a central location to create and organize training courses. An LMS typically includes both passive and active training materials, ranging from reading materials to slideshows to discussion forums, so there is something to help every employee regardless of their learning style. Since team members can easily access and find training as needed, an LMS enables self-paced learning.
Furthermore, you can tailor the material in your LMS to make it more relevant to the way your employees actually use the ServiceNow platform. Managers can also track the progress of their team through LMS and test them at regular intervals to ensure they are absorbing what they learn.
Another way to supplement a formal ServiceNow training course is by participating in the ServieNow community and engaging with others using the platform. The community page is divided into topic-based forums for asking questions and finding solutions to common problems. Even if you don't have specific questions, you can learn the best practices and get advice from other ServiceNow users, as well as get information about new releases and updates.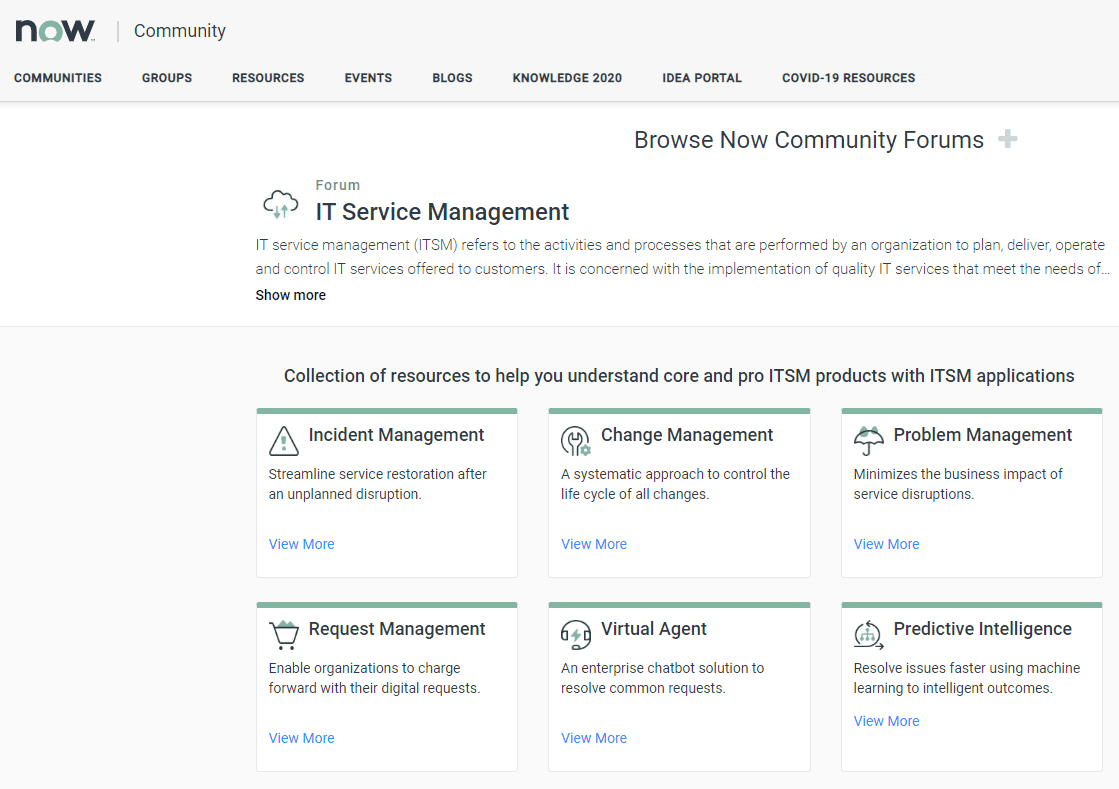 ServiceNow also posts webinars on the site and hosts "ask the experts" forums. All of these resources help enhance your employees' corporate training on the platform and keep your team informed and up-to-date.
If you're looking for a ServiceNow training option that requires less scheduling, you can find on-demand courses through third parties such as Udemy. This type of ServiceNow certification training allows employees to learn in their own time without having to coordinate with live instructors.
ServiceNow certification training offers standalone lessons that each cover a different aspect of the platform. Some are single lessons, while others have multiple modules. Many of the lessons are free. The Advanced Work Assignment course, for example, is free and consists of three related modules.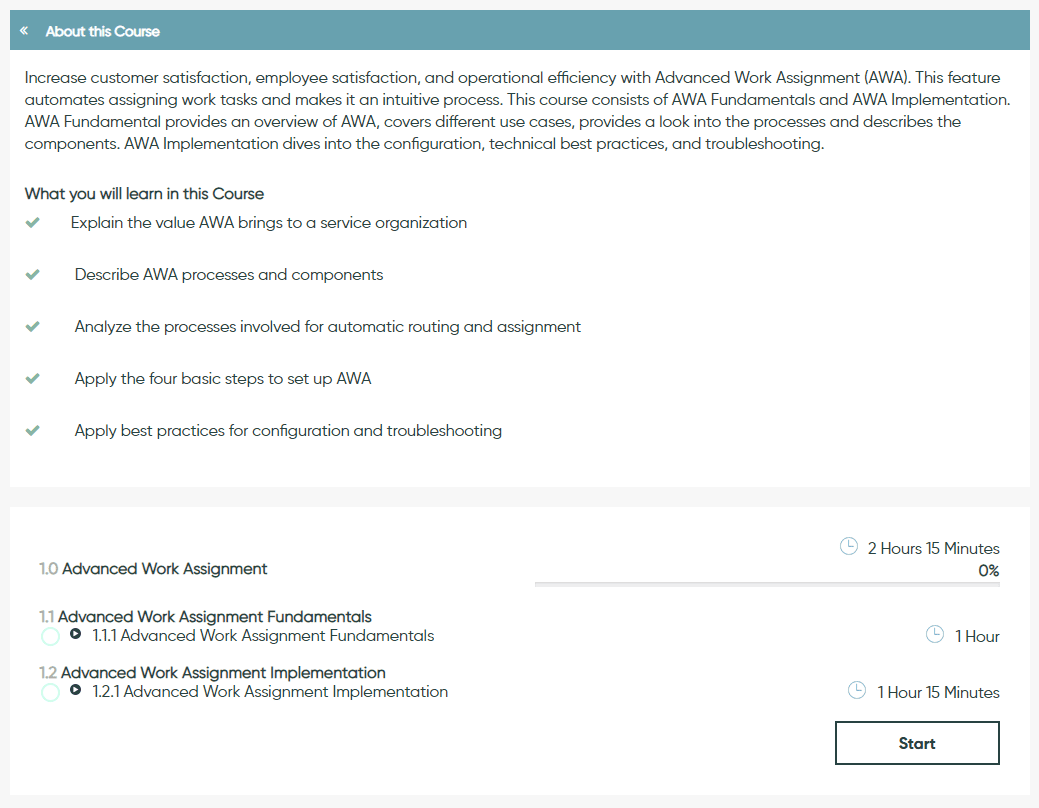 Third-party providers have an array of lessons with lectures and training covering different aspects of the ServiceNow platform. Typically, there are fees for these courses. On Udemy, for example, the ServiceNow training course range from under $20 USD to over $100 USD for a multi-hour module.
Training is an ongoing process, so it's useful to give your employees resources for learning as they go. ServiceNow has a YouTube channel with training videos and guided best practices for using the platform. The videos are easily accessible on-demand, so your team can watch them whenever they get stuck on a certain part of the platform.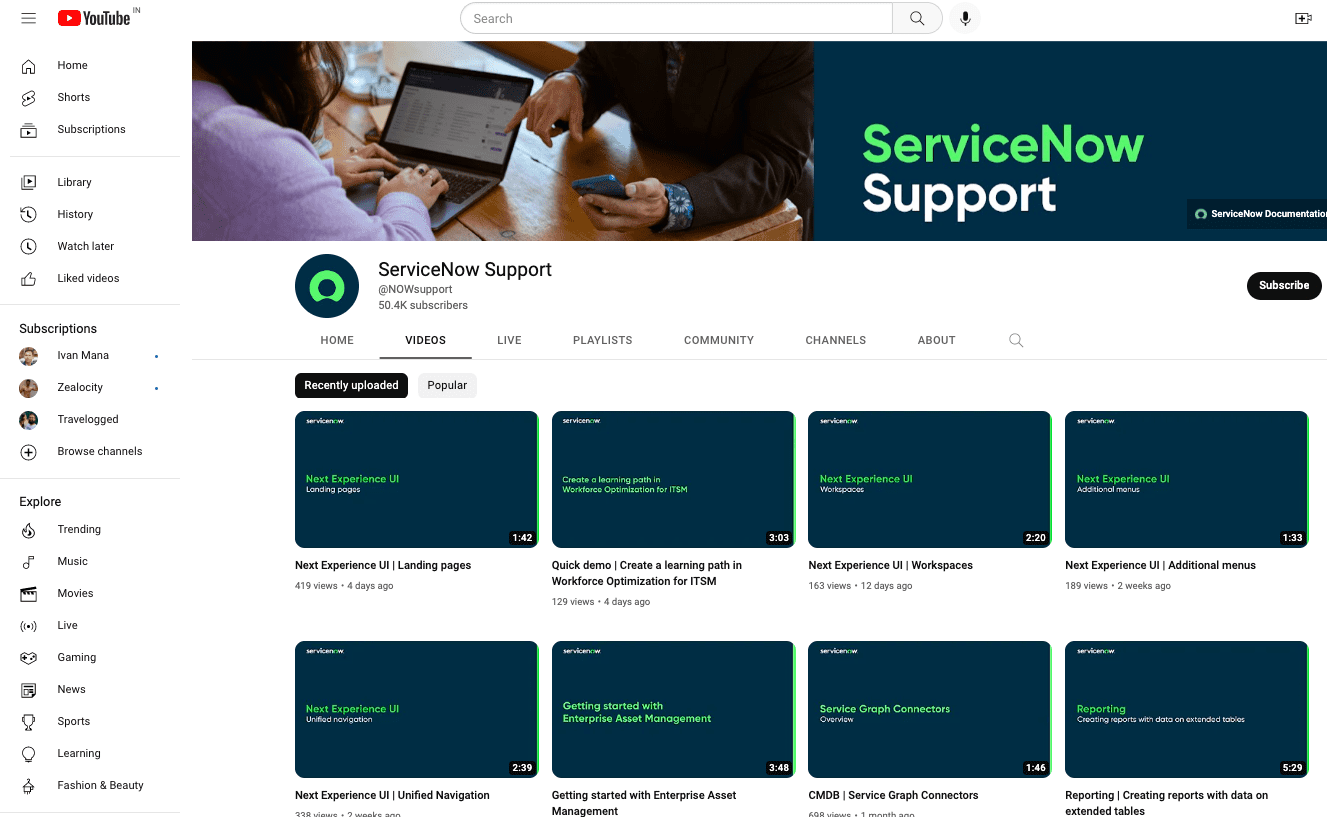 While these videos won't cover everything that formal training courses will, they are a useful supplemental tool. Employees can look up videos specific to the feature they need more help with, without having to sort through a multi-hour training course for the right piece of information.
This also means managers won't have to constantly answer employee questions about using the platform, so they will have more time for other tasks.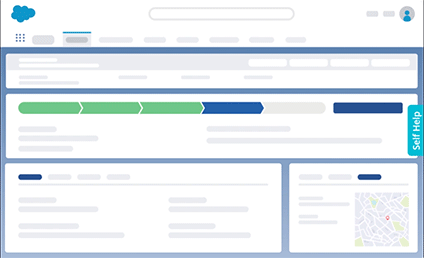 Create in-app guidance and on-demand self-help on ServiceNow with Whatfix
Why Should Employees Consider Pursuing ServiceNow Training and Certification
Here are a few reasons for working professionals to pursue ServiceNow training.
The world is going digital, and companies are running more and more applications on the cloud. To keep up with the competition, it's essential that you have the skills to use the latest technology. Having in-demand ServiceNow skills enable you to utilize the full potential of the ServiceNow platform.
By acquiring a certification, you can deliver smoother deployments, spend less time troubleshooting, and create efficient, reliable, and scalable solutions helping your organization effectively innovate with ServiceNow.
Becoming proficient in an in-demand skill like ServiceNow can help you attain both personal and job satisfaction, as it will have a positive impact on your career in terms of getting promotions and good compensation.
3. Better Performance in the Workplace
ServiceNow training helps you get a hands-on understanding of the platform, ensuring proficiency, productivity, and efficiency to improve your overall performance in the workplace.
4. Professional Advancement
ServiceNow is gaining momentum and is growing very fast with its high acceptance rate, making it a stable career choice. Getting ServiceNow training will offer you the skills and knowledge you need to excel in the field and move up the corporate ladder.
5. Possession of a Valuable Certificate
ServiceNow certification helps you quickly maximize platform capabilities to achieve your goals, thus placing you in high demand in the job market.
Best ServiceNow Training Courses, Certificates, and Resources
Now that you understand the importance of ServiceNow training, here are some of the best ServiceNow courses and certificates for you to pursue.
Whatfix Digital Adoption Platform for ServiceNow Training, Continous Learning, and Self-Help Support
Using a digital adoption platform like Whafix, L&D teams can overcome the challenge of getting their employees to effectively adopt new technology. Whatfix simplifies your ServiceNow® onboarding and training by making it self-service and empowering users through live and contextual help. The platform provides a step-by-step guidance system that enhances user experience with real-time interactive guides. Furthermore, Whatfix can be used seamlessly across ServiceNow's knowledge base. It helps resolve support requests with quick real-time guides and reduces the overall support overhead.
To learn more about how Whatfix helps ensure a successful ServiceNow training program, schedule a free demo with us today!
Like this article? Share it with your network.
Subscribe to the Whatfix newsletter now!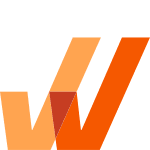 Software Clicks With Whatfix
Whatfix's digital adoption platform empowers your employees, customers, and end-users with in-app guidance, reinforcement learning, and contextual self-help support to find maximum value from software.