Digital workflow management platform ServiceNow offers customer experience and employee workflow solutions that can dramatically increase productivity and reduce costs. However, you can only realize these benefits if your employees and support staff are familiar enough with the platform to take advantage of all its capabilities. That's where ServiceNow training comes in.
The variety of solutions ServiceNow offers makes traditional, group-based training methods more difficult. The customer-facing support staff will need to learn different features than internal IT staff, and HR departments will need different features from either of those.
Fortunately, the growth of e-learning means it's easier than ever to get each employee the training they need. We've put together seven of the top ServiceNow training methods that you can implement in your organization in order to get the most out of your investment in the platform.
Top 7 Successful ServiceNow Training Methods
Here is a list of 7 training methods for ServiceNow to increase user adoption.
1. Get ServiceNow Training from a Certified Instructor
Who better to teach your employees to use the platform than someone specifically certified to do so? ServiceNow offers live, instructor-led classes, which you can sign up for via the Now Learning platform. The company offers in-person training sessions, or you can sign up for live online classes for remote ServiceNow training.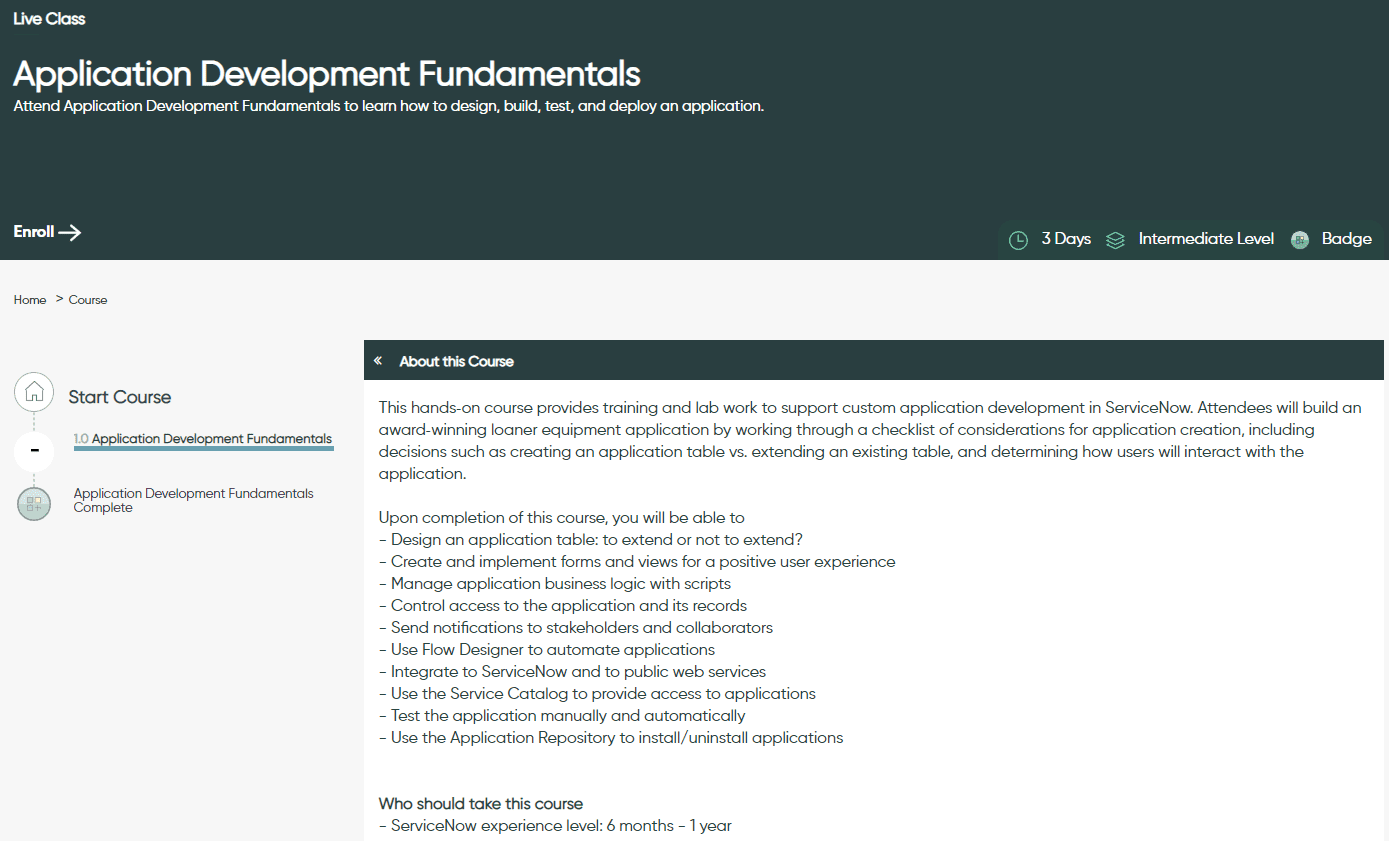 In either case, your employees will receive hands-on training on how to use different features of the platform. The courses run for multiple days and ensure trainees get an in-depth understanding of each concept. The online classes cost $1,700 USD, which includes a combination of lectures, group discussions, and hands-on work in the platform.
2. Take On-Demand Courses
If you're looking for a ServiceNow certification course option that requires less scheduling, you can find on-demand courses through Now Learning or through third parties like Udemy. This type of ServiceNow certification training allows employees to learn on their own time without having to coordinate with live instructors.
Now ServiceNow certification training offers standalone lessons that each cover a different aspect of the platform. Some are single lessons, while others have multiple modules. Many of the lessons are free. The Advanced Work Assignment course, for example, is free and consists of three related modules.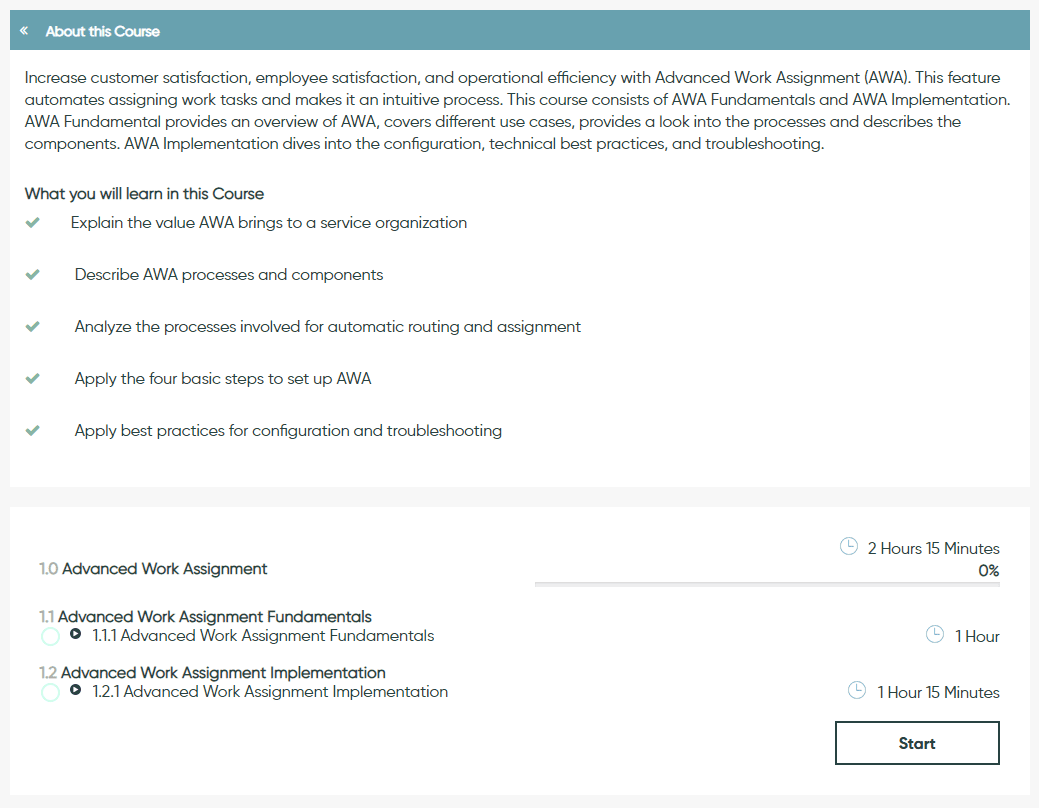 Third-party providers have an array of lessons with lectures and training covering different aspects of the ServiceNow platform. Typically, there are fees for these courses. On Udemy, for example, ServiceNow training course range from under $20 USD to over $100 USD for a multi-hour module.
3. Learn via ServiceNow Docs
Another learning resource that ServiceNow provides is ServiceNow Docs. This site hosts the product documentation for all features of the platform. Once an employee finds the feature they're interested in, they can see a breakdown, including how to use it and how it can benefit the company. The feature pages also have video demos to show best practices.

ServiceNow Docs also makes it easy to stay up-to-date on all aspects of the platform your company uses. The pages have release notes and information about upgrades. You can subscribe to a page by clicking the bell symbol at the top, and you will then be notified any time the page is updated.


Have your managers subscribe to the pages relevant to their team. That way, they'll know as soon as the platform has any changes, and they can keep their team up-to-date and make sure users take full advantage of the platform, even after their formal training period is over.
4. Use a Digital Adoption Platform for On-the-Job Training
One of the best ways to get familiar with a platform is to actually use it. By implementing a digital adoption platform like Whatfix, you can provide trainees with step-by-step guidance on the ServiceNow platform. That way, employees can train and practice using the platform at the same time.
Guided walkthroughs take employees through each step in using different parts of the platform, ensuring they can complete their tasks successfully.
The three most commonly used types of ServiceNow training in Whatfix are:
Product tours: When employees first begin to use the platform, Whatfix greets them with a product tour pop-up that, once clicked, initializes a walkthrough of all the major touchpoints of your customized ServiceNow software.
Task lists: Managers can set specific tasks for each employee to complete and can see when they've completed each task. This helps guide the team member's ServiceNow training and focus them on the most relevant parts of the platform.
Self-help menus: These menus are available wherever the user is in the platform, and they offer instant access to walkthroughs, videos, and knowledge base articles. The menus update as the employee moves through the platform, so the first results are always relevant to the feature they are currently using.
By providing in-app training, DAPs ensure that your employees can take full advantage of your new ServiceNow implementation without spending hours and hours in training before practicing on the platform.
5. Leverage Learning Management System
One option for in-house employee training is a learning management system (LMS). LMSs, such as Adobe Captivate Prime or 360Learning, offers a central location to create and organize training courses. An LMS typically includes both passive and active learning materials, ranging from reading materials to slideshows to discussion forums, so there is something to help every employee regardless of their learning style. Since team members can easily access and find training as needed, LMSs enable self-paced learning.
Unlike the online courses offered through Now Learning or Udemy, you can tailor the material in your LMS, so it is relevant to the way your employees actually use the ServiceNow platform. Managers can also track the progress of their team through the ServiceNow online training and test them at regular intervals to ensure they are absorbing what they learn.
You can enhance your LMS even further by using Whatfix at the same time. You can integrate Whatfix into an LMS to simplify course creation and guide users through courses and training materials.
6. Supplement ServiceNow Online Training with Video Tutorials
Training is an ongoing process, so it's useful to give your employees resources for learning as they go. ServiceNow has a YouTube channel with video tutorials and guided best practices for using the platform. The videos are easily accessible on-demand, so your team can watch them as needed if they get stuck on a certain part of the platform.
While these videos won't cover everything that formal training courses will, they are a useful supplemental tool. Employees can look up videos specific to the feature they need more help with, without having to sort through a multi-hour training course for the right piece of information.
This also means managers won't have to constantly answer employee questions about using the platform, so they will have more time for other tasks.
7. Connect with ServiceNow User Groups
Another way to supplement a formal ServiceNow training course is to participate in the community and engage with other people using the platform. The community page is divided into topic-based forums for asking questions and finding solutions to common problems. Even if you don't have specific questions, you can see best practices and advice from other ServiceNow users, as well as information about new releases and updates.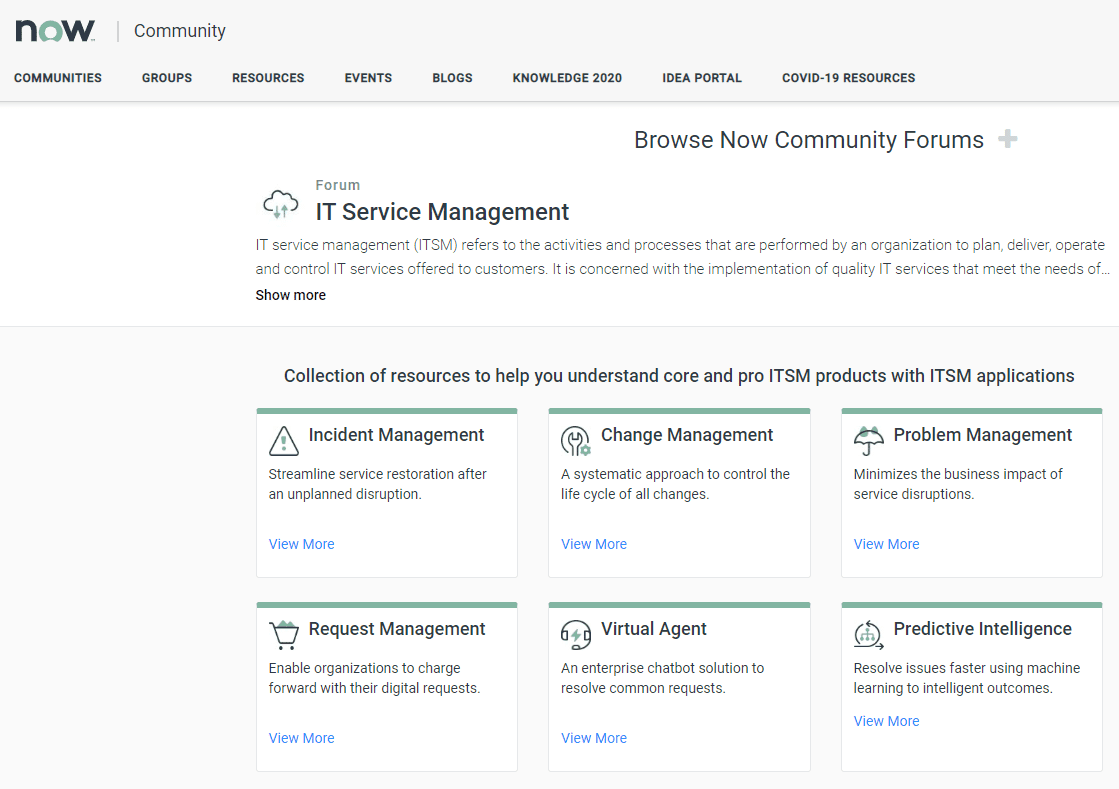 ServiceNow also posts webinars on the site and hosts "ask the experts" forums. All of these resources help enhance your employees' corporate training on the ServiceNow platform and keep your team as up-to-date and informed as possible.
Enable continuous employee learning and training with Whatfix
Discover how Whatfix's Digital Adoption Platform can help your organization create continuous employee training and development programs with in-app guidance, personalized workflows, and self-help knowledge bases.

Best ServiceNow Training Courses, Certificates, & Resources
While the above list of tips will help your organization craft a ServiceNow training strategy – the following are the best ServiceNow courses and certificates in 2021:
Increase Adoption of ServiceNow Platform
According to a LinkedIn report, more than 30% of learning and development professionals see getting employees to effectively adopt new technology as one of their biggest challenges. But by leveraging these training methods, you can ensure your employees understand the platform, obtain ServiceNow skills, and take advantage of all it has to offer.
Using an LMS, DAP, or online training course has the added advantage of enabling the employee to learn at their own pace. Self-paced learning improves the retention rate of training courses and frees up managers to focus on other tasks.
To learn more about how your organization can leverage these methods to ensure a successful ServiceNow training program, schedule a demo with Whatfix.
Increase end-user adoption with Whatfix
With Whatfix's Digital Adoption Platform, create in-app learning flows, contextual training and onboarding, and self-help knowledge bases. See it in action below.