It is no secret that consumer applications have led us to center our lives around simplicity and ease.
With just a few clicks, you can book a cab, order food, or even shop from the other end of the world.
The users of these consumer applications are also the end users of enterprise applications. And, having been primed by the simplicity of their experiences with consumer applications, it is no wonder that employees expect their interactions with enterprise applications to be simpler as well.
But are enterprise applications living up to these expectations?
A study by McKinsey shows that the customer experience index (a set of metrics that measure how customers feel about their experiences with businesses) for B2C offerings fall between 65-75% while for B2B, it barely reaches 50%.
These numbers are a clear indication that there is a significant gap in the ease with which users are able to derive value from a B2B application when compared to a B2C application.
B2B applications are designed to meet multiple scenarios and complex organizational objectives. Consequently, their infrastructure is quite complex and there is a significant learning curve associated with learning to use these applications. This is in stark contrast to consumer applications that are designed to meet simple consumer needs and hence are quite simple to use.
While the complexity of enterprise applications itself cannot be remedied, it is important to shorten the time-to-value associated with these applications. Time-to-value or TTV is the time it takes users to realize the inherent value of an application and use it to drive desirable outcomes. The shorter the TTV, the sooner your users are able to use an application effectively.
A significant part of helping users reach their time to value quickly lies in the speed with which their product queries can be resolved. Quick resolution of queries means that users can use these applications to drive business outcomes more efficiently.  It becomes absolutely necessary then, to have a form of ongoing support in place.
Although there are a number of support channels, over 70% of users prefer web self-service over any other forms of support. It can be attributed to the fact that web self-service is a quicker way to discover solutions, with minimal effort and minimal human involvement.


Source: SuperOffice
Web self-service helps users to cross the hurdles they come across when it comes to knowledge discovery. By collating information and making it easily accessible, web self-service makes finding solutions a seamless process.
It reduces the user's need to rely on external help and support and enables them to answer queries on their own. When users are able to promptly resolve problems on their own, they learn about the product better and have a better product experience.
Although the notion of implementing web self-service with the deployment of enterprise application software is relatively unexplored, it solves a number of support challenges that enterprises face with these applications.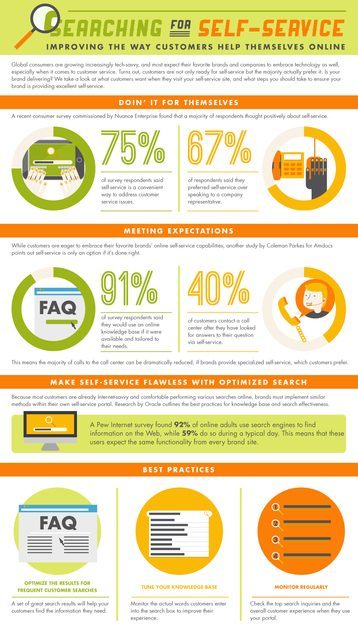 Source: Zendesk
The role of web self-service in enterprise application software
End-user support plays a very crucial role in the successful adoption of enterprise application software. Properly implemented support leads to faster resolution of queries, leading to higher engagement with enterprise applications. This is quite critical when it comes to justifying the ROI on these applications.
However, there are significant roadblocks when it comes to providing support for enterprise application users.
Support for enterprise applications has to be managed internally within the organizations that implement it.
Enterprise applications are largely customized according to the varying needs of organizations. The support that works for one organization may not work for another even if they were using the same application. As a result, the brunt of support falls on the organizations that implement these applications internally.
Now, managing support internally is a costly business.
Enterprises spend an average of $700 per user per month in technology expenses, according to a study by Gartner. This includes the cost of IT support and indirectly, involves expenses that stem from the time it takes to solve support queries.
The longer it takes for a user to contact support teams and get their queries solved, the lesser is the time the user actually spends on the application. This decreases productivity which in turn adds to the cost of technology.
However, the expenses associated with managing internal support along with decreased productivity can be addressed by providing seamless application support with the help of web self-service.
Also read: Why user adoption of enterprise applications is low and how to fix it
How web self-service serves as an effective support tool
Web self-service serves as a support channel that can be easily and internally managed by organizations. The ease of access to information means users spend less time trying to flag down IT teams for support and engage with the application more effectively, leading to increased productivity. Support costs are also lowered since the need for continuous admin support reduces with web self-service.
A Forrester survey reveals that the average cost for query resolution via web self-service is just around $.40. This is further backed up by a study by Accenture, that says web self-service can result in savings of $1-3 million annually for businesses.
Organizations can modify and update the available help every time a new feature or upgrade is introduced so that users always remain updated about the latest changes. For users, the ease of access to information combined with 24/7 availability contributes towards a great experience as they interact with enterprise application software.
Case in point. Zuora, a B2B subscription billing provider, was able to improve their NPS by 20 points with the help of web self-service.
How did this happen?
When stuck trying to solve a problem, users are driven to find the quickest and most effective solutions.
Over 40% of users trying to resolve their queries first approach web self-service, seeing as it is the quickest way to get to their solution. When web self-service fails to solve their problem, users are forced to rely on other channels of support. In Zuora's case, web self-service solved user queries first hand. The immediacy with which they were able to find solutions made it easier for users to use the application and revert to their tasks faster. This improved user satisfaction, contributing to the increase in Zuora's NPS.
One of the things we can learn from Zuora's example is the effectiveness with which web self-service needs to solve a user's problem. The primary objective for implementing self-service support for enterprise application software is to decrease the time it takes for users to understand what they should do when they come across a roadblock in the application.
Although existing web self-service does cater to this objective to some extent, there is still a glaring problem.
The problem with existing web self-service
Most businesses assume that having a knowledge base or an FAQ or an online chat support system in place is sufficient in supporting users. They expect users to intuitively know what to search for when they have a query. It's like expecting users to do all the heavy lifting since a self-service system is now in place.
And this is where the problem lies.
Nearly 55% of enterprise application users find web self-service difficult to use simply because they do not know what they should be looking for.
Further frustrating the users is the fact that even with web self-service, every time users have a query, they have to navigate away from their current workflow to discover a solution.
All of this is far from ideal, especially for time-bound users facing immediate deadlines.
An improved form of web self-service
When implementing web self-service in the deployment of enterprise application software, you need to focus on taking out the friction in self-service and make it as effortless as possible.
Web self-service for enterprise applications needs to be proactive and convenient to access. It should be able to guide users correctly without disrupting their workflow.
It makes sense then, to think about an improved form of web self-service which that is present right within the application.
In-app web self-service provides proactive, just-in-time help that users can access without disrupting their ongoing workflow. This form of in-app user assistance significantly reduces the users' efforts involved in discovering their solutions and contributes towards a better experience.
But again, improving web self-service is not just about making it available in-app.
Consumer applications have always focused on delivering personalized experiences for their users. It plays a crucial role in improving user satisfaction.
Personalization makes users feel as though their preferences are being considered and their individual needs are being catered to. It takes into account the personal interests of customers, their location, and other characteristics and manages to target their services accordingly.
When it comes to enterprise application software, users still expect their experiences to be personalized even though enterprise applications and consumer applications serve two vastly different purposes.
For enterprise applications, personalization means being able to intuitively understand the user's problems and subtly offering streamlined information that is relevant to the user's role, their current tasks, their location within the application, etc. What this does is reduce the effort users need to put in trying to narrow down what to search.
A study by Gartner points out that contextual help reduces the time it takes users to find solutions by as much as 80%. The time otherwise spent in searching for solutions can now be invested in executing their tasks efficiently, increasing the productivity of your users.
And with users increasingly solving queries by themselves, the burden of support on IT teams reduces, cutting down internal support costs by as much as 25%.
Conclusion
Successful adoption of enterprise applications is crucial in meeting organizational objectives and also in justifying the ROI on such applications. However, the complexity of these applications and the lack of ease-of-use make it difficult for users to engage with enterprise applications effectively and this slows down adoption.
Slowed adoption can mean decreased user productivity and efficiency.
In-app web self-service completely changes the way support is provided for enterprise applications within organizations. It makes support easily accessible and proactive for your users. It plays an important role in bridging knowledge gaps and helping users realize the inherent value of applications faster. Something that is critical to successful adoption of enterprise applications.
What kind of support does your organization employ? And how effective are they in helping your users? Has it been able to improve your user adoption? Let us know below.