Every day, companies must adapt the way they operate to stay competitive and relevant. For this reason, today's businesses rely on versatility and continual transformation to combat stagnancy and disruption. 
Businesses that embody a learning organizational business model are better equipped to handle and adapt to change and achieve success in an ever-more tumultuous economy. 
In this article, we'll discuss how organizations are able to implement a learning and development strategy to foster a culture that is continuously evolving in the age of digital transformation and become a learning organization.
In 1990, author and systems scientist Peter Senge popularized the concept of learning organizations in his book, The Fifth Discipline: The Art & Practice of the Learning Organization. He described these companies as, "where people continually expand their capacity to create the results they truly desire, where new and expansive patterns of thinking are nurtured, where collective aspiration is set free, and where people are continually learning how to learn together." 
What Is a Learning Organization?
The idea of a learning organization was originally developed as an extension of a systems-thinking framework, in which businesses are studied as bounded objects made up of smaller, complex systems. Learning organizations use systems thinking to measure performance and overall success and in relation to its components, recognizing and embracing the ways in which these smaller systems affect one another. 
In the decades since this concept emerged, the need for businesses to embrace the idea has skyrocketed. Today, a learning organization is a business that prioritizes learning, growth, and innovation in every facet of its culture. These companies encourage their employees to learn, develop skills, and take unconventional approaches to their work. They provide environments where people feel comfortable asking questions, and presenting unique ideas and diverse perspectives.
Building this kind of culture isn't as simple as stating an intention to learn, though. It requires a holistic approach and a commitment from team members at every level of the business so that the learning culture is compounded and strengthened when embraced by leadership, within teams, and at the individual level. 
Core Principles of a Learning Organization
Here are the core principles of learning-based organizations:
1. A top-down learning-centric culture
Starting with the leadership team, employees should be committed to personal growth and mastery. Management should set an example, demonstrating learning behaviors, participating in learning and development (L&D) initiatives, and discussing their journeys with other team members. 
HR and marketing teams help emphasize the importance of learning at every level by executing a formal employee development program that excites team members and provides plenty of information about all the advantages their new knowledge and skills will bring.
2. Established L&D processes and strategies
Highly-successful learning organizations have learning and development (L&D) processes and strategies that are well-established and easily accessible. If learning is intended to be a habit and a daily practice, team members need to be crystal clear on what is expected of them and feel comfortable participating. 
To make this a reality for your business, it can be helpful to release or revamp your L&D strategy with a formal kickoff and introduction to help smooth out adoption.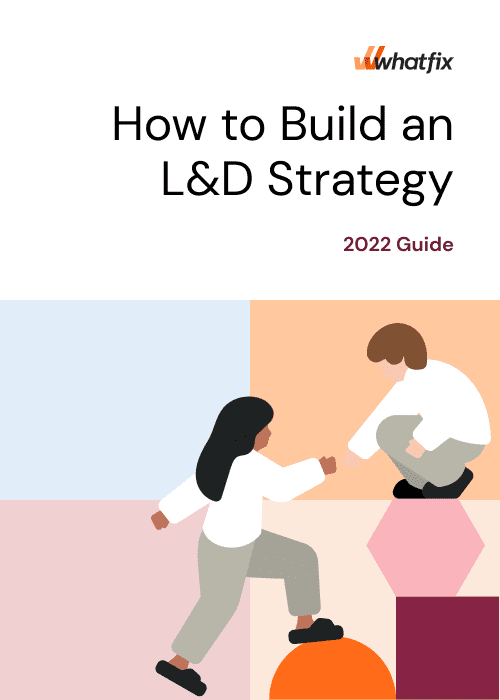 Building out your L&D strategy?
Download our new strategy guide now!
3. Data-driven problem-solving
Learning organizations are built on making the best, most efficient use of knowledge and data. When issues arise, the first step to finding a solution is to look at the information in hand. By using real-time data and analytics in problem-solving, employees of learning organizations are primed to eliminate redundancies and make the most efficient approaches to decision making. 
4. Experimentation and iteration
Another important aspect of learning organizations and employees with strong learning behaviors is the understanding that things are rarely perfect in the first try. This is crucial for learning organizations at many levels. From encouraging individual team members to brainstorm, and take chances to invest in L&D strategies that adapt to changes over time. 
5. Learning from experience
Just as important as experimentation is the premise of using results to make educated decisions. Learning organizations prioritize the sharing of knowledge and experience to keep things moving forward and eliminate the slog of repeated mistakes that can hold companies back from success. 
Even further, the sharing of knowledge is central to learning organizations. These businesses value team learning, collaboration, and mutual creativity and show this by encouraging discussion and dialogue. Employees of learning organizations are encouraged to contribute their unique perspectives as they approach their work.
Benefits of a Learning Organization
There are several important benefits of becoming a learning organization: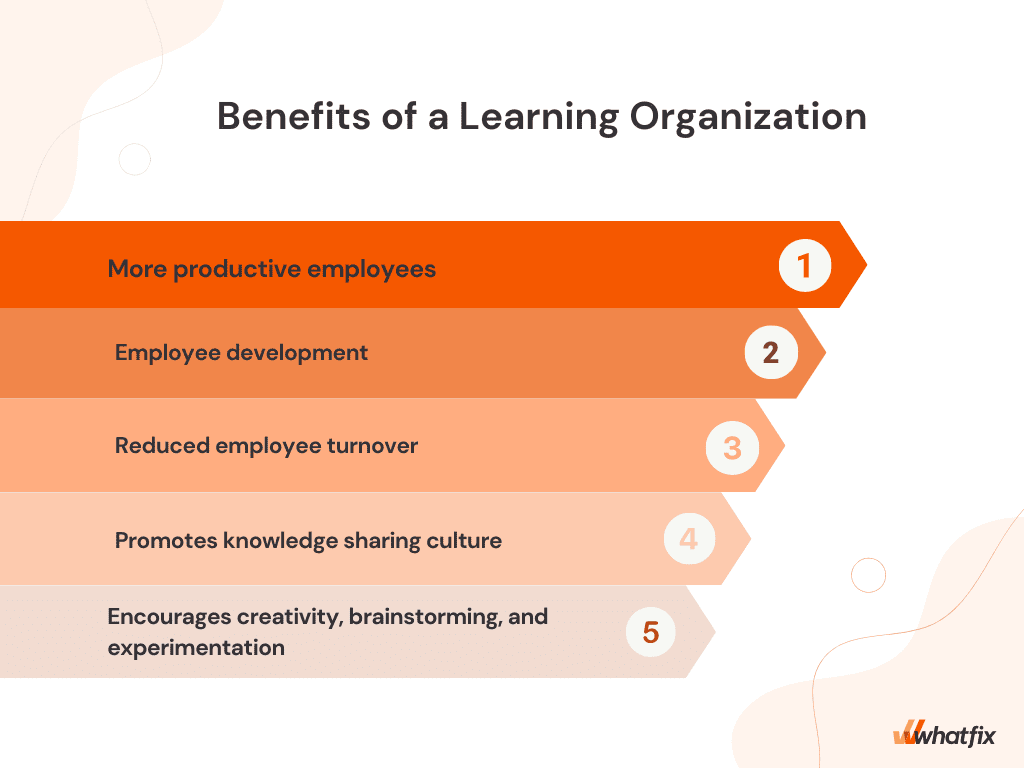 1. More prepared, productive employees
When employees are highly engaged and driven to accumulate knowledge about their work, their field, and their company they not only feel well-equipped to excel in their roles, but they become more productive. Increased efficiency means more resolutions and less reliance on external consultants – reducing costs and boosting profits in the long run. 
2. Invests in your people
Prioritizing learning and development (L&D) empowers team members to do their best work. The results are employees are eager to grow with the company – as individuals as well as employees. This investment shows employees that leadership will support them as they strengthen their abilities and knowledge throughout the employee life cycle. 
3. Reduced employee turnover
Learning organizations encourage employees to become more engaged, build a stronger community and empower team members to take pride in their work and place within the company. All of these components build off one another so more employees stay with a company longer, reducing the costs associated with employee turnover. 
Learning organizations increase efficiency and build connections through knowledge sharing. This eliminates the need for employees to waste precious energy reinventing wheels, promotes understanding, and ensures that everybody has a clear view of what is needed for success. 
The learning organization framework benefits companies by increasing overall innovation by encouraging creativity, brainstorming, and experimentation. Giving employees room (and time) to accumulate knowledge, explore interests, and share their insights empowers them to reach new heights in their work. 
6 Tips for Creating a Learning Organization
Here are six tips to help cultivate a learning-centric organization:
Learning and development efforts should be more than just a side project for the HR department. Build a team of employees from various corners of the business to develop and execute L&D initiatives. These team members can use data from surveys, personal experience, and hard data gathered by L&D software to guide their work, and should meet regularly to assess progress and make adjustments for the future. 
The Digital Adoption Show Podcast
Listen to L&D and HR thought leaders discuss new workplace learning trends and share inspiring stories of execution and growth.
2. Emphasize learning from leadership
Once again, the components of learning culture should be embraced from the top down. Managers and other company leaders should work with the L&D team to disseminate learning-centric messaging across the company and show that they also have a stake in the success of L&D projects.
3. Invest in L&D software and technology
We live in a digital age, so learning and development are ideally facilitated through the use of L&D software. These apps help HR and L&D teams manage growth and reinforce learning culture in many different ways. 
Learning management systems and learning platforms allow companies to house all their digital L&D programs in one place, allowing L&D teams to create customized courses, store training documents, and measure progress. 
Digital adoption platforms like Whatfix provide in-app guidance to employees to make learning new processes and tools easier and more enjoyable. Knowledge sharing platforms training materials and important documents in one place for efficient dissemination of knowledge.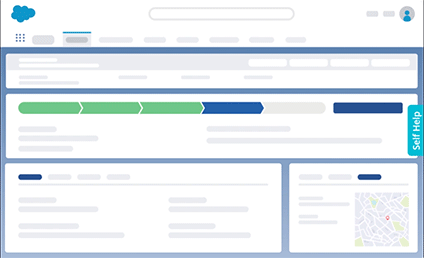 Create personalized learning & training flows for your enterprise apps with Whatfix DAP!
4. Create T-shaped employees with a deep understanding of niche knowledge
Learning organizations hire employees with learning behaviors and grow them into T-shaped employees with a wide array of knowledge and thorough expertise. These employees are aligned with company goals and mission, work well across teams, and serve as invaluable resources to the company over the course of their life cycle.
5. Leverage various learning methods and styles
Different employees learn best under different conditions and through different methods – and that's a good thing! Learning organizations embrace these differences and provide team members with the flexibility to learn in the ways that suit them best. Limiting hangups and roadblocks along their learning journies and focusing on what matters most: the knowledge itself. 
6. Provide seamless knowledge discovery and on-demand learning
Today's employees expect flexibility in terms of both how and when they work and learn. L&D teams should incorporate agility and versatility into their L&D projects so team members can tackle the lessons that suit them best on their own time. Using L&D software that includes mobile compatibility and easy access can make learning not only easy but enjoyable for employees across the board.
How a digital adoption platform facilitates a culture of learning for organizations
By building a culture of ongoing learning withing the organization, you create an adaptive, flexible, and skilled workforce that grows at an individual leven and contributes at a high level to the overall organizational success.
Leveraging a digital adoption platform (DAP) will help facilitate the learning organization culture by providing an employee-centric learning experience for your workforce. With DAPs, L&D teams can create in-app content such as step-by-step guidance, walkthroughs, task lists, and smart tips to guide employees through complex digital processes. The platform disrupts typical application training, learning, and support content by providing contextual, interactive, real-time, and autonomous user guidance – driving additional digital adoption and productivity gains for employees.
Subscribe to the Whatfix newsletter now!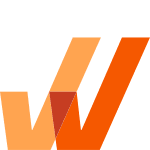 To learn more about how Whatfix is the solution for your learning needs, schedule a free demo with us today!