There is a popular rule in business that goes like this – retaining an existing customer is five times more valuable than acquiring a new one.
Interestingly, a similar rule applies to internal operations – in most cases, retaining an employee is going to be much more valuable for the company than replacing one. 
The reasons for the high cost of employee turnover are quite obvious – there is a loss in productivity when an experienced employee leaves the company because you have to hire a replacement, and it takes one to two years on average for a new employee to be 'fully productive'. And then there is the additional time and cost of interviewing, recruiting, and the onboarding process.
Employee turnover affects multiple facets of an organization, which is why leadership should be focusing on employee satisfaction and retention. In this article, we explore why employees quit, what is the impact of turnover, and what companies should do to retain their top talent.
What Is Employee Turnover?
Employee turnover rate is the percentage of employees that leave your company after a certain period of time. If your company had a hundred employees at the start of the year and 10 of them quit by the end of that year, your employee turnover rate is 10%. In fact, the average global turnover rate is 10.9%, according to LinkedIn.
Voluntary vs. Involuntary Turnover
Employee turnover is divided into two categories – voluntary and involuntary. Employees who voluntarily resign fall are voluntary while employees whose employment is terminated by the company is involuntary.
The implications of each category are divided this way:
Involuntary turnover indicates poor hiring. Reducing the involuntary turnover rate is a matter of hiring better candidates and to achieve that the recruitment team needs to improve its candidate screening processes.
Voluntary turnover, on the other hand, indicates deeper issues within the organization and especially with the work culture.
While both contribute to the overall turnover rate, companies must pay close attention to voluntary employee turnover because of its larger implications. There will always be some voluntary turnover, as employees will leave the company when they receive a better offer (in terms of pay, designation, role, and so on) and not necessarily because of issues with internal processes or management.
When the turnover rate is high and consistent, however, you know you have an internal problem.
5 Factors That Contribute to High Employee Turnover
While there are many factors, here are five of the biggest causes of employee turnover: 
Most corporate leadership believe that an employee values their salary over everything else. Pay them well and they'll be happy. While that may be true, it is far from the painting the entire picture.
Glassdoor surveyed over 5,000 employees spread across the US, the UK, France, and Germany in 2019 and found that 56% of workers valued work culture over a higher salary. 56% of the respondents said they would stay with a company that paid less than the competition if it had a more positive work culture.
That is an incredible revelation and points to one of the biggest reasons for voluntary employee turnover – toxic work culture.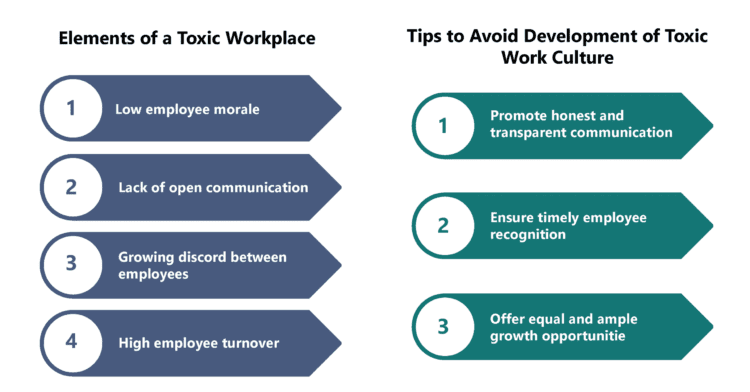 Work culture includes anything that affects an employee's behavior and attitude. Valuing their work, offering fair compensation, added benefits, workplace facilities, clean working environment, diverse peers, activities that foster socializing, etc., positively impact an employee's attitude and behavior and enhance the workplace culture.
This not only leads to higher retention rates but also aligns the employee's goals with the business goals and both grow together.
2. Lack of career growth and learning opportunities
A report by BuiltIn found that 43% of employees cite a lack of career growth to be the reason for leaving their company. This is why its critical for organizations to create a learning and development strategy.
Career growth is no more limited to climbing the designation ladder; it also includes enhancing knowledge and increased responsibilities. An employee who gets the opportunity to learn and acquire new skills through corporate training, or the opportunity to take on more diverse responsibilities, will be contented with the company even if they haven't received a designation or pay raise.
Employees in companies that don't foster a culture of upskilling feel their career has plateaued and tend to look for a job change.
This is why employees today gravitate towards startups even though the work hours and expectations may be exceedingly high. Startups offer employees an environment where they are able to take on multiple responsibilities in diverse fields, and provides them the freedom to learn the skills needed to fulfill those responsibilities. Employees value learning and growth because it progresses their careers.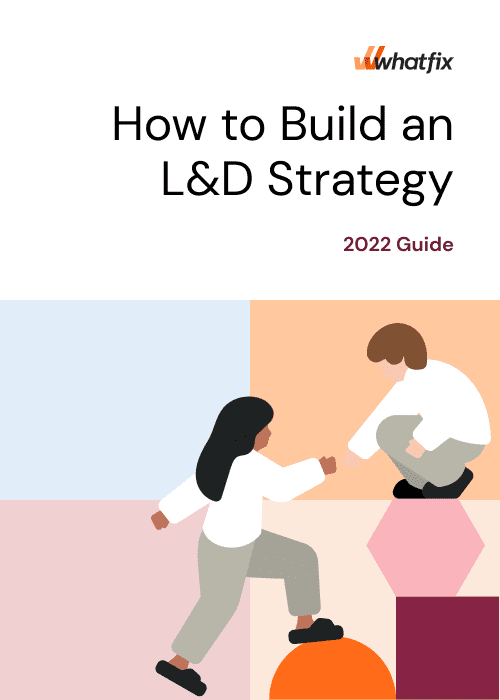 Ultimate Guide to Create a Learning & Development Strategy in 2022
3. Bad managers & poor leadership
Toxic work culture, a lack of career growth opportunities, and poor leadership make up the trifecta that leads to maximum employee turnover.
Strong managers and great leadership are important today because managers are the ones who drive all other factors within the organization – they influence the culture, they make decisions on employee training programs, their attitude defines the collective workplace attitude, and so on.
SilkRoad Technology conducted a survey on how important onboarding processes were for employee retention. Close to 10% of respondents said they left a company because of a poor onboarding experience and 37% of these said the onboarding experience was bad because their managers did not play a critical role in supporting their onboarding experience. Employees expect their managers to be influential figures in their careers right from the onboarding stage.
A positive attitude among the leadership team is indicative of a company that is growing and succeeding. This encourages employees to stay – they want to be a part of a company that is going places.
4. No employee recognition
An article by NBCNews reported that 79% of employees who leave their company cite a lack of appreciation as one of the major reasons for leaving. Not celebrating employees' success makes them feel undervalued.
A lack of employee appreciation is an extension of bad managers/leadership and poor HR processes.
Why do managers fail to appreciate their employees? There seem to be barriers that hold managers back from appreciating employees, some of them being that managers find it awkward to praise their employees, the fear that employees will expect recognition all the time, and a lack of time.
The result is that 65% of American employees said they weren't appreciated even a single time the entire year in 2018.
Recognition is a natural motivator. It makes people feel good about themselves and their work and they tend to continue performing well. The lack of recognition creates a toxic environment in which employees try to exit as fast as they can.
5. The lack of two-way feedback
When employees have a platform to give the company, the leaders, and the processes their personal feedback, they feel valued. Having your opinion heard is another form of recognition.
This is another reason why employees gravitate towards startups. In a smaller team, employees can speak and have their opinions heard. They have a chance to impact the company and the products/services, and this gives them a sense of investment which increases their will to stay in the company.
On the flip side, in companies where there is no platform or scope for feedback, employees feel their opinion is not valued. They feel unheard and unseen and don't have a sense of investment in the company's growth. This eventually leads to a lack of loyalty and employees ultimately leave the company.
Having a two-way feedback system is important not only because employees want their voices to be heard, but also because employees want their leaders to give them performance feedback so they can improve.
In a LinkedIn poll, we asked, "what factor do you think contributes the most to high employee turnover in 2022?"
6 Strategies to Reduce Talent Turnover
Here are six strategies to overcome the challenge of employee turnover:
1. Recognize high-performing employees
Employee appreciation through rewards and recognition play a big part in reducing the employee turnover rate. It is, in fact, a simple and low-cost strategy to put in place that gives companies high returns, in the form of employee retention. 
A report by SurveyMonkey found that 63% of employees said regular recognition is a key reason for not changing their job.
For it to work, however, employee recognition programs should become a part of the work culture, a part of the business process. Without rewards and recognition processes in place, the barriers we mentioned earlier will come into play and recognition will be a sporadic, random event rather than something employees look forward to.
There are many SaaS platforms that help recognize and reward employees for their hard work, such as Bonusly.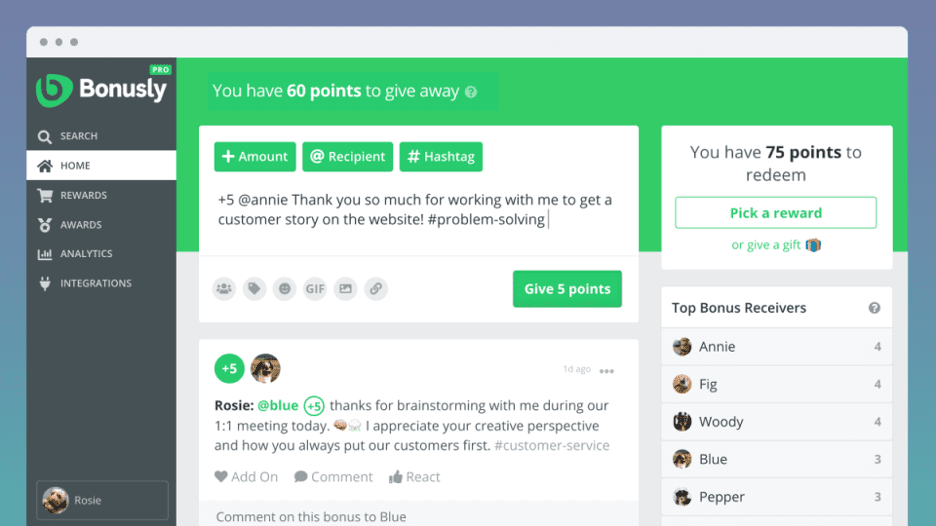 E-commerce company Zappos, for example, gives employees 'Zappos dollars' as a reward every time they participate in training – as a learner or an instructor. They have a clear KPI – participating in trainings, and a clear reward – Zappos dollars. This almost allows the business to automate recognition which ensures that it happens without fail. 
Another great example is the Buzz recognition program implemented by European electric utility company E.On. The program allows employees and managers to send a 'buzz', a personalized thank-you note, to other employees through a dedicated website. After implementing this system, the number of employees who felt valued by the company increased from 39% to 52%. 
There are many different employee rewards and recognition ideas that companies can implement. Some can be as simple as a thank-you note.
2. Create a two-way communication channel
Another way to make your employees feel valued is by creating a two-way communication channel where employees and leaders can give each other feedback.
When employees give the business feedback, they feel invested in the company, they feel they are playing a part in the company's future. This fosters loyalty which increases retention rates.
When business leaders give employees feedback, even if it is constructive, they feel seen and heard. They feel the management is taking an active interest in their growth. It also helps them improve, which adds to their career growth.
Creating this two-way feedback system is critical to creating a positive and inclusive work environment. Feedback can be collected from something as simple as a Google form.
There's another benefit to collecting employee feedback – it helps the business improve operations processes.
For example, one of the reasons for involuntary turnover is poor hiring. When the recruitment team hires a bad candidate, their performance is bad and the company has to eventually let them go.
If the recruitment team were to get feedback from the team, however, they could improve their screening process and hire better candidates. When recruiting on LinkedIn, for example, HRs can tweak the job description to include the right skill requirements based on feedback from employees who are currently performing the job.
3. Integrate your company values organization-wide
For your company to succeed and grow, the entire organization has to believe in its mission, vision, and values. If employees are not aware of the company values, they cannot align their goals with that of the company.
If possible, include your employees when defining the company's values. This will instill a strong sense of ownership and they will not only follow the values, but they will also promote them.
If the company values are already defined, make sure employees are aware of them. The values should be a part of the hiring and onboarding process. When employees believe in the company's values, they tend to remain loyal employees.
4. Improve your benefits & perks package
Benefits and perks have a similar effect as rewards and recognitions. Benefits like flexible work hours, the option to work from the office or remotely, unlimited PTO, travel allowance, medical insurance, sabbatical leave, and so on show employees that the company truly cares.
Another advantage of benefits and perks is that it is applied to all employees. Rewards and recognitions depend on performance, but benefits are a gift from the company to all its employees. This creates a sense of inclusivity among employees.
Once you have a proper feedback system in place, you will know from your employees what they expect from the company, and the benefits and perks can be tailored based on the feedback you get.
5. Invest in employee learning & development
American company ADP actively invests in coaching their sales team, and as a result, experiences a consistent increase of 7% in sales volumes. This is a great example that showcases how giving employees the opportunity to improve their skills not only reduces the turnover rate, but it helps drive company growth.
For example, by training your management team on a new project management software, they are able to learn a new platform while you get to implement a new technology that boosts productivity. It's a win-win.
Retail e-commerce company Bonobos, for example, has implemented multiple in-house programs to help employees constantly upskill and enhance their careers. The program "Managing for Success", for example, teaches participants management skills. Another program "How to Manage Up Well" teaches participants the art of maintaining relationships with peers and seniors.
Another great example is the American real estate company Keller Williams Realty, Inc. They have developed a dedicated training portal called KW Maps Coaching that hosts training programs for multiple skills like leadership, marketing, sales, productivity enhancement, and so on. These training programs are attended by their employees and other realtors from all over the world.
Employees today want to stay with a company that not only pays them well but also invests in their career development. Offering diverse training programs will help you greatly reduce the employee turnover rate.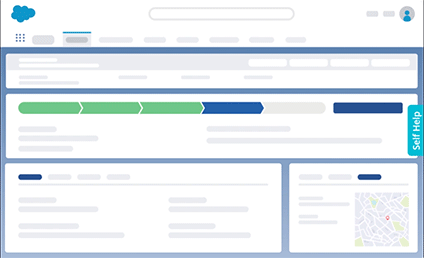 Empower your employees to reach their potential with Whatfix
6. Conduct exit interviews
Getting feedback from employees who are leaving is a great way to learn what went wrong and what the company could have done differently. Exiting employees are also more relaxed and open so you can expect honest criticism.
Here are some questions you can ask so you get valuable, actionable feedback:
Why have you decided to leave your position at XYZ?

Do you have any feedback or suggestions for the management? 

What did you love about working here?

Were you satisfied with the training programs? Was there an area you would have liked to be trained on?

Did the company and its vision support your career goals?
If you notice, most of these questions give you valuable insights into the other points mentioned in this article. It helps you improve your training programs, managerial skills, benefits and rewards, and so on. Exit interviews are a great source of feedback that will help you reduce the employee turnover rate.
Next steps on your path to low employee turnover
Employee turnover cannot be zero. That's a fact. But you can maintain a low enough turnover rate so as to not affect company morale and productivity. It all boils down to creating a positive and thriving work experience for each employee, and the steps in this article will help you get there.
Subscribe to the Whatfix newsletter now!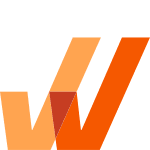 Request a demo to see how Whatfix empowers organizations to improve end-user adoption and provide on-demand customer support