Transitioning towards a digital workplace requires communication, collaboration, and supporting your employees. And Microsoft SharePoint is one of the most popular tools that helps a workplace transform into an effective, communicative and productive environment. It allows your employees to collaborate and synchronize their daily tasks from a centralized platform.
Microsoft SharePoint connects the workplace with keenly intellective content management and intranets and delivers application shortcuts, allowing the employees to access them from anywhere. 
Organizations can leverage Microsoft SharePoint for the following purposes:
Collaboration within the organization
Easy document management
Project Management
Customer Relationship Management
Marketing
Human resources
Website integration
However, All of these benefits can only be derived when SharePoint adoption is high, which is not the case today. Hence, organizations today turn to Digital Adoption Solutions like Whatfix to unlock the true value of enterprise applications like Microsoft SharePoint by helping users on their software learning curve, with the help of contextual in-app guidance. This helps users easily navigate and locate documents stored in silos. 
As you read further, I will explore, in detail, the intended goals of any organization using Sharepoint, the roadblocks face and how a Digital Adoption Solution can help tackle these challenges and drive SharePoint adoption. 
Why Does Your Organization Need Microsoft SharePoint?
If your company is using Microsoft SharePoint, it's probably for the following reasons:
Promotes a better user experience and helps simplify daily activities. 
Allows the team members to collaborate easily throughout the project so that the knowledge flow becomes smooth.
Protects your data from unauthorized access and secures your confidential documents. 
Managers can easily access app management features, keep an eye on Microsoft SharePoint farms, manage security settings, set the system settings and take the backup by using Central Administration.  
Sliding in all the websites under one platform reduces the overall cost incurred by your organization. Hence, using Microsoft SharePoint to combine the sites of the internet, intranet, and extranet can help you in cost savings. 
Being a document collaboration tool, Microsoft SharePoint eliminates the chaos of searching for documents and other files in the email. With Microsoft SharePoint, files can be stored and shared from a document library and all stakeholders can add their comments and feedback on the draft.
With Microsoft SharePoint, it is easy to build the tools and solutions according to your business requirements without any assistance from a developer.
What are the Microsoft SharePoint Adoption Challenges?
Although Microsoft SharePoint empowers the organization's intranets, file shares, knowledge management systems, business intelligence centers, etc., enterprises still face issues in getting the complete value of the application due to lack of user adoption. A 2018 Gartner study recognized a significant gap between Microsoft SharePoint usage and its value. For instance, around three-quarters of respondents said that they use Microsoft SharePoint but assigned it an average of 14 out of 100 for the value or benefits they get from the software.
But why is the workforce experiencing this gap in the adoption process? Well, it is no surprise that employees usually hesitate to make that shift from a legacy method to the latest technology. So, what are the challenges that are leading to this hesitation? AIIM's Impact of Microsoft SharePoint 2016 report highlighted a few of these challenges, let's have a look – 
Almost half of the surveyed employees or groups have their own preferred file-sharing applications for everyday usage which leads to resistance in change since breaking the traditional habits of your workforce is a huge challenge, especially when it comes to transitioning to new technology which requires a high level of change in their work-life. 
Only 23% are aware of what functionalities does Microsoft SharePoint actually offers, while 29% have absolutely no idea what it includes. Although organizations provide onboarding training and development while introducing a new platform, knowledge retention is a critical issue when it comes to training employees. Humans tend to forget half of their newly learned knowledge in a matter of days or weeks. Hence, they aren't always ready to apply the knowledge they have acquired from a training session.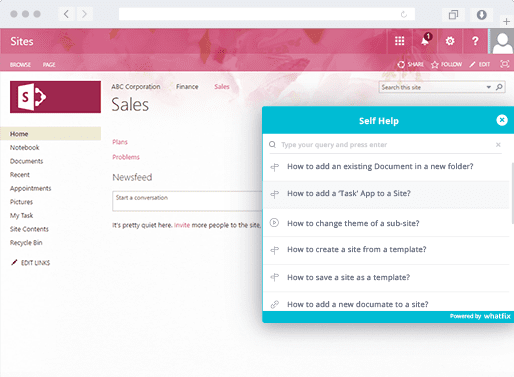 66% said it's too difficult to use and 64% report that lack of support from senior management is the reason that Microsoft SharePoint deployments have failed.
Organizations are struggling to get broad groups of employees to use Microsoft SharePoint. 40% said their Microsoft SharePoint implementations aren't successful, with 67% having blamed that on inadequate user training.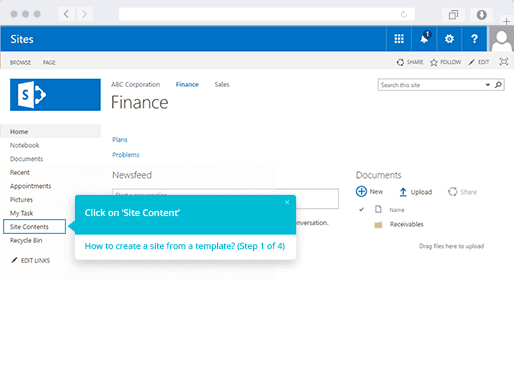 Best Practices to Boost Microsoft SharePoint Adoption in Your Organization
1. Spread Awareness to get User Buy-In
For an organization, the drive for high adoption mainly focuses on the increase in productivity and ROI, but your employees are more concerned about what's in it for them. Building awareness campaigns focussing on tips on how employees can get the most value from working with Microsoft SharePoint and clearly messaging the benefits can help with increased user adoption over time. The key here is to be transparent while addressing the concerns.
Also, as the process unfolds, keep your staff updated with the metrics that express results. Look at the initiative from their perspective and explain the benefits it holds for them. Success, increased efficiency and reduced effort can work as motivating factors for the workforce to adopt the tool quickly. 
Scenarios are the processes your employees will use Microsoft SharePoint to address any business challenges and achieve the desired goals. Identifying these scenarios will help your teams understand how Microsoft SharePoint can help them achieve more with less effort. Depending on your organization's goals, here is how you can create a scenario,
As someone in …. [Marketing Team]
I want to… [train my team, who is geographically dispersed, on the new updates the company is about to bring to market]
Using… [Microsoft SharePoint Communication Sites, News and Microsoft Stream to create a Marketing Training Portal that alerts the team members of new product training videos on the portal that they need to complete]
I'll know this is successful when… [my team completes the training and indicates in a survey they have improved their ability to market the new product]
To reduce the chances of failure, it is always a good idea to implement any product adoption in phases. Split your Microsoft SharePoint migration into smaller and manageable projects, prioritize them and roll out one by one making it easier for your employees to adapt.
The implementation can be split into the following phases –
Education – Educate yourself and stakeholders about the different capabilities of Microsoft SharePoint and what value it can add to your organization. You can use this time to demonstrate to clients the features of Microsoft SharePoint. 
Discovery and Analysis – Gather high-level requirements to understand the use cases and business processes around Microsoft SharePoint and select relevant Microsoft SharePoint functionality to streamline them.
Design – Create solutions according to the company's needs. Create an Information Architecture design based on high-level requirements gathered in the previous stage. 
Deployment – A Microsoft SharePoint solution is deployed into the company's digital environment. 
Configuration – Microsoft SharePoint is configured based on requirements and design documents. In this phase, libraries are created, metadata and views are setup, navigation is built, users are added, and security groups are provisioned.
Training – When a solution is deployed, end-users need training on how to utilize it in day-to-day activities. Deliver training on Microsoft SharePoint to champions, training instructors, and end-users to ensure that employees have the skills to use the new platform efficiently. However, people have a tendency to forget what they have learned during the training sessions and feel hesitant to implement it. Users need hands-on learning while working on the platform to completely understand the platform and feel confident while working on it.
Digital Adoption Solutions allow your employees to navigate through software within the app in the form of interactive walkthroughs, self-help widgets, onboarding task lists, etc.  It provides users a unified digital workflow and self-help experience across all web, desktop, and mobile applications, driving adoption, productivity gains and ensuring a smoother transition towards a digital workplace.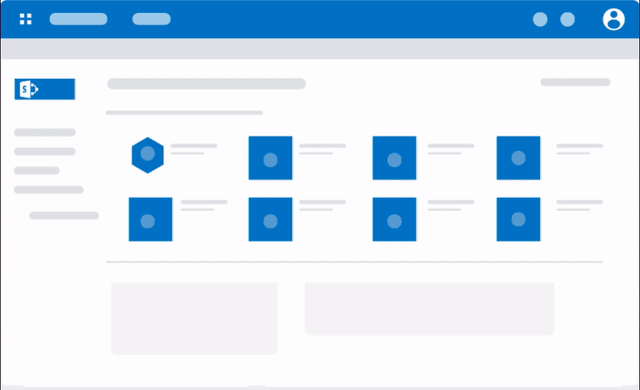 4. Empowering Microsoft SharePoint Champions
Microsoft SharePoint champions are essential to driving adoption and awareness about the platform in your organization. The main responsibility of Microsoft SharePoint Champions is to scale adoption efforts across the organization.
A Champion can help with a successful Microsoft SharePoint adoption by working on the 3 main pillars – 
Information: keeping the team updated with what's coming up
Support: support the team and answer all their queries
Enthusiasm: keep the team motivated to use Microsoft SharePoint by keeping them informed about the benefits of the platform
In order to empower a Microsoft SharePoint champion, you need to provide them with the knowledge and training they need and grant them proper access to implement the solutions.
5. Stay connected and Monitor Regularly
Even after a successful Microsoft SharePoint roll-out, it is important to stay in contact with the users to get updates on issues or improvements. Be proactive and keep connecting with the users on a regular basis and inquire about any issues, ask about any new functionality they want.
Remember, Microsoft SharePoint Implementation is not the end of the project, it is the beginning of a new way of working from where your employees and teams will continue to get more productive.
Microsoft SharePoint can be a pain point for many organizations, but it doesn't have to be. By designing a planned strategy and identifying scenarios, businesses can get the most value from it. Driving Microsoft SharePoint adoption requires a team effort from your senior management but the adoption will still remain weak if your employees do not accept it as a primary collaboration tool.
Hence, the key is to start with awareness and committed leadership and then providing training and support to make the platform easy to use, productive, and rewarding to end users.
Drive Successful Microsoft SharePoint Adoption with Whatfix
Make your SharePoint onboarding and training more personalized and effective with Whatfix interactive training.