"A sentence should never be cruel and unusual." — William C. Burton, Attorney
Burton believed that no writing should be so complex that the reader has to suffer through it. While he was referring to legal texts, this sentiment applies to various types of technical writing as well.
Technical content has the reputation of being painfully dry and difficult to read. And while technical writing is unlikely to be as exciting as a fast-paced novel or a mystery thriller, there are ways to make it more approachable.
If you're tasked with composing release notes, employee training manuals, case studies, or any other type of technical writing, this article can help. We'll take you through the different categories of technical writing and explain how you can avoid producing cruelly complex content.
Traditional Technical Writing
This type of technical writing generally refers to anything that provides guidance or documentation for a product. You probably have plenty of examples of traditional technical writing lying around your house, such as the instruction manual that came with your universal remote control or your microwave.
User guides and product manuals — detailed manuals that describe the different parts and features of a product — are some of the most common types of technical writing. Almost every product you buy comes with a user guide. It could be a tiny booklet that explains the three buttons on your computer mouse or a large pamphlet that describes a more complex appliance, like an Instant Pot.
End-user documentation is similar to user guides but is often written in a more user-friendly style that provides instruction. If you've ever perused a help section on a product website, read through FAQs, or referred to a how-to guide about a product, you've seen end-user documentation.
Release notes — documentation distributed with software and subsequent updates — are also aimed at end users but tend to be more comprehensive and include more technical specifications. For example, each time Salesforce updates its platform, they include detailed release notes.
How to Make Traditional Technical Writing More Accessible
Most people ignore traditional technical writing because it's long and boring. As a result, people don't learn about all the features a product has to offer.
Release notes, for instance, can be incredibly important, but users rarely read them. Think about the last time you updated your phone — did you read the release notes? Do you know everything your iPhone can do? A quick search for "iphone features you may not know" shows that most of us don't know everything. However, everything that shows up as a "little-known feature" online is likely described in the release notes for each iPhone update.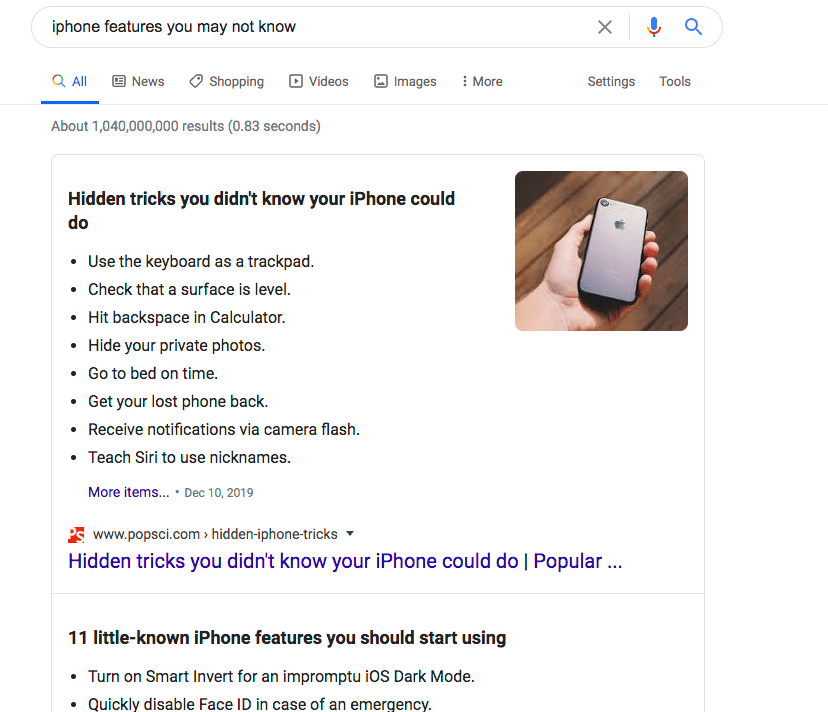 Take a note from the authors of such articles. You can make traditional types of technical writing more accessible by breaking it down into short snippets that are easier to skim. While it could come in the form of a blog series, you can also build technical documentation right into the application.
For example, if you want to help your employees get up to speed on all the latest Salesforce features, you can use a digital adoption platform (DAP) directly in Salesforce. With Whatfix, you can break your writing down into bite-sized tips and instructions that provide contextual guidance in smaller doses versus in one long document.
Research-Related Technical Writing
Research papers also fall under the technical-writing umbrella. While the science and medicine fields are best known for research papers, any industry that publishes research would be included in this category.
Scientists and medical researchers publish papers that present new scientific evidence, medical discoveries, or results from experiments. These papers often share insights from clinical trials or initial lab results.
Other industries often use research papers to share data collected from surveying or monitoring a specific group about a particular topic. For instance, a telecommunications company might publish a report about smartphone usage habits across different areas and age groups.
How to make Research-Related Technical Writing More Accessible
Professionals within your industry are willing to read through dry research reports, but if you want to reach anyone else, you'll need to take a different approach.
Key takeaways are a great way to give people a teaser to your research. Include bullet-point lists of important research notes in a summary before or at the end of each section of a report. Give people the highlights so they can choose to keep skimming or dig deeper.
You can also turn your data into a story that would intrigue people who are tangentially interested in your topic. People outside of the telecommunications industry are unlikely to read through a 70-page report about internet usage in Nigeria. However, a title like "First-time internet users in Nigeria use the internet in a unique way. Here's why that matters" could draw readers in. This article includes a link to download the research report, but it also presents the data in a more relatable way by including quotes and highlighting key findings.
Technical Writing for Marketing
Technical writing has become an important part of marketing, particularly in the SaaS and digital product space. This style of writing aims to educate (and impress) consumers and potential buyers.
Case studies are a popular marketing tool because they provide an examination of a particular use case for a product. In marketing, this often shows how a product or method was used to achieve a desired result. For example, our Dimensions UK case study demonstrates how one company used Whatfix (product) to increase iPlanIt adoption rates (desired result).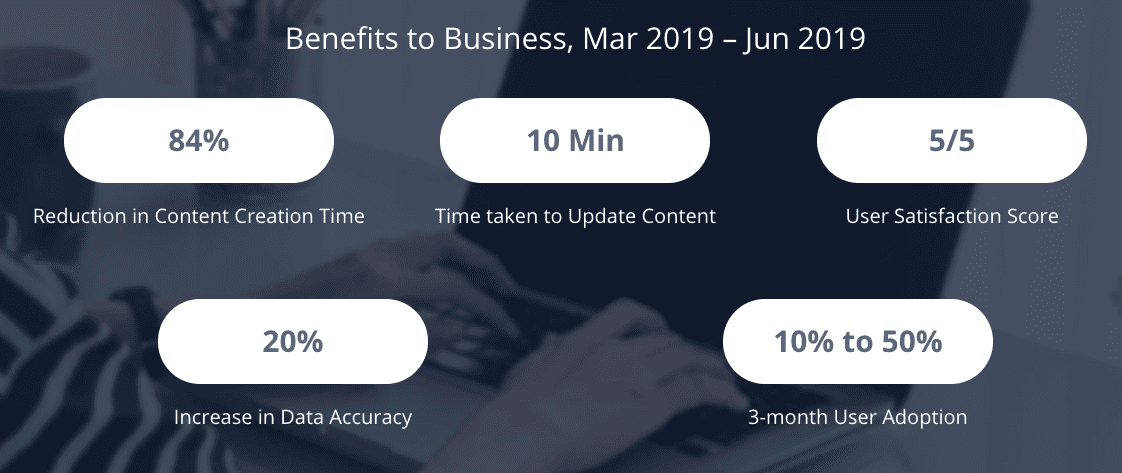 White papers serve a similar purpose but often go more in-depth. Within these authoritative reports, readers will find information about a specific product, process, or solution. For example, the Learning By Doing With Digital Guidance white paper explains the concept of learning by doing and shows the reader how to leverage digital tools to apply this training style.
How to make Marketing Technical Writing More Accessible
Of the three types of technical writing, marketing is the style standard that consumers are most likely to read. Of course, that doesn't mean it's easier to write. In fact, if you overload your readers with lots of technical information and data at once, your content will be forgotten as quickly as that universal remote user manual you read once before tossing it out.
If you want to grab (and keep) your readers' attention, start by making your content easier on the eyes. Use a graphic designer to format your case studies and white papers. Think beyond the text itself, and approach the final product like a magazine editor. Look for opportunities to break up walls of text with pull quotes, infographics, and charts to provide visual breaks from the text.


Make sure you know who the marketing content is for so you can speak on their level. For example, we broke our Salesforce Training Guide into categories for different levels of experience, such as a Salesforce 101 series for beginners. Breaking up marketing content by audience helps you speak directly to your target consumer.
Lastly, include relevant examples to drive the point home. Marketing materials are directed at real people who make purchasing decisions. Adding relatable elements to your technical writing not only makes the content easier to read but also allows people to view the information through a lens they are familiar with, such as a sales process.
Take a look at this excerpt from our white paper, The Complete Guide to Change Management for Enterprises: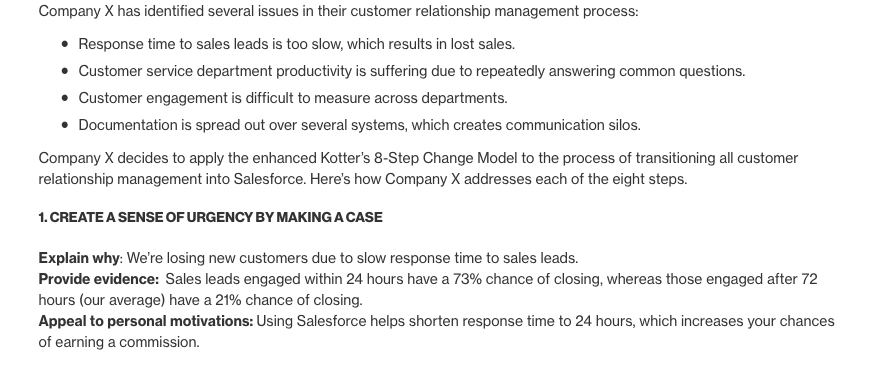 This white paper targets enterprise companies that would be familiar with the sales process and SaaS solutions. As such, using an example of a common sales dilemma makes the change management advice more relevant to the target audience.
Deliver User-Focused Types of Technical Writing with Whatfix
People rely on SaaS tools and digital products every day, but they rarely take the time to read detailed release notes or long user manuals. Instead of forcing your employees and customers to wade through extensive documentation, deliver the content in bite-sized pieces, right when people need it.
With Whatfix's digital adoption platform, it's easier to create technical writing content in a variety of formats including written instructions, walk-throughs, balloon tips, etc. Then, you can deliver that content directly to users while they use an application. Our platform makes writing and delivering accessible technical content easier and faster. Sign up for a demo to see how our tool allows you to avoid painfully long instructions and deliver useful guidance in a more efficient way.