How do you simplify learning for your organizations' ever-evolving learning requirements? It starts with making changes to your instructional design process.
While organizations invest heavily in digital solutions to scale faster and compete more aggressively using consistent enterprise technology innovations, the challenge remains with the adoption and transformation rate.
It's no surprise that digital transformation spend is projected to reach $2 trillion by 2023 where payoff from successful digital transformation is extremely high, but only 5 percent of companies are meeting or exceeding transformation.
Now, What are the challenges for a smooth digital transformation, and what can enterprises do to ensure better and efficient adoption of new technologies, how to ensure a timely, engaging and effective training and learning for a better digital adoption?
This article will focus on one of the most significant ways you can ensure digital adoption—creating relevant, personalized, and engaging software training by following current instructional design best practices.
Why Does Instructional Design Matter In Digital Transformation?
With fast-paced technological changes, in-classroom, and traditional training methods are becoming obsolete, especially for large enterprises where L&D teams continue to scramble to keep up with timely absorption of training, since a new tech investment could already have updated features and functionality in these digital times. Additionally, increasing requirements of consistent training and content adoption across global enterprises is becoming very challenging to achieve through traditional methods.
Gone are the days of in-classroom training sessions and lengthy manuals. The need of the hour is an effective digital transformation strategy that doesn't just require any training but requires instructional design methods that are as up-to-date as the technology enterprises are hoping to use.
Training and learning must now take place within the application itself, contextually, timely and on-demand with a tool that Gartner recommends and recognizes as a Digital Adoption Solution (DAS). 
Now that we've shed some light on how learning has evolved to align with changing technology, let's quickly dive into some key instructional design best practices to adapt to these changes. 
6 Top Instructional Design Best Practices To Ensure Transformation Success
While DAS is the training technology organizations need for successful digital adoption, accessible technology onboarding and ongoing training support, it's still critical to follow updated instructional design best practices. Here's are the top six top best practices for your instructional design process:
1
. Use the ADDIE model of instructional design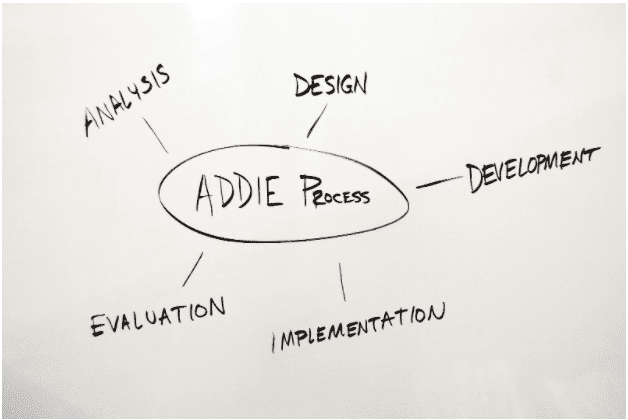 The ADDIE model of instructional design is a heavily researched and widely-used instructional design method that L&D teams can follow to ensure training materials hit the mark. Research shows that ADDIE offers a flexible, systematic, and effective approach for the development of learning modules. Studies also show that the ADDIE model is effective in developing digital material.
Here are the basics of how to use the ADDIE model of instructional design as you develop content for your digital workforce.
Analysis – Every curriculum starts with a needs analysis. This first step is when you review learning objectives and establish learning outcomes. An enterprise undergoing a digital transformation should talk to all stakeholders, leadership, and employees.
Design – Design includes defining the purpose of your curriculum, planning the instructional strategy, including all stakeholder needs, and planning the contents of the instruction.
Develop – During the development stage, you will take all the data involved in the analysis and the plans in the design stage and use them as a guide while using a Digital Adoption Solution, making your walkthroughs, contents, and in-app guides. It's particularly essential that training materials for new technologies are developed within the app.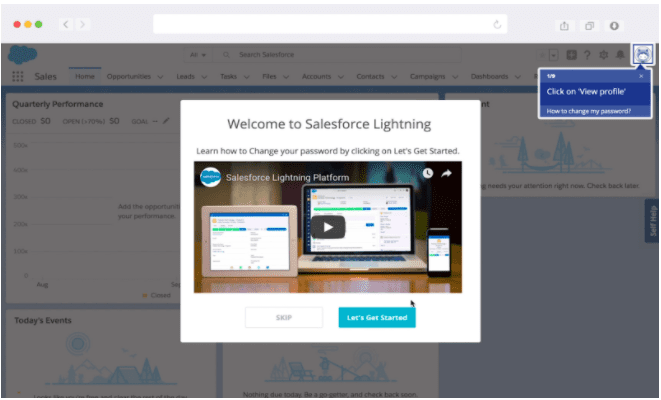 Implement – The first phase of implementation is piloting your instruction in a real learning environment. This could mean having your L&D team run through the walkthroughs within the app to make sure they are comprehensive. 
Evaluate – A DAS will provide data to help you evaluate the effectiveness and impact of your curriculum. Feedback can help you identify what is and what is not working with your in-app training approaches, and where you may need to make adjustments.
2. Make navigation simple
The applications enterprises use to improve business processes (e.g., CRM, ERP, HRMS, etc.) have a multitude of features. The more features and functionality a software has, the more options you have for streamlining business processes. 
However, with robust features comes a huge learning curve, and navigating software has become increasingly more difficult, even though the user interface might look clean and simple. In fact, 85% of executives maintain that getting staff to adopt new technologies is a big challenge.
While getting your employees to adopt a new software is a tall order, it's not impossible. With the right tools and strategies to help with onboarding and digital adoption, you make it possible for users to self-navigate, as opposed to leaving them on their own and hoping for the best.
One reliable instructional approach is to design learning modules within the app itself. With guided walkthroughs that overlay the app itself, it's easy for users to get on-demand training and instant access to answers while they are using the app.
3. Make your user guides interactive
You may be able to create the most comprehensive paper or downloadable user manual, but that doesn't mean employees will reference it, or that it's a sound training method.
A better approach is to create interactive user guides within the app. You can do this by creating a training flow with your digital adoption solution that overlays the software your employees are using. When a user gets stuck or has a specific question, the workflow will appear and guide them step-by-step through the process. It will even auto-complete tasks that are not necessary for the user to complete.
When a user gets stuck or has a specific question, there is no need to search through a manual trying to find the answer. Interactive guides provide immediate answers to questions by placing the solutions within context.
4. Make your training materials engaging and effective
We've all been through some eLearning class where it feels like pulling teeth to get through (e.g., traffic school, online college classes, at work, etc.). While the intent to train may be the goal, unengaging content can have the opposite effect. In fact, 1 in 3 learners says uninspiring content hinders their learning at work. Not to mention, the total loss to a business from ineffective training is $13.5 million per year per every 1,000 employees.
This is why it's so essential for large enterprises to invest in the right training resources, tools, and software programs that allow employees to learn while they work. With the right tools, it's easy to create engaging content your employees will actually use and love.
One tip for creating stellar content includes using different kinds of interactivities. This means creating content in multiple formats, including videos, graphics, images, and text. These multiple formats provide various ways for users to engage with your content, increasing retention rates.
Not only is this a more engaging instructional practice, but it offers the same content to people with various learning preferences. If you have learners on your team that prefer videos, there is content readily available to them. If you have learners that would rather read through the material, you are catering to their preferences as well. 
Another common reason employees fail to engage with content is that it's too difficult to locate. Again, with the right instructional design software, you can provide easy-access, personalized, and on-demand training to all your employees right within the app, making the training experience more effective. 
When you take into consideration that 7 out of 10 people say that training and development opportunities influence their decision to stay with a company, it makes sense why you would want to start creating in-app content that answers relevant questions at the time of need.
5. Cater to all your users
Enterprise technology makes it possible to access talent across the globe. While having a global team does wonders for filling job roles with the best options, it can make onboarding and training on complex solutions difficult. That is, it can be difficult without the right strategy.
When creating training materials, it's critical to find the most adaptable solution. Not only do you want a Digital Adoption Solution that anyone on your team can access no matter where they are located, but you also want a solution that provides multi-language support, multi-device support, multi-browser compatibility, and relevant API integrations.
You shouldn't have to create separate training material for different browsers or devices, and you shouldn't have to hire a team of translators. Make training and development easier on your L&D team by opting for technology that is preprogrammed, intuitive, and flexible.
6. Continually track learner progress with data analytics
The best way to know how well your training methods are working is to track user progress and collect feedback.
With a Digital Adoption Solution, you have access to real-time insights that help you understand exactly how users engage with your app. Top metrics you will want to track that measure digital adoption include:
Unique user numbers

User interaction numbers

User interaction type

Content usage

User engagement

Progress per user

Engaged new users

Returning users

Funnel metrics (views, visits, clicks, successful & unsuccessful searches)

Task fails and goal completions
You can leverage these metrics to understand and evaluate how well users are responding to your training material and also improve in-app walkthroughs and overall user experience.
Instructional Design 2.0 Using Digital Adoption Solutions
Going digital isn't a matter of 'if' anymore for enterprises; it's a matter of 'when'. And, to prepare yourself, it's critical to be up to speed on both the best technologies and the best instructional design process. 
Thankfully, there is a new class of software called Digital Adoption Solutions (DAS) that implements the above mentioned instructional design best practices, specifically for skilling up employees on enterprise software. 
For more information on the Digital Adoption Solution Whatfix, please schedule a demo. We know you'll love it and that it will prepare you for successful digital transformation.