As corporate learners with limited time on their hands and an ever-increasing need to constantly update and re-skill themselves, employees look for the simplest, easiest and most engaging way to learn. Give them a user manual with pages and pages of descriptions or an email with verbose instructions and less than half of your employees would probably make the effort to just skim through the content, making your entire instructional design process a time-consuming effort with no real outcome. 
Case in point, 33% of employees find corporate training to be uninspiring and also state it as one of the biggest hurdles to effective learning.
On the other hand, give them content that engages their attention, add in real-life elements, simulations, interactivity, or perhaps set up a gamified course and rest assured, they will make an effort to go through the content, at the very least.
Evidently, simple and engaging content is the key to effective employee training. Yet, why do most enterprises still struggle with delivering effective training?
Instructional Design Process Challenges
The challenges in delivering effective training stem from the difficulties associated with the instructional design process in creating effective and engaging content.
To understand better, let us take a look at some numbers.
The image below depicts the data obtained from research done by Karl Kapp and Robyn Defelice, experts in Instructional Design, in 2003 and 2009 as well as that from the research from the Chapman Alliance, a consultant company for learning initiatives, in 2010.
The research was conducted by dividing eLearning into 4 levels. Instructor-Led Training and Elearning level 1, level 2, and level 3.
Instructor-led training, which mostly uses linear, text-based materials uses little or no interactive elements at all, while the degree of interactivity increases for Elearning Level 1, 2, and 3 with level 3 having the highest number of interactive elements in training content.
The average number of hours based on each research has been calculated and tabulated as shown.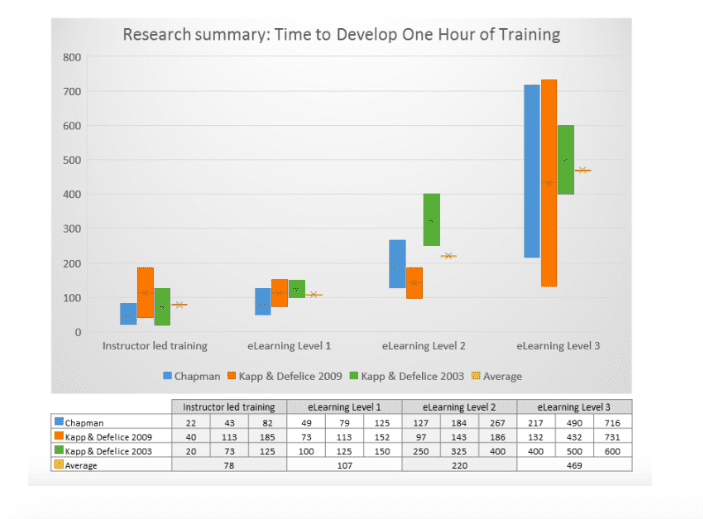 Source: Training Aide
From this, you can see that
Creating an hour of instructional content can take anywhere between 78 hours to 469 hours. 78 hours for linear, text-based content (that's approximately 3 days). 469 hours (approximately 20 days) for content with real-life elements, a high degree of interactivity, cues, and other elements to make it more interesting.
The simpler and more engaging you want instructional content to be, the more painstaking effort it takes.
For the time-bound instructional designer, this poses a major challenge.
When creating instructional content by itself consumes such a significant amount of time, instructional designers are left with very little or no time for important steps such as research, experimentation and analyzing user feedback, elements that can really elevate the quality of their content. Nearly 40% of instructional designers, in fact, report this as a major constraint in their line of work.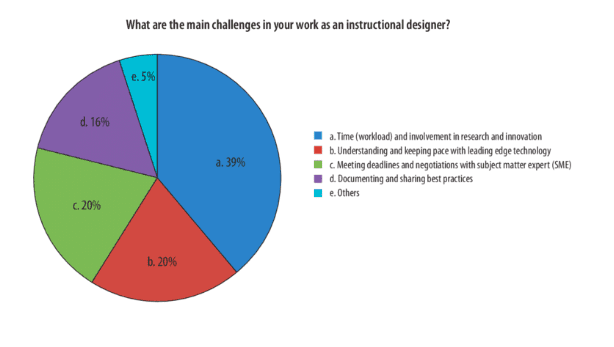 Source: ResearchGate
So, how can instructional designers do justice to their time and better meet user expectations?
Creating impactful, accurate and relevant instructional content involves a number of steps including analyzing learner's needs, consulting with SMEs and stakeholders, using eLearning authoring tools to create content, and the delivery of content on the best possible channels. For ease, you can consider instructional design to include five major steps.
Research: Understanding the most important aspects of the product/solution and crystallizing them into specific end-user scenarios
Creation: Translating the above scenarios into compelling and easy to follow guidance
Delivery: Deciding on the most effective way to deliver the guidance
Feedback: Gathering constant data on guidance utilization and user-feedback
Updates: Keeping the content updated based on the above feedback and product developments.
The most intense and time-consuming stage in the instructional design process is the content creation stage and instructional designers have a broad range of authoring tools to choose from. However, all the tools pose a similar set of challenges
1. A steep learning curve
For comprehensiveness, instructional design software and authoring tools come with several functions and features. Ultimately, the time-strapped content creator might use only a small subset of these functions (with the company paying a subscription for the entire spectrum, obviously). Most content creation tools are quite complex and require instructional designers to spend hours in training before they can actually get down to using these tools efficiently.
2. Creating content in multiple formats
Videos have long since changed how people perceive content. Today, videos are one of the most popular learning solutions for perfectly good reasons.
It's a widely known fact that our brains are wired to process visual information much faster than textual information meaning that video lessons are highly effective when it comes to training. Videos are engaging, easily accessible, shareable, and a flexible medium for learning, not to mention offer great scope for creativity.
However, videos are quite tough to create, especially when it comes to instructional design. In addition to recording and editing the content, content in instructional videos require callouts and voice-overs so as to highlight information, interactive elements such as quizzes, and of course, a meticulously drafted script and storyboard. All of this adds to the challenge of creating instructional videos and once again circles back to the time-consuming aspect of creating instructional content.
Other than videos, training content is often found in the form of PDFs, slideshows, etc. depending on the type of learning format preferred by an individual and what they are trying to learn. If you ask a content creator, each format requires a detailed thought into the flow and content to fit the format and exploit it best. The repeatability of efforts within formats is typically low.
In addition to creating multiple formats, instructional designers need to continuously measure the effectiveness of the different learning formats with different learner groups and measure them against learning goals
3. Reviewing and updating content
With products undergoing regular updates and releases, updating the respective training and instructional content have become a rather frequent activity in the instructional design process. While development teams use 'agile' methodologies to churn out frequent innovation to deliver on the 'continuous innovation' promise of SaaS vendors, instructional designers follow the outdated and manual process of editing, generating these files, making changes, and then making sure that they are updated throughout the various formats.
For instance, with a tool like Adobe Captivate, making a change requires generating the original file, making the required changes, and uploading it again. And this has to be done every time you need to update the existing content. This adds to the difficulty and time consumed in creating instructional content.
4. Creating content for user-specific roles
When it comes to employee training, instructional content varies in who needs to know what depending on their roles. For instance, the activities and workflows of a sales representative using an application like Salesforce is quite different from that of a sales director. This means that the interface and steps taken to reach individual outcomes are also different.
Instructional designers need to account for these variations during the content creation stage in the instructional design process. This essentially leads to a multiplication in the effort required to create content to account for different roles, different learning formats, and in some cases, even in different languages.
Ultimately, instructional designers spend a great amount of time grappling with authoring tools and that makes it important and urgent to find tools that are intuitive, easy to use, and simple to create courses with. Instructional designers must be able to get onboard these tools with minimal difficulty and use them to their advantage.
Simplify Your Instructional Design Process with Whatfix
Whatfix, a Digital Adoption platform for web applications allows instructional designers to create and deliver interactive guides that allow enterprises to improve employee onboarding and training across a number of enterprise application software.
It provides real-time, in-app guidance to users making training a part of an employee's workflow as opposed to it being a disjointed experience.
Whatfix is highly intuitive and requires almost no technical or programming knowledge to get started with. Instructional designers can easily acquaint themselves with the application in no time and get right to creating content.
1. Creating multiformat content with Whatfix
People learn differently. The effectiveness of a learning format depends on an individual and what they are trying to learn. This means that not only do instructional designers need to be knowledgeable about creating different types of training content, but also continuously measure the effectiveness of these various formats with different learner groups and learning goals. Whatfix eases the process of creating multiformat content since the walkthroughs created in Whatfix are instantly converted into PDF documents, videos, slideshows, and articles.
These files can be easily downloaded to be used offline by your end-users. They can even be integrated into knowledge bases like Zendesk, Freshdesk, or even as part of training handouts, emailers, etc. saving training and development teams a significant amount of time.
2. Segmenting content by user roles
Whatfix allows instructional designers to create content and assign them automatically to users based on their roles. In combination with assigning tags and setting conditions, Whatfix automatically segments the content for a user thus saving huge administration effort for content creators in information delivery.  
3. Updating content on Whatfix
Whatfix also makes it easier to update and review content. Every time a change needs to be made to a walkthrough, the change is automatically updated everywhere the walkthroughs are used.
This avoids the need for instructional designers to meticulously generate each file, make the required changes, and then upload it to the system. On Whatfix, you can update and review content with a minimal number of clicks and minimal effort.
4. Measuring training effectiveness
Ultimately, it all comes down to how effective the training content turned out to be and whether employees gained something from the time they spent on it. Whatfix uses in-built analytics to give a clear view into how your end users interact with training content. It allows you to gather information on metrics like user engagement, most popular content, usage trends of widgets, and so on. You can track user feedback, completion rates, and even find out the kinds of queries users might be having.
Whatfix makes training measurable with analytics and integrated with the overall learning plans in LMS using the SCORM integration.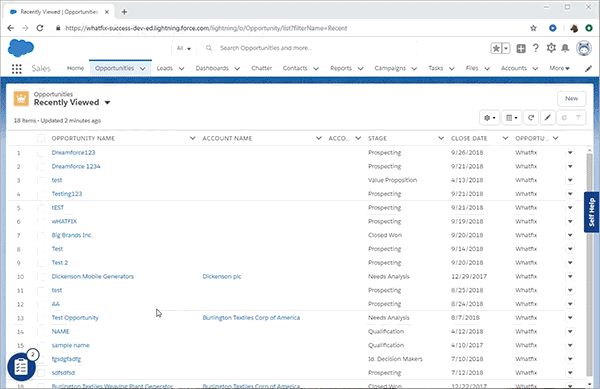 Whether its implementing new enterprise application software, onboarding a new employee or reskilling an existing workforce, there is always a need for training. But the fast-paced nature of industries means that employees today have less time to spend on training. This is why training needs to be made quick and efficient.
An important part of effective training lies in creating and delivering engaging content. Whatfix allows learning and development teams to achieve this by making the creation and execution of instructional design a seamless process.