Technology enablement supports end-users to be more efficient and productive, and ultimately do their job better by empowering them with the guidance and tools to use software to its fullest potential. However, as we operate in the new normal that is the digital workplace, software users are overwhelmed with countless applications with fractured interfaces and complex learning curves. 
According to a recent survey of 10,000+ global employees from Asana, the average employee uses 13 applications 30 times daily.
While technology is scaling, the software experiences have become standardized. Modern software is built for the masses and lacks the contextualization necessary to enable specific user cohorts and drive business outcomes. Customized experiences and personalization is often the responsibility of customers to create and manage.
Generic software experiences directly impact UX and time-to-value for users, leading to poor user adoption, organizations failing to find ROI in their technology investments, and high churn levels. 
At Whatfix, we're on a mission to create a world where individuals are empowered to freely use and experience the benefits of the technology they utilize daily. This philosophy focuses on contextual experiences that resonate with individual users and cohorts of users, but it also enables organizations to drive change projects and accelerate digital transformation by achieving high levels of digital adoption. 
We're doing this through a concept called userization.
Userization is the concept of making software work for the user, the way they need it, with contextual experiences built for individual end-users. Userization fosters integrated, adaptable technology that enables end-users by putting them in the driving seat, making it easy for them to adopt, use, and ultimately achieve business outcomes through technology enablement.
Consider your organization's CRM. Your sellers must understand how to use it and adapt to the tasks and workflows your sales engineers and operations team have built into your sales playbooks and workflows. 
However, every organization has unique processes, workflows, tasks, etc.  In that organization, different teams and units (think AEs, BDRs, CSMs, marketers, etc.) will have contextual tasks and processes unique to their roles and responsibilities.
In the modern digital enterprise, adoption is more than user onboarding and IT support. Organizations must empower every user with contextual guidance and support to drive real business outcomes from digital applications. This idea is userization.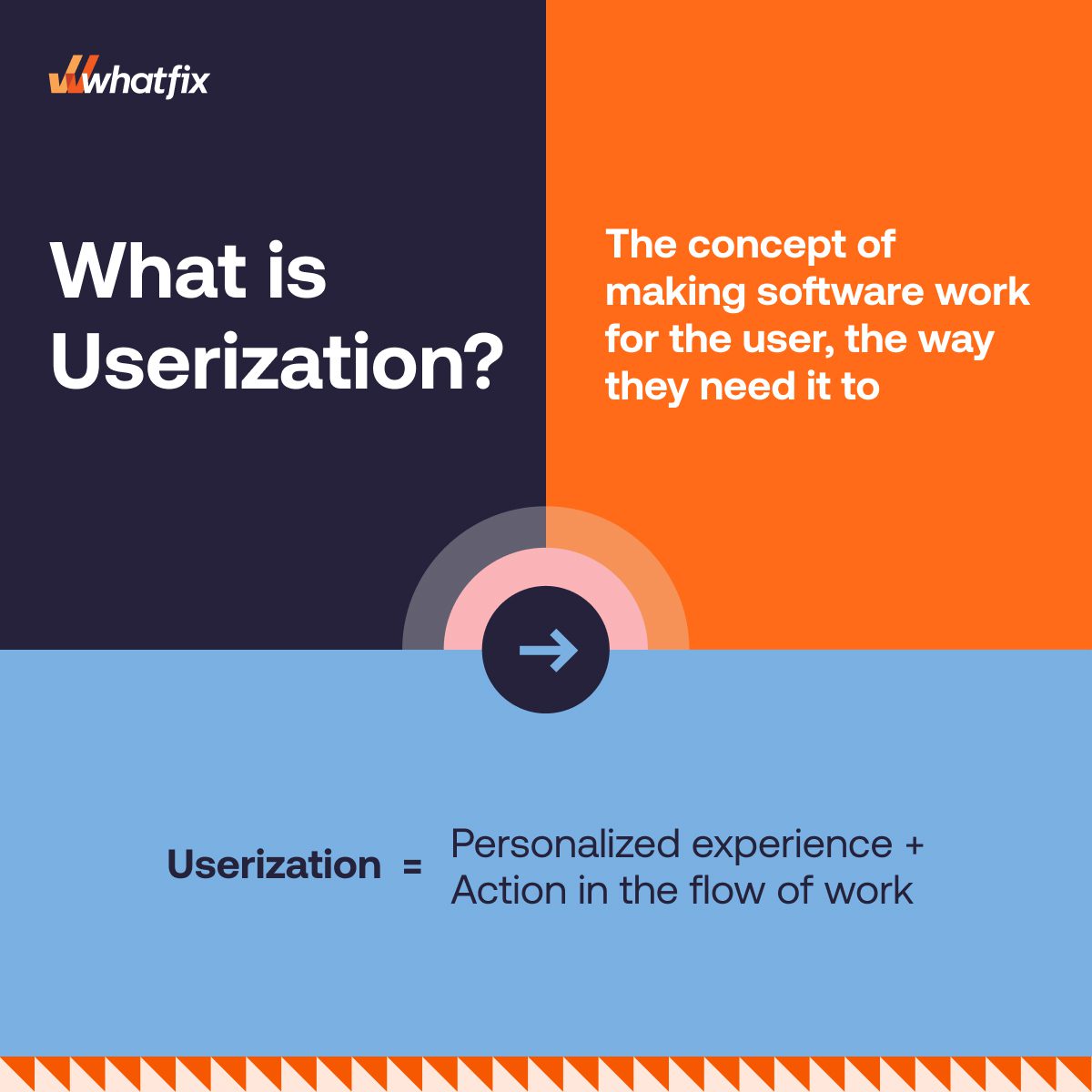 Userization is broken into three main pillars:
Userization makes it easy for users to take action, collaborate, and complete tasks faster with guidance and support built for their unique tasks, responsibilities, and workflows.

Userization is contextual. Every action is taken where the user is in a digital application and workflow.

Userization brings technology to users and nudges them to change their behavior.
Userization unlocks a user's full potential across their entire stack of software applications 
through personalized, integrated, and inclusive technology experiences. This creates a net-positive impact and experience for each software user's understanding, productivity, and success with particular users on particular technologies. 
In short, userization is building an integrated, personalized experience that works for and empowers software users through contextualized digital enablement. It allows for easier collaboration and taking action, leads to faster task completion and behavioral change, and drives efficiency and productivity
Software products are standardized. Users are anything but. Software users frequently struggle to learn the functionalities, find support when they need it, and collaborate across fragmented application interfaces. This translates into increased support costs, lower user productivity, and longer time-to-value from software. 
Software is powerful, but without full digital adoption and understanding of how to use these solutions, software users will never realize its total value and fail to reach their full potential.
A report from Zylo found that the average company spends $5,800 per employee on SaaS products yearly. This equates to $2.9M for a company of 500 people and $29M for 5,000 employees. 
And the technology cost per employee grows alongside employee count, with Fortune 500 companies spending upwards of $17,000 per employee on technology annually. 
By creating user-centric software experiences, companies can find real ROI in their technology investments. The benefits initially promised by SaaS vendors during demos and the sales cycle can be easily accomplished. 
Userization presents critical benefits for both companies that are investing in new software, as well as the software vendors themselves. 
Enterprises want to maximize ROI from their software and technology investments. SaaS companies, digital service providers, and similar companies want to provide real value to their customers with a better overall experience, ultimately creating loyal customers and product evangelists.
Let's explore a few immediate benefits of userization:
1. Increased end-user productivity
By infusing userization into your software experiences, you're empowering users through contextual nudges that enable them to find real value in each application. These in-app user experiences provide relevant knowledge and gentle performance support that makes processes faster and enables software users to reach their goals faster.
2. More efficient and proficient end-users
With userization, organizations can enable software users with the tools they need to become expert, proficient users. When users can find value and adopt advanced product features, organizations find more ways to take advantage of their software applications, and SaaS providers can create loyal customers who understand a product's complete value.
3. Reduction in IT support costs
Userization reduces IT costs from two sides, by enabling end-users with contextual self-help support that deflects the majority of IT support issues and tickets, while also enabling end-users to become more proficient and efficient on their software applications faster.
By enabling users with outcome-based experiences and contextual nudges centered around them, organizations and SaaS companies can reduce the amount of IT and customer support-related tickets and queries. This leads to cost savings measures for both companies and SaaS vendors, reducing user errors, IT support questions, and customer support tickets – ultimately cutting IT-related and customer support costs.
End-users become more proficient in these applications when contextually guided, in the flow of work. This empowers IT teams to realize the full potential of their digital strategy and IT investments and improves the entire organization's output by maximizing technology adoption.
4. Reduced churn and more satisfied customers
With userization, companies can reduce user churn by understanding the needs of their customers and creating experiences tailored to those needs. This helps reduce the time-to-value for users, which ultimately reduces churn. The more educated customers are on your platform, the more invested they become in your platform(s), which becomes critical to success, day in and day out. 
This leads to more sticky products and better customer experiences, powering product-led onboarding and growth strategies that turn users into upsell opportunities and loyal product evangelists.
5. Mitigated technology risk and better data integrity
Data validation, intelligent recommendations, and contextual nudges improve the completeness and accuracy of data across your enterprise systems. This means cleaner, more complete data sets for your customers, employee, and users, leading to better compliance and minimizing the risk of inaccurate data that often results in forecasting and reporting errors.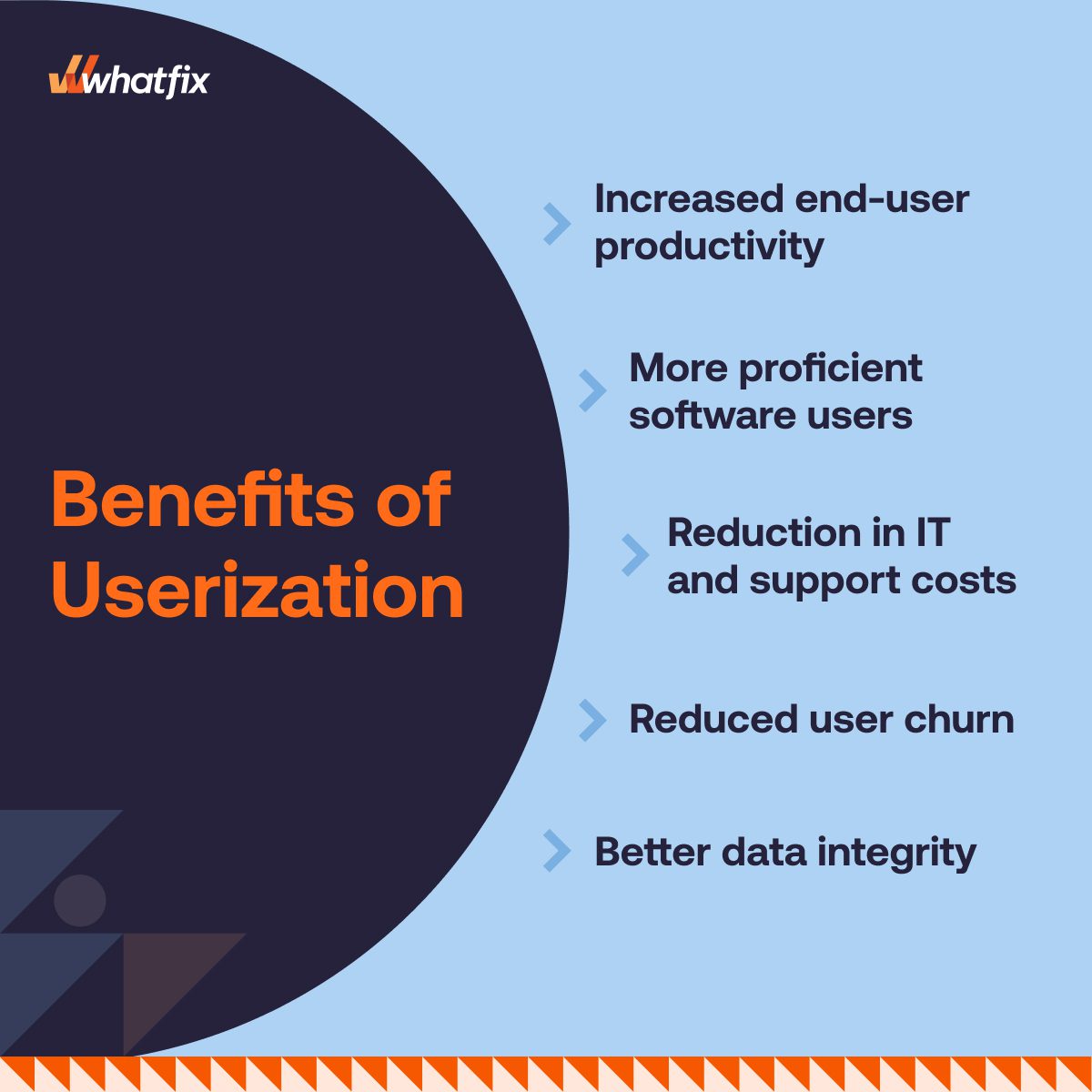 Over the years, consumer technology has become more competent. Today, technology understands us as individuals better and makes modifications based on our behavior. Consumer technology is moving (or has moved entirely) from standardized solutions to more personalized solutions.
Here are examples of userization in action:
1. Telematics in the auto-insurance industry
Previously, auto-insurance coverage and services were standardized and designed based on groups of users. This meant the average driving habits of all drivers were used to predict the habits of each driver. 
Today auto insurers use a technology called 'telematics' where auto-insurance customers are provided with an electronic device that plugs into the vehicle's diagnostic port, called the OBD-11 port. From there, it monitors driving habits such as:
How often you drive.

How much time you spend on the road and how many miles you drive daily.

What times you're typically driving (rush hour, overnight).

Your acceleration and braking patterns.

How often your exceed a certain speed (usually ~80 mph).
This technology helps insurance companies modify individual customer policies and decides rates based on individuals rather than regional or national averages. Insurance companies use the data to price insurance for individual drivers; drivers with high-risk behaviors will pay more for their insurance than safe drivers.
2. CRM experience and workflow userization for a Fortune 100's sales organization
A Fortune 100 partner of Whatfix in the IT services sector improved pipeline data hygiene on its Salesforce CRM that reduced overdue deal value from $111M to $53M in 4 weeks by creating more user-centric process flows with Whatfix.
The company had invested significantly in Salesforce and customized it to cater to its specific needs. In a short amount of time after implementation, overdue opportunities accumulated to a value worth $111M, as a result of sellers entering dirty, incorrect, and incomplete data into Salesforce because of poor process adoption. When sellers lost track of their deals, they often closed the deal and marked it as 'lost' or 'dropped'. The quality of their CRM data was extremely poor.
With Whatfix, personalized pop-up notifications were implemented to remind sellers of overdue opportunities. A custom flow was created that led them straight to a curated list of their respective overdue opportunities.
This drove behavior change, which resulted in overdue deal value decreasing from $111M to $53M in only 4 weeks. To put this into context, if we assume 10% of deals "lost" or "dropped" are recovered, and assume a 20% close rate, this would drive an additional revenue of $1.2M. It's a classic example of how userization of the most fundamental sales processes, such as updating opportunity data on an enterprise CRM, generates significant value for large organizations.
Explore DAP employee use cases from real Whatfix customers.
We explore 25+ DAP uses cases that enable and support employees on their CRM, ERP, HCM, and more.

How DAPs Enable Userization
Digital adoption platforms (DAPs) enable organizations with a no-code platform to create, launch, and analyze user experiences. This includes creating branded product tours, onboarding checklists, smart tips, and pop-ups, as well as analyzing user flows, identifying technology dropoff points, building user cohorts, and providing self-help support.
1. Enables organizations with a no-code editor to create contextual, role-based technology experiences
Modern SaaS tools have multiple use cases for various customer personas, industries, and use cases. For example, Whatfix enables non-technical teams with a no-code editor to create branded in-app guidance and contextual self-help support – examples include:
Product teams create in-app guidance, drive product adoption, track product analytics, and collect user feedback. 

L&D teams for digital employee onboarding, training and development, performance support, and internal announcements.

IT teams to accelerate change, onboard users to new

software implementations

, drive overall software adoption, and achieve ROI of digital investments.

Customer support teams to provide better customer onboarding experiences, reduce product confusion and time-to-value, provide self-help support, and gather feedback.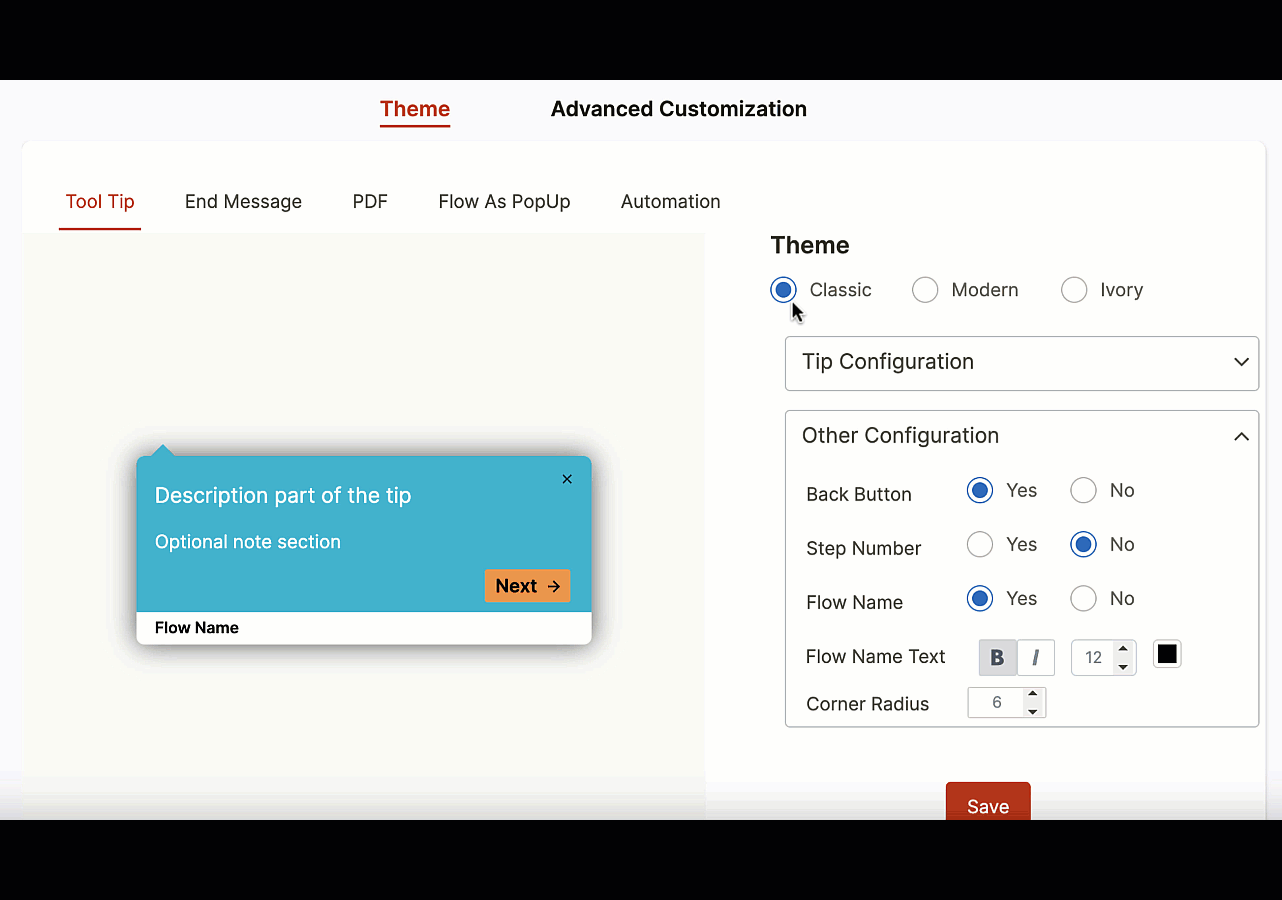 With diverse use cases, it's critical to have contextual, role-based experiences for each user cohort. Contextual onboarding, training, support, collaboration, and other product experiences segmented by persona make it simpler to use language your audience is familiar with, highlight the most critical features and flows for each user type, and showcase a software's full potential.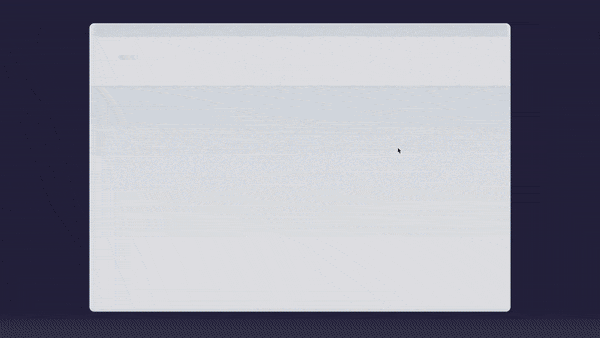 User-centric experiences go beyond role-based segmentation. Software users are people, and people have different preferences and needs. Every company, its departments, and business units will need contextual end-user guidance, training, and support. With Whatfix, organizations can create contextual, role-based experiences, guidance, and end-user support that drives outcomes and improves efficiency.
2. Reinforces user behavior with contextual nudges to accelerate adoption
With Whatfix's smart behavior-guiding technology, software becomes user-centric, with users nudged to take the most contextual and helpful route through an application that guides user behavior toward the desired outcome. Examples could be driving product-led growth, changing a business process, or launching a new feature.
These contextual, just-in-time nudges are low effort, engaging, and provide immediate support to software users that help them make decisions and self-reinforce behavior.  A user has a goal, and the software should empower that user to achieve their goal(s).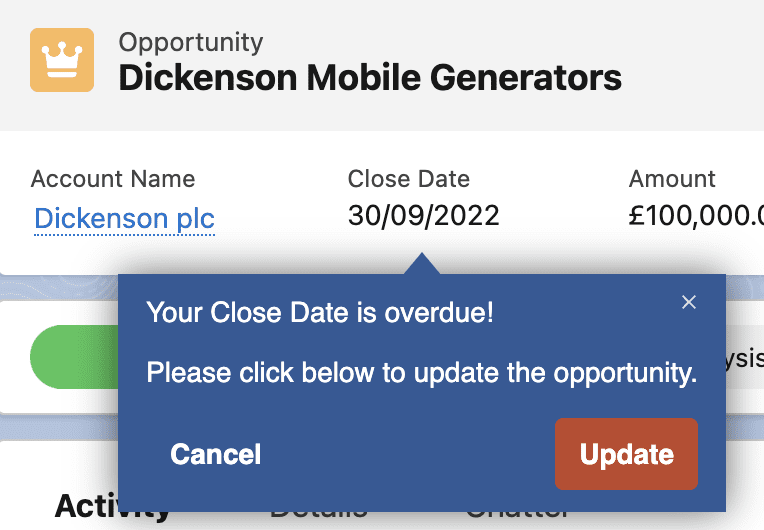 This leads to a reduced time-to-value by assisting users to their "aha!" moment and provides software users with experiences that make sense to them and their needs.
3. Protects companies against poor technology adoption risks and improves data quality
With Whatfix, provide end-user with moment-of-need in-app guidance and self-help support to help reduce human error. Attach data validation to your forms and processes to drive higher levels of data quality. This means cleaner, more complete data sets for your customers, employee, and users, leading to better compliance and minimizing the risk of inaccurate data that often results in forecasting and reporting errors.
4. Builds a consistent, unified experience across your digital workplace
Total experience (TX) is a recent term coined by Gartner. A single technology layer across more applications and mediums (web, mobile, desktop) for employees, partners, customers, and users translates into symbiotic benefits, including implementation repeatability, brand consistency, and intuitive user experiences.
Consistent experiences provide a foundation for software users and reduce resistance to change and fear of new products. It leads to higher software adoption, reduced churn, and more satisfied, expert software users.
Userization brings a consistent user experience, irrespective of where they use an application or software. In the modern, digital workplace, users must be tasked with processes that span multiple application interfaces and screen types and collaborate with other users. By bringing these fracture experiences into one, consistent software experience, users can become more productive and proficient.
With Whatfix's content crawling capabilities, you can leverage all your existing help content in your knowledge repositories and make it accessible to users within the application they're currently on. Deep-search capabilities make content discovery faster by surfacing relevant content based on keywords used. 
Whatfix's robust element detection algorithms automatically detect application elements and adjust to changes. This no-code, automatic element detection powers:
Product analytics, by accurately capturing user events

Easy and simple content creation, by clear identification of application elements, and

Minimizes manual effort in content maintenance, by accommodating changes to application elements and preventing breakage of content
5. Provides product analytics to analyze user behavior and usage
At Whatfix, our technology is packaged in a "Analyze. Build. Deliver" framework. The engine of this concept is  'Analyze', powered by no-code embedded product analytics that empowers organizations to capture user actions and events to identify key user behaviors and insights within your applications (both employee and customer-facing) to understand how product usage, engagement, and adoption.
This includes:
How many users are using a software – ie. what is my overall level of product adoption – by team, business unit, or individual team members.

What features are (and aren't) being adopted by team, business unit, or individual team members.

How end-users consume help content and gaps in your help and support documentation.

Identifying friction and pain points in your user flows.

Creating contextual software user experiences through cohort segmentation based on demographics or behavior.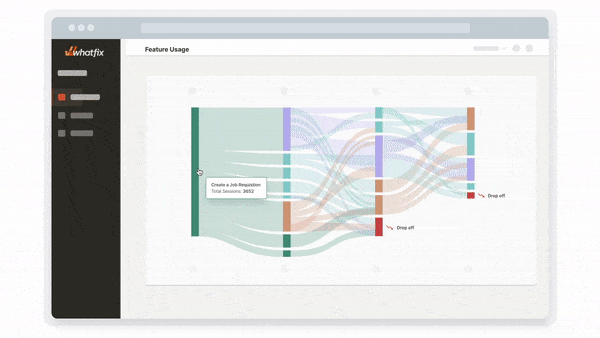 With these insights, organizations can create contextual software experiences tailored to cohorts of users. For example, with Whatfix's smart behavior-guiding technology, software users are nudged to take the most contextual and helpful route through an application that guides user behavior toward the desired outcome. Examples could be driving product-led growth, changing a business process, or launching a new feature.
These contextual, just-in-time nudges are low effort, engaging, and provide immediate support to software users that help them make decisions and self-reinforce behavior. Ultimately this leads to a reduced time-to-value by assisting users to their "aha!" moment and provides software users with experiences that make sense to them and their needs.
Whatfix Analytics powers the entire digital adoption flywheel, providing organizations with the insights to inject a data-driven strategy into their digital adoption strategies and digital transformation initiatives.
Enable your end-users through technology userization with Whatfix
Currently, people need better skills to utilize software applications better. It's time for applications to understand people better. 
See how brands create better, more user-centric product experiences by investing in userization with Whatfix's digital adoption platform and product analytics software. 
Software clicks better with Whatfix's digital adoption platform
Enable your employees with in-app guidance, self-help support, process changes alerts, pop-ups for department announcements, and field validations to improve data accuracy.
Like this article? Share it with your network.
Subscribe to the Whatfix newsletter now!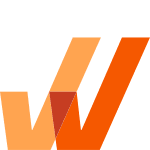 Software Clicks With Whatfix
Whatfix's digital adoption platform empowers your employees, customers, and end-users with in-app guidance, reinforcement learning, and contextual self-help support to find maximum value from software.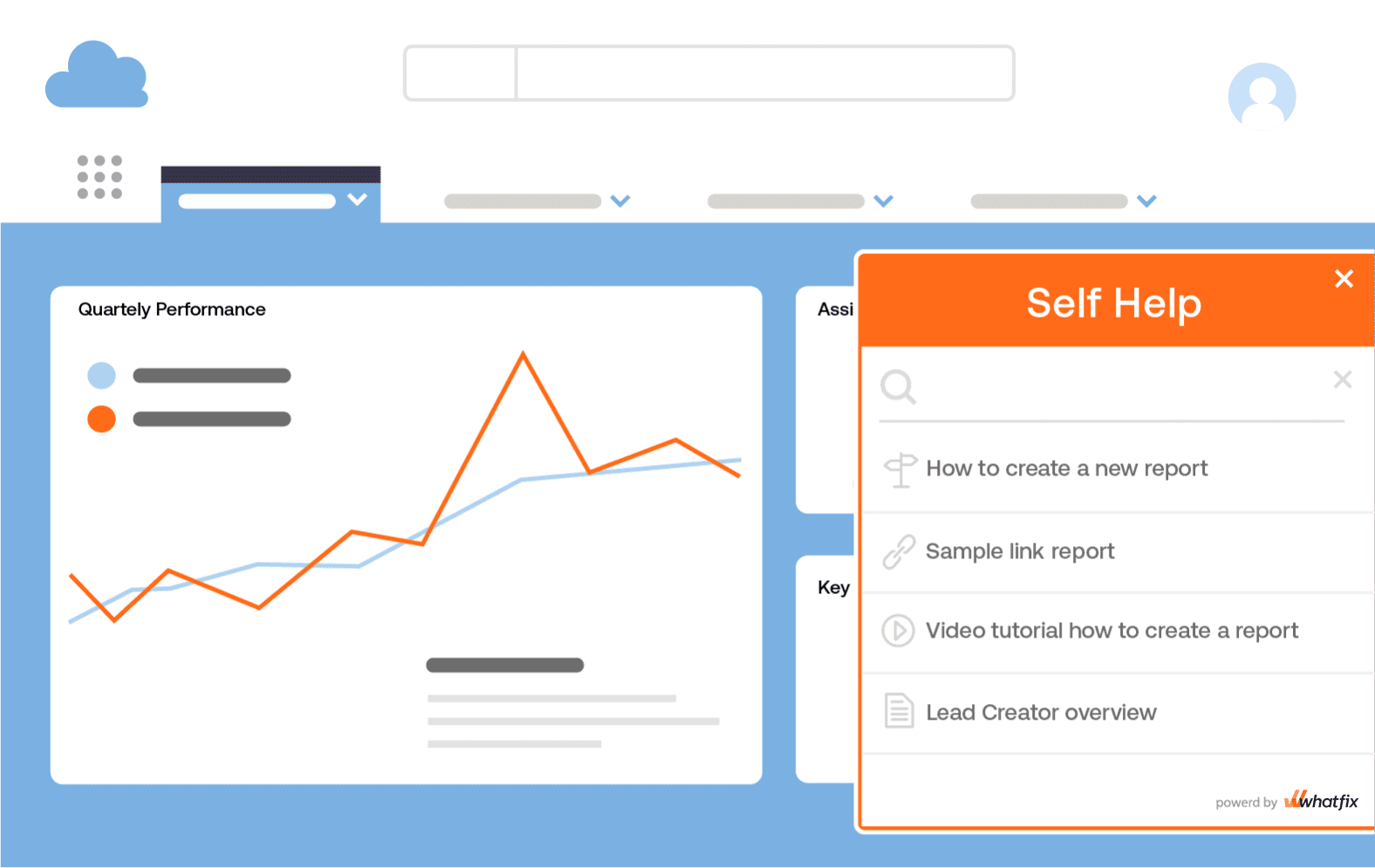 11 Best DAPs in 2023 - Ultimate Comparison Guide