From Jester to Jedi.
When I first heard of Salesforce one week ago, I had no idea what it was. As a freelance writer there are times that you've pickup skills on the go. It might be a new OS, a platform, or maybe web application. But, all I was told about Salesforce was that is it is a Customer Relations Management platform. I was clueless on what to expect from the platform and then I came across Whatfix's free extension that promised to help me master it quickly and efficiently.
Getting started with Whatfix on Salesforce:
1. Go to Chrome App Store and download Whatfix's extension for Salesforce. (If you prefer the Enterprise software, sign up here.)
2. Install the extension. Note: It won't show up in your browser's extensions list.
3. Go to https://login.salesforce.com/
4. You will see Whatfix's Self-Help widget on the right-hand side.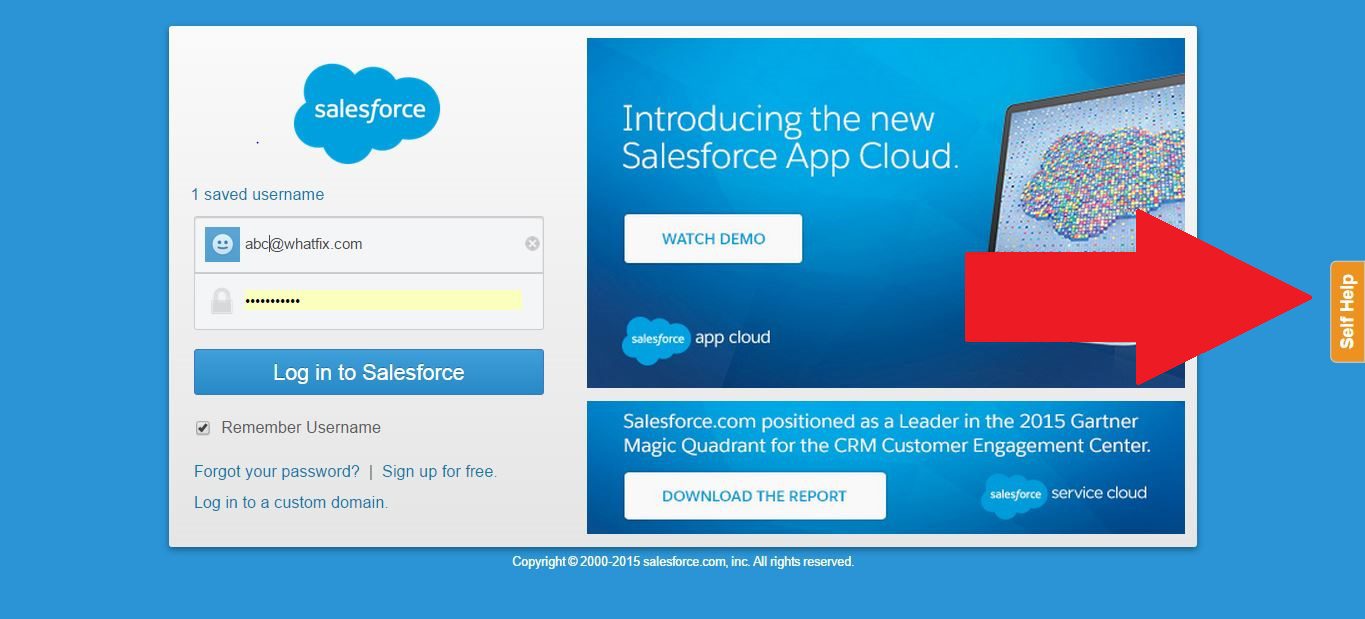 5. Click on See Live on the Whatfix flows to get real-time interactive help.
My baby steps on Salesforce
I used the Whatfix's Self-Help widget to get started. There were helpful articles listed on the widget and clicking on them gave me live contextual help on the site. Here are a few flows that I started out with:

I began by learning how to add users to my Salesforce database. This soon got boring though and so I did a little more exploration and that yielded me this on the Whatfix.

With my Gmail contacts imported into the database within minutes, I tinkered around with the site some more. I discovered the concept of "leads", which are basically potential future customers. They're distinguished from your contacts by their associated icon and their related fields. I decided to model my college's debate society along these lines – the club members would be the contacts, and the prospective judges for our annual debate tournament would be our leads.

After adding the leads, as shown above, being the prudent managerial mastermind that I am, I decided to delegate different leads to my colleagues. Whatfix promptly served up the relevant flow for me.

I assigned leads to the relevant person in the debate society and also added a few logistics related leads, assigning them to the backstage department head. I was beginning to get a hang of things by now, and I decided to kick proceedings off by sending a generic email to our leads, asking them if they'd like to adjudicate at our debate tournament. Salesforce offers a "mass email leads" option, which came in handy here:

This flow helped me to send a shout out to the prospective adjudicators for our debate tournament. Things moved quickly from here on out, and after getting used to the interface of the site and the extension itself, I was able to make some basic expenditure reports for the past few years for our club, and finally export all that data into an excel file, with of course the occasional hint from the relevant Whatfix flows from the sidebar.
Want more help on Salesforce? Here's are some specific posts written just for that!
Salesforce is data. Data is power.
Simply put, Salesforce is an online service which allows you to organize your company's data. To get started, you can add and maintain accounts (companies) and their associated contacts, or import your contacts from an excel file, your LinkedIn/Gmail account or even a generic CSV file.
You can then track all tasks associated with an account, like past meetings and presentations, and also schedule new ones, assign them to people, and send mass emails to the relevant contacts. Salesforce also comes along with an inbuilt calendar, where you can drag-and-drop your contacts to instantly schedule tasks. And it also gives you the freedom to customize your records & fields, views, and dashboards as you like it.  These features, along with the full drill-down capabilities for reports and the option to combine your reports into dashboards, makes Salesforce a fairly comprehensive and powerful tool at your fingertips.
Master Salesforce with Whatfix's free extension!
Whatfix tries to ease your transition into Salesforce with its extension for the application, that appears as a neat sidebar on the homepage in the form of a self-help widget. The "see live" feature on each of the Whatfix flow, grants you a step-by-step walkthrough in the web page itself, while for simpler tasks you can quickly read the walkthrough as a pop-up presentation before  performing a particular task. The extension also has a search feature that scans through Whatfix flows made on other websites, so if you need to, say, export contacts from your Xero/LinkedIn account into a CSV file, which you then want to use in Salesforce, you can simply look up the former without missing a beat in your work and then pick up right where you left off.
Using Salesforce can be daunting task at times,  and that is because of the nature of its implementation and interface. Having said that, the handy little Whatfix extension dramatically reduces the amount of time and effort needed to get acquainted with Salesforce, while still providing clean and efficient walkthroughs for the site. It's like being an intern at a new, unfamiliar company – once you're told which shelves hold which files and documents, you save time on looking things up and instead spend it on getting things done.
Read Also: 6 Things You Must Know Before Creating A Salesforce Training Program
Power on the move – the Salesforce1 app.
Once you're accustomed to Salesforce and its intricacies, you'll want to carry your data with you everywhere you go. Salesforce1, the Android and iOS app, brings you all the functionality of the Salesforce website to your mobile device.
Looking to get your hands dirty with Salesforce? Get started, today, with Whatfix's Free Salesforce extension.
Planning to switch from Salesforce Classic? Check out training series on Salesforce Lightning