"Fools say that they learn by experience. I prefer to profit by others' experience." — Otto von Bismarck, German aristocrat and politician
Digital transformation challenges are inevitable for any enterprise organization, but you can limit the obstacles you face by learning from what other companies have accomplished.
While these difficulties may not directly apply to your situation, the lessons learned can help you craft your digital transformation strategy to ensure a successful outcome.
Digital Transformation Challenges Solved!
1. YM Inc.
Canadian fashion company YM Inc. prides itself on the shopping experience it provides for customers. When it realized its online shopping platform did not provide the same fun and exciting experience as the physical stores, it was time for a change.
Digital Transformation Challenge: Improve the Online Retail Experience
YM Inc. leadership told Shopify Plus that finding powerful but easy-to-use software was crucial. "We wanted a comprehensive platform where we wouldn't have to perform any system architecture work. Hosting, server upkeep, CDN networks — we didn't want to have to worry about whether or not it could handle our customer load, or serve our growing segment of global shoppers."
The right ecommerce solution needed to have a simple back end with plenty of customization options in order to accommodate fast-changing styles and product listings. Plus, the shopping experience on mobile had to be as simple and enjoyable as the in-store experience.
Lesson Learned: Focus on Your Users
YM Inc. chose Shopify Plus because it was easy to customize, which allowed the team to design the shopping experience around user preferences. YM leadership also reached out to strategy and design firm Diff to help understand how users would engage with the online store. Matt Humphreys, Diff's chief experience officer, invited customers to the YM Inc. office so the team could observe shoppers and get feedback in real time.
"We like to take a user-centric approach to design," Humpheys said. "We have to know our client's customers — who they are, what they want and expect, how to bring it all together."
Working to understand what keeps customers coming back for more helped YM Inc. create an online retail experience on par with the brand's in-store environment.
2. Starbucks
In 2018, 23.4 million people used the Starbucks mobile app at least once every six months to make a point-of-sale purchase. Those stellar stats put the Starbucks mobile payment option ahead of Apple Pay, Google Pay, and Samsung Pay.
While the mobile app is now widely used and understood, Starbucks experienced growing pains while transforming the way customers make mobile purchases while in a physical store.
Digital Transformation Challenge: Provide Digital Options in a Physical Retail Environment
After the 2008 recession, Starbucks hired Adam Brotman as vice president of digital ventures to help transform the customer experience. Starbucks introduced free Wi-Fi in stores, as well as mobile payment options and loyalty programs. The goal was to connect with customers, but Starbucks initially left out an important part of the equation: its own employees.
"Baristas and store [employees] are on the front line and are the most important communication vehicle for both espousing and explaining what it is we're up to digitally," Brotman says. "We have not done a good job giving them tools and bringing them along around those digital programs."
By not involving the in-store staff, Starbucks cut off an important communication channel. In 2008, Starbucks launched two rewards programs, the Starbucks Card and the Starbucks Gold Card, each of which had its own system and benefits. While the brand could have leveraged baristas and in-store employees to educate coffee lovers on the differences, it seems customers were largely left on their own. By 2009, more than 3 million rewards club members were asking for a simpler program.
Lesson Learned: Communicate with Your Employees First
In 2012, Starbucks promoted long-time employees Adam Brotman and Curt Garner to chief digital officer and chief information officer, respectively. Together, they head up Starbucks' digital innovation efforts.
Garner says that one of the biggest changes their teams made was to shift to a more customer- and employee-focused strategy. He explains that by talking to and working with store employees, they're able to improve upon the digital solutions they offer to customers.
Starbucks' point-of-sale system is a great example. Garner's and Brotman's teams talked to in-store staff to better understand what speeds them up and what gets in their way. "We were able to save 10 seconds a swipe for any kind of Starbucks card, mobile payment, credit card or debit card transaction," Garner says. "That ended up saving us 900,000 hours of line time a year."
As a result of their efforts, Garner and Brotman learned that the in-store staff's understanding of new technology was just as important as that of the customers.
3. Maxwell Health
Maxwell Health, an HR benefits and administration platform, continuously improves upon its product, but the frequent updates made it difficult to keep customers up to speed.
Digital Transformation Challenge: Provide Self-Service Training for Customers
Maxwell Health wanted to ensure that its rapid growth did not leave customers feeling lost and abandoned after each product update. However, the internal support team could not accommodate a surge in one-on-one conversations after each release. The team needed a tool that would help them reduce support tickets by providing more intuitive, self-guided tutorials for customers.
Lesson Learned: Help Your Users Learn by Doing
Maxwell Health used Whatfix to create step-by-step guides, walk-throughs, slideshows, and tutorials that guided customers through features while they used the product. Real-time training directly within the product also allowed customers to get guidance when and where they needed it without having to contact support.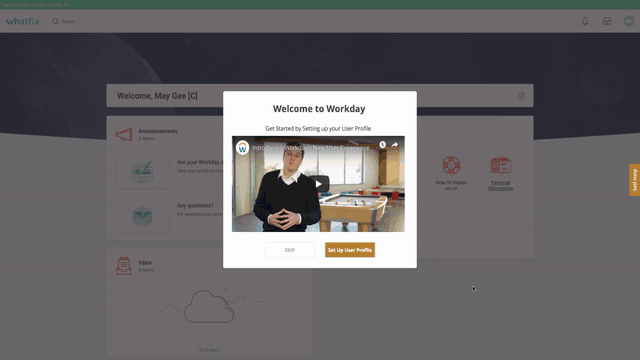 "Whatfix has made it super simple for us to incorporate helpful visual guides into our knowledge base content," says Abigail Albright, director EPM of Maxwell Health during the transformation. "Our users are able to get seamless self-service even on complex features with Whatfix's intuitive interface. Plus, it's a breeze for our team to create and maintain our guides."
After creating 67 Whatfix guides, Maxwell Health was able to decrease monthly customer support queries by 15%.
Read Also: How 3 Companies Boosted User Adoption With the Right Tools
4. Square Inc.
Financial services and mobile payment company Square valued data-driven decisions but struggled to provide its ever-growing team with access to internal data. To avoid data silos, Square looked for a way to transform how it shared and accessed data internally.
Digital Transformation Challenge: Create Self-Service Data Access for the Entire Team
Square's analytics team continuously gathers and stores valuable data about customer behavior. Prior to the transformation, the marketing, growth, and product departments had to submit data requests, which often created backlogs for the analysts who had to pull that specific information.
The team realized they needed to move away from using data gatekeepers and find a way for all departments to gain quick and easy access to internal knowledge.
Lesson Learned: Maintain a Central Source of Truth
Square leveraged Amplitude to track performance metrics and user behavior, creating a central hub of internal research data. Now, team members from all departments have on-demand access to information. Not only does self-service access eliminate the need for data requests, but it also encourages employees to seek out answers to their own questions and dive deeper into their research before launching a new project.
5. McDonald's
Fast-food company McDonald's embraced digital transformation later than many of its competitors, waiting until 2013 to hire its first chief digital officer, Atif Rafiq.
Digital Transformation Challenge: Leverage Mobile Apps to Increase Sales
A study of 107 CDOs revealed that 75% believed that their companies were not prepared for a digital transformation. In 2014, when the McDonald's digital innovation team only had three employees, the company seemed to be in that 75%.
Without a larger team to handle digital transformation challenges, McDonald's fell behind big names like Starbucks and Subway, which had already introduced digital innovations like mobile ordering and payments. Even after hiring Rafiq and creating a small team, it took over a year for McDonald's to release the McD app. The early version still lacked mobile payment options and offered only coupons and an online menu.
Lesson Learned: Build a Team to Head Up Digital Transformation Efforts
Although McDonald's was late to the digital transformation game, it grew quickly. Only 18 months after creating the digital innovation team, the department grew from 3 employees to 130. By 2017, the McDonald's app offered mobile ordering and payments and began to gain traction among customers.
Today, the app includes a rewards program, exclusive promotions, and options to order ahead and/or pay via mobile. Thanks in part to the additional features, the McDonald's app now has over 367,000 reviews in the Apple App Store and nearly 350,000 in the Google Play store, with an average 4.5 and 3.5 star rating, respectively.
Read Also: 18 Digital Transformation Leaders (And Where to Follow Them)
Solve Your Digital Transformation Challenges with Whatfix
Whether you are onboarding users to a new tool, creating adaptable training guides, or streamlining your support system, Whatfix can help drive your digital transformation. Get ahead of challenges with our highly customizable solutions that accelerate user adoption and provide on-demand information and guidance. Sign up for a demo to see how we can support your transformation process.