Accounts are at the center of Salesforce's data model. They are the entities that can be related and linked to all the other attributes like contacts, leads, and opportunities. Think of accounts on your Salesforce as file folders where you have gathered all the information about the organizations or companies that you do business with. And all this information is nested in your accounts in an organized structure.
In this chapter of Salesforce 101, we will take a look at all the different Whatfix flows by which you can organize and manage accounts on Salesforce efficiently.
For an interactive real-time experience on Salesforce, we recommend you try the Whatfix Way. Here's how: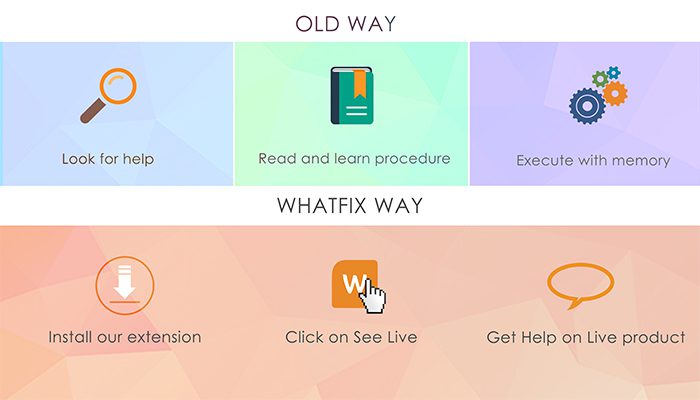 Ready? Let's begin with the first flow.
Managing multiple account creation is important because duplication can lead to inaccuracy in preserving the existing data. A simple way by which you can manage this is by seeing this flow live (Click on See Live on the flow below) and merging all duplicate accounts into a Master account. This is possible if you are an administrator, the account owner, or a user above the account in the role hierarchy having appropriate user permissions.

To learn how to merge contacts on Salesforce, click here.
Setting up custom list views is a smart way to save time and increase your productivity. Through this flow, you can learn how to create a custom list view for your accounts so that you can instantly access a specific subset of records by setting up appropriate filters.

Custom picklist field for your account can help you look up your business data and related accounts easily. It is a brilliant way of managing and finding related accounts with similar information. This flow will streamline the creation of a custom field for your Salesforce account.

A custom help text for your accounts will help you in providing the users in your organization with a description of the account on all detail and edit pages. It can be viewed by hovering over the info icon next to the field.

Related lists generally are used to display information regarding a specific account. Managing them will help you gain a clearer view of all the data gathered, based on that account. This flow will show you how can edit and personalize related lists on your account page.

This blog post is part of a dedicated series to help you learn Salesforce better. Share it with your teams to increase productivity and get the most out of your Salesforce. Also, check out our previous posts:
In our next chapter, we will be dealing with leads on Salesforce. For more updates subscribe to our blog.
Planning to switch from Salesforce Classic? Check out training series on Salesforce Lightning