If you are a Salesforce user, you must've surely come across the platform learning tool known as Trailhead. If you are new to the Salesforce world, Trailhead is a learning platform that allows you to, as they market it, learn Salesforce in a fun way. 
And rightfully so, as Trailhead is a gamified, bite-sized and enjoyable way to learn one of the most widely used software solutions in the world. 
But, in the interest of delivering maximum ROI, ask yourself, "Is Salesforce Trailhead alone enough to provide effective Salesforce training?" 
To help you unravel the answer to this query, here are some of the overarching themes this blog post will cover: 
So, read on, as we first delve into the key benefits of Salesforce's online training platform.
What's Great About Salesforce Trailhead?
A simple and self-contained Learning Experience (LEX) tool, Salesforce Trailhead can help your users set learning goals and work towards achieving them by completing modules and related tests (such as multiple choice quiz and other interactive challenges). This whole learning course is called a 'Trail". 
At the end of each assessment, the learner even earns points and badges that improve their position in the leaderboards. This symbol of successful upskilling can be a great motivator to continue learning the ropes of CRM. 
To elaborate on the efficacies of Trailhead; here are some of the benefits of learning through this solution:
Vast Library of Content Accessible Anytime
Trailhead boasts an exhaustive amount of educational content. And sales reps, even with no prior Salesforce experience, can easily search for the topics that are most relevant to them via a universal search textbox. Additionally, it allows the user to learn at their own pace. Thus, it employs a pull rather than a push-strategy for Salesforce training. This works quite well, as a recent LinkedIn research noted that nearly 60% of respondents wish to learn at their own pace. 
Once your sales reps complete all the requisite training, they may write an exam to secure globally recognized credentials known as Salesforce certification. For this, all they need to do is select from a list of role-specific certification and a time slot to give the exam – onsite at a test center or online.

Apart from this, learners gain points and badges, all of which can be seen in their Trailhead profile which looks like the image below.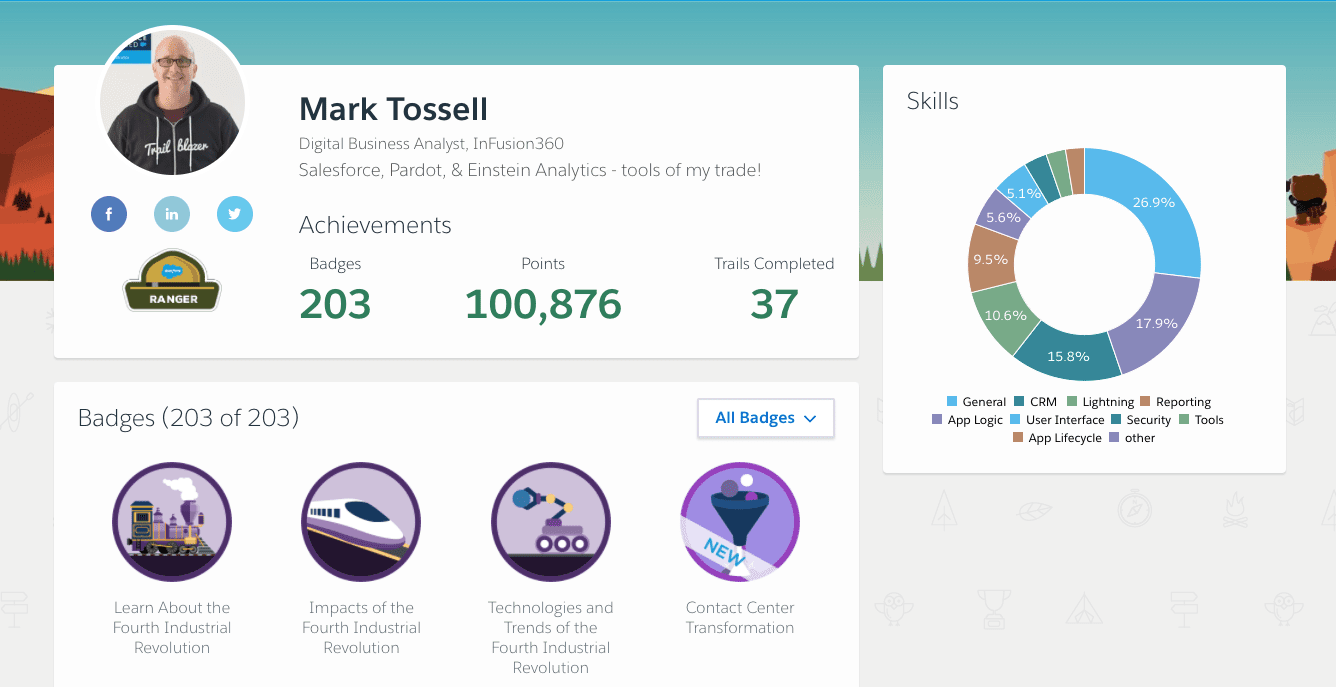 This gives you a view of what the sales rep has learned, the skills they possess and what level of expertise (through the Skills Graph on the right). This opens up a whole new type of digital resume for all trailblazers that is focused on CRM and Salesforce skillsets alone. 
The Element of Personalization
myTrailhead, Salesforce's continuous learning platform, enables companies to customize the learning environment with their own training content and branding – from custom onboarding trails to company-specific enablement skills and color schemes. 
Thanks to these powerful features, Trailhead offers a tailor-made means of learning to use Salesforce and help your employees gain specific skills they need in order for them and the company to succeed. 
Practical Application via Simulation
To complete certain Trailhead modules, your users will need to enter into a functional Salesforce environment (called a Trailhead Playground) and demonstrate how the lesson-related task needs to be performed. For example, if a user has just read an article about how to create a report within the Salesforce CRM, they can try implementing what they learned by following a specific Reports and Dashboards trail within the Playground. This will help them navigate through the task in a step-by-step manner. Being able to train within a simulation of the CRM really adds to the learning experience. 
What's Missing In The Trailhead Experience?
If you've made it so far, you now know what makes Trailhead a great tool for training users on Salesforce features and functionalities and other skill sets that might be useful to your sales team's productivity. However, considering how learning needs have evolved over time, this tool alone might not suffice to experience a faster ramp up time on Salesforce.

In this section, let's explore some visible gaps in Trailhead that can be filled by a Digital Adoption Platform. 
1. Learning Needs Have Evolved, Trailhead Needs to Keep Up
Trailhead has a lot of content on various topics but most of this content is predominantly in text format. Not all learners prefer consuming information in this format, especially when learning to use new software. Since all companies are either migrating or are in the process of shifting to Lightning which has a completely different look and feel, it's now more important than ever to consider different styles of learning and incorporate it into the content creation and delivery process.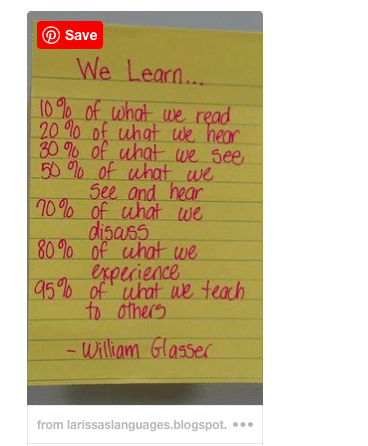 Apart from the need to consume content in different formats, learners are looking for quick and immediate help as and when they have a query. For example, when a sales rep wants to find out more information about a lead in Salesforce, they want it ASAP. In the age of on-demand in everything we do, it shouldn't come as a shock that your sales reps are also expecting training at the moment of their need. 
When it comes to Trailhead, your sales reps would need to find a trail that suits their requirement, or ask the trailblazer community, learn and get back to the software to perform the task. This impacts productivity, especially when compared to getting an answer to your query in real-time. 
2. Yes it Enables Practical Application – But Outside of Salesforce Environments
One of the biggest USPs of Trailhead is the ability to simulate and test your learnings on the Trailhead Playground. While this certainly enables a practical approach to software learning, it still requires users to move outside of the application and onto a demo environment. The real instance could be very different and can have multiple other scenarios. Sure, it's absolutely imperative that the user test their new found knowledge on a demo instance, but it's equally important for them to reinforce the same on the application itself. Now, we can assume that your sales team will remember what they've learned and just apply it as they go. Unfortunately, humans can forget up to 90% of the knowledge they consume in a year's time. 
3. Curating Content Can Be Hell For Your Admin. 
Yes, there are Trailmixes available that combine courses and you can also create your own Trailmix. However, in most cases, no two Salesforce instances are the same, making it very difficult to build Trailmixes. Even if your Admin would attempt this task, they wouldn't be able to do so without help. Especially considering that they would need to create Trailmixes for multiple roles and learning styles. 
4. Fit For An Out-of-the-box Version of Salesforce
Salesforce, especially for the enterprise, is very customized to the sales process and stages. Even though trailhead allows you to customize based on branding and color schemes, it best fits an organization that uses the standard lightning or classic version of Salesforce. This is a major drawback as most organizations use a customized instance of salesforce. This also reduces the value of simulation via Trailhead playground as users will obviously struggle to reinforce their learnings while using their specific instance.
5. Little to No Practical Instruction With Salesforce SuperBadges
Superbadges allows a user to take the skills they've learned and apply them to complex, real-world business problems. In other words, it supplements learning via Trailhead playground and takes the user to an advanced level. This is certainly great to help users progress and adds a touch of gamification to the experience. However, when marching towards obtaining superbadges, your users will realize that very little instruction is provided regarding navigation and using the platform and higher focus is placed on explaining the business use case.
Learners are directly tested to use certain features for specific use cases without learning how to navigate these features on the platform. 
The 'Learning in the Flow of Work' Approach  
Learning in the flow of work can improve employee loyalty and engagement, by preempting their learning requirement and giving them the information (in micro and macro-learning formats) they are looking for, instantly. This in turn will improve your organization's performance (by decreasing turnover cost and improving productivity).
According to the 70:20:10 model in training design, the real business impact is generated when employees learn while working (70%) and working with others in the company (20%). 
So, instead of investing in expensive and time-consuming classroom-style sessions and LMS; consider leveraging a mix of:
Salesforce Trailhead/ myTrailhead

Digital Adoption Platform (DAP)

: A software designed to simplify the adoption of new technology, especially enterprise application software. It falls under the category of

Digital Adoption Solutions(DAS)

, which was recently announced as a category by Gartner. 

Peer to peer training via 

Salesforce Chatter

: An enterprise collaboration platform by Salesforce that acts as the Facebook or LinkedIn for the community of Trailblazers and Salesforce enthusiasts. 

Trailblazer Community

: Community of Trailhead and Salesforce users of different roles to share their experiences and insights on using the CRM or other related topics. In a way, it's the Reddit of the Salesforce community. 
While each of these formats has its own USPs, DAPs tend to stand out for their ability to deliver in-app learning. Users do not need to take even a single step outside of Salesforce to learn about how to use the tool. 
So, let's quickly dive into some gaps in the trailhead learning experience and look at what value can be added to your Salesforce Training initiative by using a Digital Adoption Platform. 
What Value-adds do Digital Adoption Platforms Deliver?
If your organization is looking to familiarize users with the CRM (to enable faster adoption and overall ramp up time) and better manage training around your multiple Salesforce instances, choose to implement Digital Adoption Platform.
Why, you ask?
Sales teams tend to perpetually be hiring or restructuring. To help onboard new users into the Salesforce CRM or explain changes in the workflow to existing users, there would be a need for some level of hand-holding. A DAP helps users resolve 'how-to' queries in real-time and the flow of work by:
Creating flows to guide users through the complex or new Salesforce workflows 

Highlighting the presence of new Salesforce features or upgrades via its beacon widget 

Offering contextual guidance in the form of balloon tips, self-help and suggested walk-throughs

Especially in the face of regular Salesforce upgrades and heavy customizations, new training content will need to be created all the time. And since every salesperson needs training customized to their unique needs, content creation ends up becoming more expensive and time-consuming. To solve this problem, a DAP can be used to:
Automate the creation of salesforce end-user segments to enable more precise targeting of training

Automate the creation and delivery of in-app flows and 'just-in-time' answers via deep element detection

Easily convert walkthroughs into multiple formats (such as pdf, slideshow and videos), depending on the user's training preference

Leverage company resources (such as videos, articles and trailhead courses) that exist on an external, searchable company wiki – pulling relevant content into Salesforce to deliver 24/7 and personalized digital assistance. 

Apart from training, a DAP can be harnessed to amp-up your Salesforce change management, performance support, user adoption and onboarding efforts. 
Click here for a free trial to see how this technology helps employees discover new features of Salesforce for themselves.