For the longest time, corporate training has mainly revolved around older LMSs that are quite functional in nature. While they are good for compliance and formal training, they don't really take learning to the next level but in fact companies are experiencing a visible drop in learning rates.
With skills gaps widening, it has become almost inevitable for the corporate L&D to be disrupted by new technologies. In fact, according to an Oracle study, 27% of HR leaders believe that artificial intelligence in corporate training will positively impact learning and development.
The term 'AI', for most of us, conjures up the image of robots capable of serving, cleaning, and so much more, similar to the robot from Jetsons – the popular cartoon series that first aired in 1962.
The cartoon, set in a futuristic utopia, predicted how Artificial Intelligence (AI) would take over our professional and personal lives. George Jetson, the show's protagonist, used to glide into his office, as robots and smart appliances assist him in pouring coffee, relieving him of his coat and even beating him at a game of cards (albeit with trickery).
Fast forward 50+ years and the current applications of AI are not yet as elaborate or advanced. But we are certainly getting there.
Especially in an organization's HR context, from employee recruitment and engagement, irrespective of the business sector, AI is quietly running in the background to improve productivity and KPIs.
The $130 billion US corporate training market seems to be at a major cusp of change.
Your L&D department can benefit from greater training personalization and prediction of learning trends, as AI continually interprets data with greater speed and accuracy than humanly possible.
Challenges of traditional L&D
Some of the common pitfalls of the traditional corporate training model that you are likely to face are:
Limited library of content: Most traditional L&D tools use long-format training modules such as powerpoint presentations, seminars and classroom-style lectures. And creating an hour of such training content takes a minimum of 43 -185 hours. This limits the variety and freshness of your learning content.
Lack of personalization: Since content creation and dissemination is so time-consuming, your training sessions are usually generic and not tailored to the specific needs of the individual employee.
Not user-friendly: Most LMS solutions are too complicated for your employees to navigate. This leads to poor user experience and difficulty in locating relevant content.
Difficult to measure returns: Calculating training ROI involves time-consuming data collection and data entry processes. And after all that effort, the results are often ridden with errors.
Not suited to the digital workforce: Training is not a one-time initiative anymore, but an on-going process, owing to the change in employee behavior. Today's workforce with millennials and Gen Z prefer to self-manage their learning experiences, according to a LinkedIn Learning report.
So, it shouldn't come as a surprise that a Deloitte research reported that 700+ business and HR professionals gave corporate L&D an abysmal net-promoter score of -8. Such a negative rating goes to show that some big changes are long overdue for L&D tools.
How can AI Improve Workplace Learning?
Learning is not about instruction anymore, but about the flow. And AI will allow your employees to learn whenever they want to, in the most natural way. This is achieved by integrating employee training into the workflow or tracking employees' every workplace behavior to personalize training content to each individual or team.
Thus, AI in L&D platforms equals more automation, more personalization, and more measurability than ever before. Read on to find out how it delivers true value to your organization's L&D efforts.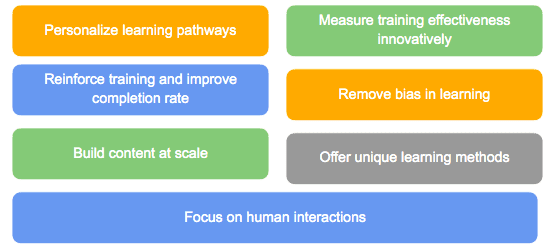 1. Personalize Learning Pathways:
In a recent survey, conducted by Donald Taylor, it was found that the top growth area in the future of L&D is 'personalization'.
Therefore, you cannot adopt the 'one size fits all' training approach anymore. "Through the help of artificial intelligence and machine learning, L&D can better understand learner behaviors and predict needs by recommending and positioning content based on past behavior," said the 2018 Training Industry Trends Report.
This goes to say that, based on variables such as job role, educational background, previous learning experiences, and learning styles, each employee receives a different kind of learning experience.
Similarly, there are intelligent content curation engines that first aggregate content from multiple web and internal sources. Then, mimicking content platforms such as Netflix, these training modules can be contextualized and delivered to your employees based on their preferences, background, interests and skills.
However, where AI really delivers magic is through natural language processing (NLP), which helps L&D systems understand human language. By engaging with your employees in natural dialogue, bots make e-learning seem less robotic and more tailored to the individual.
An AI-based L&D system can share feedback, resources, and improvement plans tailored to each employee's individual needs; increasingly cost-effectively.
2. Reinforce Training and Improve Completion Rate
In the article 'Is microlearning right for your organization', I noted how the Forgetting Curve theory states that learners (especially millennials) end up forgetting 90% of what was taught to them; within a week. And it is microlearning tools, such as Whatfix, that end up plugging such gaps by delivering bite-sized training on demand.
Now imagine this, your employee is trying to participate in a remote training session, but just cannot remember how to use the video conferencing feature of the tool. By using Whatfix walkthroughs, the employee gets step-by-step help right within the application. Whatfix can also identify the employee's current learning obstacle, and deliver guided walkthroughs that save time otherwise spent on looking for relevant information. 
Not just that,  Whatfix content can be integrated into your LMS (using SCORM and xAPI), so that you can track how users are engaging with the in-app guidance. Since AI makes learning content more concise, personalized and relevant, it also plays a big role in improving completion rates. Without it, 10-15% completion rate is what even the best of massive open online courses (MOOCs) have been able to achieve.
3. Build Content at a Scale
Creating training content at scale is especially important for agile businesses that face dynamic
requirements. Intelligent tools such as Whatfix integrate with different sources (sometimes even outside of the LMS) to deliver the best content in-app so that your learners don't have to go searching for it. It can also automate the creation of content in various formats (powerpoint, videos, pdf etc) and sizes.
However, the next big wave of content curation will involve harnessing machine learning (ML) to automatically source content from internal and external sources. In this way, AI will help you meet your organization's growing demand for fresh and engaging content.
4. Focus More on Human Interactions
Since skills have a shorter shelf-life than ever before, new training sessions need to be conducted more often. Here, the game changers will be AI-backed virtual mentoring tools that can automate tedious or repetitive tasks, such as content creation and analysis of training needs. This frees up the L&D department's time to invest in more creative and strategic work – such as face-to-face training sessions.
Parental control app Bark Out Loud that automatically scans the kids' social media accounts, texts and emails for instances of cyberbullying, sexual grooming and the like, is an example of how AI automates the mundane. Its AI algorithm gives parents more time to focus on educating their children about online evils, instead of spending hours reading each message on their devices.
5. Measure Training Effectiveness
Constantly tracking learner progress, estimating subject understanding and revising the program to suit their needs is central to the role of AI in the LMS. Additionally, L&D leaders gain access to key insights, such as how employees learn and when they learn effectively. AI also provides you with feedback and guidance to heighten learning productivity.
For instance, if you need to know why there is a drop in learning or course completion rate, AI can crunch data to uncover the reason. You could also collect data on factors such as the time employees take to complete each section and whether they prefer video to text-based content. This level of awareness will help strategically plug gaps in training so that the issue does not repeat in the future.
6. Remove Bias in Learning
When managers are tasked with assigning training sessions to their reportees, more often than not, they employ gut instinct to take the call. Such decisions can be coloured by bias and hence lead to a waste of training efforts on the wrong person – leading to a loss of efficiency for the L&D team.
Every day moving closer to mirroring human behavior and intelligence, yet unlike its muse, AI is clear of such prejudice or partiality. Through utterly pragmatic analysis of data, AI-based LMS can share recommendations that best suit the needs of employees and the organization.
7. Offer Unique Learning Methods
Bots can be programmed to pick up on feedback or comments shared by employees on what they have learnt, contextually tag it and share it with others who have previously shown interest in the topic. Think of it as an organization-wide digital water cooler, for sharing thoughts on the training. People can also be encouraged to learn via game-based courses and storyline-based games. Their behaviours are then tracked to customise learning for employees and to significantly improve the courses' efficiency.
Be it via social learning, gamification or mobile; the strides AI has taken to make learning more interesting is noteworthy. Is your enterprise ready for the AI-revolution?