Information is in the data. Salesforce with its tactful Salesforce1 Mobile platform and Salesforce Lightning Experience has made sure that the data is available to salespeople, wherever they are. And this data, available in the form of reports, and visualized as dashboards, helps in getting insights at-a-glance, make decisions, and take action.
This post will give you an in-depth understanding of how you can create and manage Salesforce Lightning reports and dashboards with 5 interactive Whatfix flows. Being a Pro-Salesforce user, this is a must-know utility, which will help you summarize and visualize your data for better understanding of your clientele.
Also read: How Lightning Navigation Menu Can Help You Use Salesforce Better
To enable the flows interactive mode, try the Whatfix Way. Click on the image below to get started.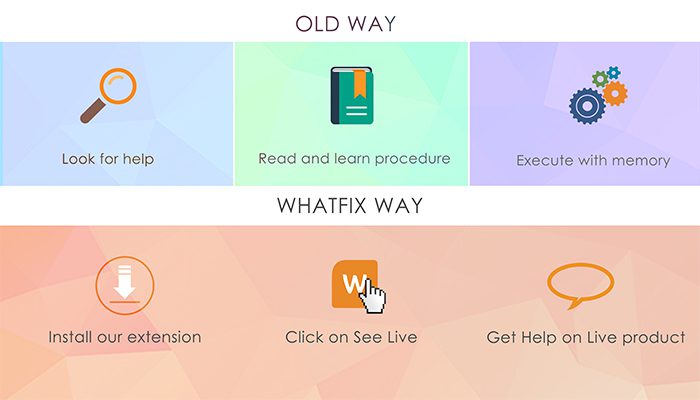 Before we go into further details, let's first understand Salesforce Lightning reports and dashboards, conceptually!
What are Reports in Salesforce Lightning?
Reports in Salesforce Lightning is what you should be using to track progress on various expenditure, goals, metrics, and returns. It will help you understand the data, analyze it, organize it, and predict the different trends that could occur in the sales process.
Simply put, you can create a report in Salesforce to show opportunity, case, activity and any other critical metrics data for your Salesforce accounts.
What are Dashboards in Salesforce Lightning?
Salesforce Dashboards are a nifty way to visualize reports. It's a Salesforce Lightning component with which you can view your existing reports, side-by-side, in the form of a variety of charts, tables, metrics and graphs.
When combined, Salesforce Lightning reports and dashboards become the ultimate utility to enable users' make informed decisions.
Moving on from the brief, let's dive into creating and managing Reports and Dashboards in Salesforce Lightning with Whatfix flows!
Salesforce Lightning has revamped its report builder as that from Salesforce Classic. Which means the new report builder will give you a better look and feel. To start with the creating reports in Salesforce Lightning, click on See Live on the following Whatfix flow.

Salesforce Lightning is built to reduce your time and effort. And this reflects in the reports tab as well. In your reports tab, you can easily edit, delete, clone and do other relation functions. This flow will break it down for you.

Read also: How Accounts In Salesforce Lightning Experience Is Now Smarter!
Here's an example of creating a report on Salesforce Lightning. The following flow will give you a step-by-step walkthrough of how to create a simple leads report.

To visualize the data collected in your reports graphically, you can create Dashboards. The dashboards will allow you to see multiple reports side-by-side, and view the reports as graphs, tables, charts, etc.

Salesforce Lightning's dashboard builder has a drag-and-drop interface that allows quick modification. This Whatfix flow will walk you through the steps of editing the dashboard in your Lightning Interface easily, within no time.
Click on See Live to run the flow live.

Do you love Trailhead? Then you must read: 7 Trailhead Influencers You Should Follow To Jumpstart Learning On Salesforce
Would you like more flows to be featured on reports and dashboards of Salesforce Lightning? Tell us in our comments.
Like our posts on Salesforce Lightning? Subscribe to our weekly newsletter for more updates and news.