Whatfix for Desktop, Automation, List View, Version Control and SO MUCH MORE…
They say critical times reveal the true colors of a person. As the world navigates through this challenging situation, businesses have had to evolve and adapt rapidly; thereby changing the definition of 'Business As Usual' as we know it. It was the same here at Whatfix.
Yet, here we are announcing TWO Brand New Capabilities and MULTIPLE upgrades and enhancements to the overall Whatfix Experience. This release highlights the spirit and commitment of Whatfix towards offering the very best to our existing and new customers.
We present to you our April 2020 Product Updates!
New Capabilities
Drive Adoption of Desktop Applications with Whatfix for Desktop
It's here! After months of hard work, we are rolling out Phase I of Whatfix for Desktop. We're super excited because we want Whatfix to be synonymous with Digital Adoption, irrespective of it being on the web, desktop or mobile device.
So what exactly is Phase I? Currently, Whatfix for Desktop supports text, web links and video links through the following widgets:
Create personalized training plans using the Task List.

Offer contextual, on-demand help by consolidating all your knowledge bases into Self Help.
Make important org-wide announcements using Smart Pop-Ups.
Whatfix for Desktop in Action
A Fortune-500 insurance company started using Whatfix for Desktop on Microsoft Teams a while back. They replaced Skype with Teams, and as such they faced challenges with usage, adoption and operating procedures. With Whatfix for Desktop, they are able to:
Announce and guide users on security protocols and operating procedures for using Teams effectively.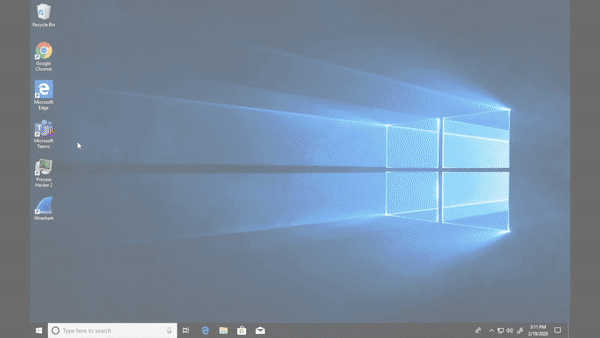 Provide initial training to all users through Task List.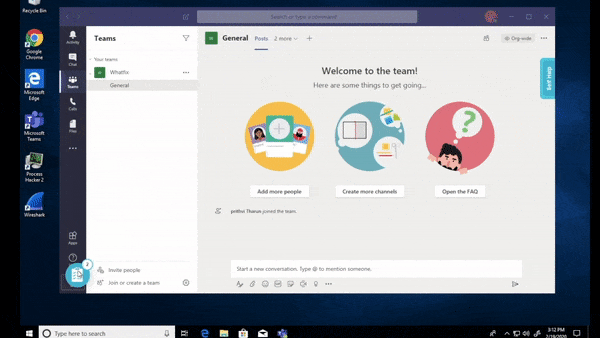 Offer on-demand help by bringing all MS Teams-related support content inside the Self Help.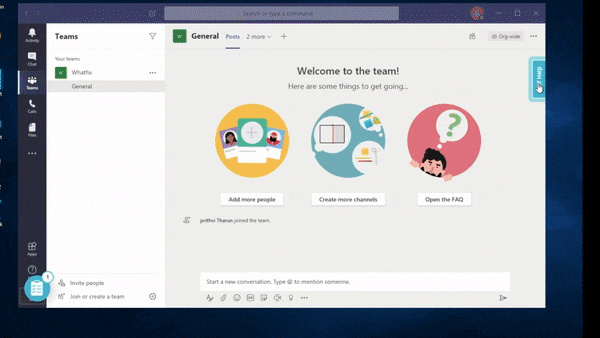 If you have desktop applications (such as Microsoft Teams) and are concerned about adoption, please write to us at [email protected] to learn more about how Whatfix for Desktop can help you.
In the upcoming releases, we are committed to bring all the existing functionalities on Whatfix for Web to Whatfix for Desktop, and much more.
Supercharge User Productivity with Automation
Whatfix is hit – hit with a dose of magic called Automation! That's right. In this release, we are proudly launching not one, but two automation capabilities that will supercharge user productivity, improve efficiency and enhance data quality. Curious to know how? Let's get to know these features better:
Flow Automation

Flow Automation allows you to auto-execute some or all of the steps of a certain task. This is applicable for any number of steps in both, new as well as existing Flows. Essentially, you can eliminate navigational clicks and other actions until a point where human intervention or manual input is required.

In our research we found that in complex flows with 10+ steps, a majority of the steps are purely navigational and default mandatory actions (clicking on 'Save', 'New', 'Next', etc). In such scenarios, Flow Automation can speed up the execution of the workflow, while minimizing errors.
Data Entry Automation

Data Entry Automation allows you to auto-populate values in a form using Smart Tips. This capability will not only speed up task execution but also ensures higher data quality.
For example, users on applications that have expansive forms to be filled (such as the leads form, opportunities form on Salesforce) will benefit tremendously from this capability. By automating certain default values, users can fill forms and complete tasks faster. In addition to this, you can also automate those inputs where users are prone to committing errors. As such, Data Entry Automation will enable your organization with superior data quality.
Whatfix Automation ultimately helps elevate employee experience (EX) by helping them be more productive and efficient.
Please write to us at
[email protected]
to learn more about how Whatfix Automation can be implemented for your organisation.
Compact and Informative List View for Your Dashboard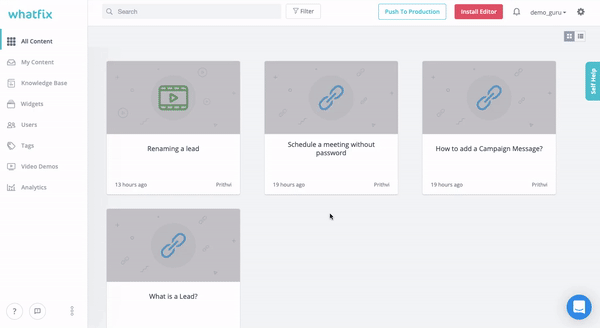 'Do more with less' certainly seems to be the mantra of this release since this is yet another upgrade along those lines. Your dashboard now supports List View that allows you to access any content from your library faster as well as view related information such as – Name (of the content), Content Type, Version, Last Updated On, Last Updated By, Creator, Created By. Additionally, you can also sort the list basis of the above columns (except for Content Type & Version).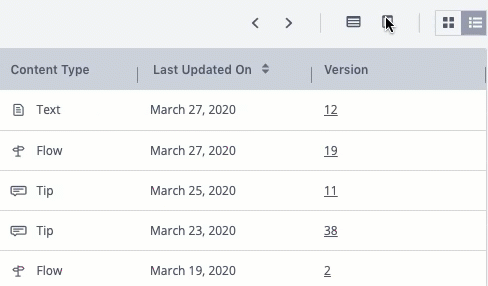 Restore a Version, Don't Recreate Older Content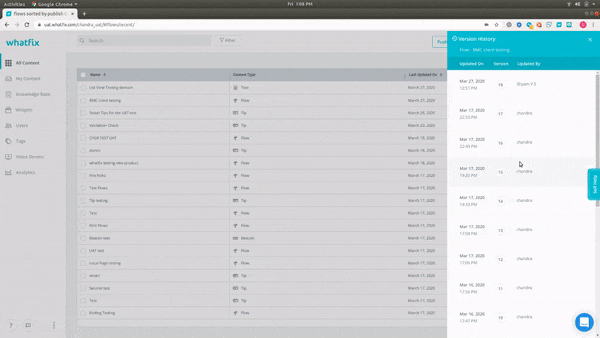 Managing your Whatfix content just got a lot more simpler and easier. Simply put, every update you save for a specific Whatfix content is automatically stored as a new version as compared to manually tagging every updated content, which was the versioning method until now.
With Version Control you can keep track of every content update, who made the update and when it was made. You can also restore older versions, to create a new version. In addition to this, you can also generate and view PDF versions of any Whatfix content in the menu itself.
Simplified Branching with 'Point-and-Click' UI


Content Creators – you will love this upgrade, especially if you create branched content.
Prior to this release, Branching required the use of CSS Selectors. With the all new UI for Branching, you can simply point and click on HTML elements to select them – just as you would when building a normal Flow. The new Branching UI is intuitive, eliminating the need to use CSS Selectors or JQuery.
Enhancements & Upgrades
Make SharePoint Information Easily Accessible from Whatfix Self Help
By now you must be aware of Whatfix Content Aggregation – a proprietary crawling algorithm with deep search capability that brings any external content repository (knowledge base, support pages, etc) inside the underlying application.
With this release, we are now offering out-of-the-box integration with SharePoint. Upon integrating your SharePoint with Whatfix, your users will be able to access all the information that resides in SharePoint by simply searching for it in the Self Help widget. By making critical, job-related information readily accessible, your end-users will spend less time searching for information and more time getting work done faster.
If you'd like to integrate your SharePoint, please write to us at [email protected] In addition to SharePoint, we also integrate with Zendesk, Confluence and Freshdesk.
Quickly Access Analytics Data with Date Filters


Until now you could view analytics for a certain time period by specifying it in the date range. However, with this release, you will have specific date filters – Last 30 Days, Last 90 Days by default, along with a custom range option.
Essentially, this offers enhanced performance (faster load time) as well as a more convenient method to view data.
Match Whatfix Labels to Your Internal Styling, Branding Guidelines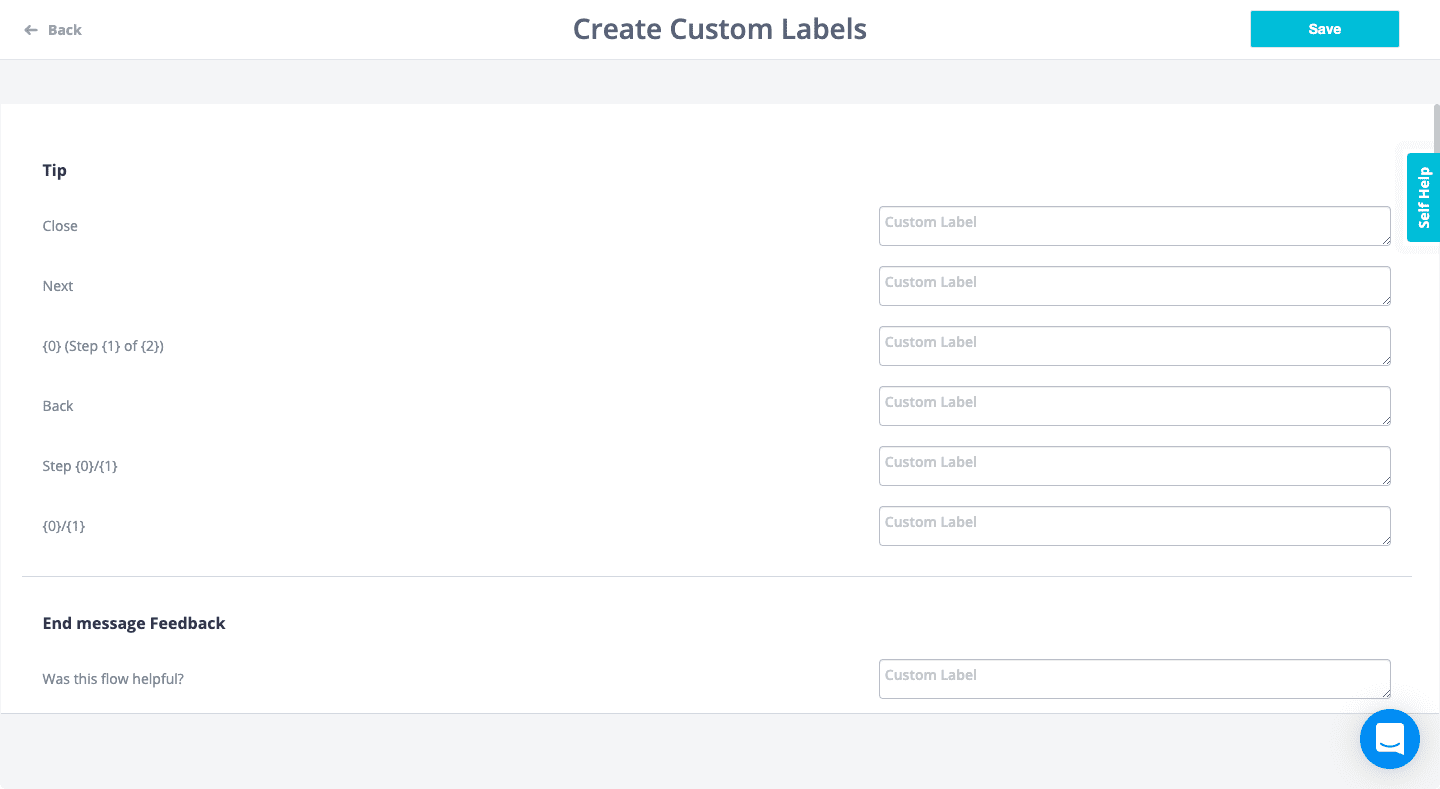 In line with our in-app translation update from 2019, we are now offering the ability to change the default Whatfix text on any of the widgets. This means, you can effortlessly customize or personalize default labels from within your Dashboard without having to download the default properties file.
Upon customizing Whatfix default labels, do keep in mind to update the same in all the other Languages that you support. An 'Out of Date' status will be highlighted in your languages section.
Monitor User Behavior Better by Analyzing Successful Self Help Searches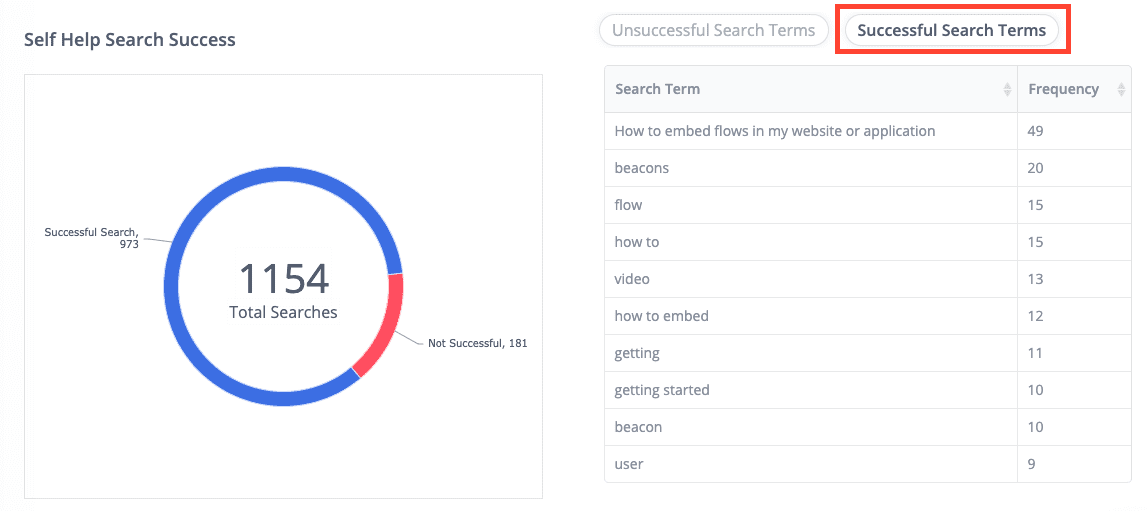 Information is rarely ever useless. Which is why, we decided to also show successful searches in the Self Help to help you gauge what support your users are seeking successfully. The bigger picture here is that this information will give you insights into the specific words that your users used when successfully seeking support. By using the same terminology as your end-users, you can optimize the efficiency of Self Help search results.
Get Heard by Whatfix Product Team from your Dashboard

Got something to tell our Product team, maybe a feature request or an enhancement idea? You can now directly share your feedback with the Product team from your Whatfix Dashboard. These requests will automatically get added to our Product Management software as well as our ticketing system.
Simply share your feedback/idea, the use-case and its importance, and leave the rest to our stellar Product team to work their magic. The idea is to work with you on capabilities that matter the most to you, resulting in mutual benefits for you and for us.
Same Capabilities, But Brand New Identities
In our endeavor to continue leading the Digital Adoption Solutions industry, we believe it is critical to standardize the identities of our product's features. In this context, we undertook a major renaming exercise and the following modifications have been made.
Please note the new terminologies will soon reflect in the App as well. For further clarification, feel free to contact your [email protected]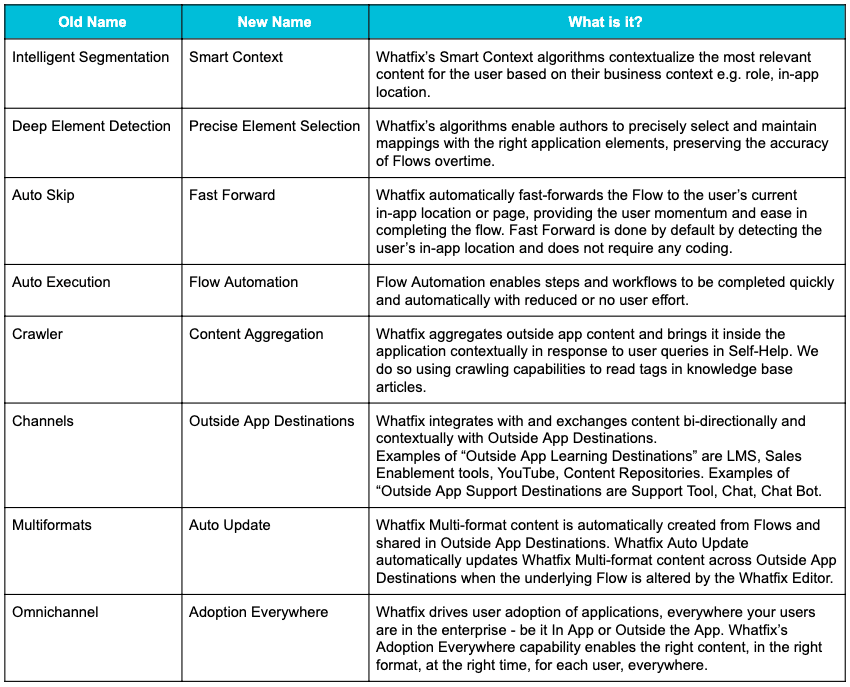 What's Next?
Offer a graceful exit to end-users when Flows fail, by providing alternate content formats. This will ensure guidance is offered consistently.
Flows capability will be included in Whatfix for Desktop and Static Content (Task List, Self Help, Smart Tips) will be included in Whatfix for Mobile.
Integration capabilities with more applications such as Salesforce Knowledge Base, ServiceNow, Seismic, G Drive, Box, etc.
Time taken to generate and update Whatfix extensions for Chrome will be drastically reduced.
Enterprise-wide search capability that will help users fetch information and complete tasks across applications.
Integrate Whatfix with any application in your existing ecosystem and trigger events in those applications with appropriate configurations.
---
For additional information, you can access the release notes here.
---
Whatfix Support Documentation Feedback
Now you can easily give us feedback (verbatim) on any article in support.whatfix.com.
At the end of any article, click either the thumbs up or thumbs down icon under the Was this article helpful? section and enter your feedback.



If it's not regarding a specific article, you can also write to us at [email protected].