The biggest annual tech conference hosted by Salesforce- Dreamforce 2019 is so much more than just a tech event. It's the hub of all things tech, innovation, and most of all, absolute FUN! Ask anyone who's been to Dreamforce in the past and they will surely have some exciting stories to share about the legendary Dreamforce keynotes, parties, and of course, the Dreamforce Concerts and Dreamforce parties! Some of the greatest bands have performed at the Dreamforce Concert every year and this year the news is that it's going to bigger and better!
Finally, after keeping us on tenterhooks for so long, Dreamforce has announced which band is all set to take center stage at Dreamfest 2019!
And it is **drumroll * 🥁 FLEETWOOD MAC!! 🥁
Here's a bit about this band just in case you are not familiar.
1. Fleetwood Mac
This legendary British American rock band came about in London in 1967. Yes, nearly 52 years back!! They have sold over 120 million records and is one of the best-selling bands worldwide. Quite a record right? And we're super psyched about having them perform at this year's Dreamforce concert!
The current members of the band are Mick Fleetwood, Christine McVie, John McVie, Stevie Nicks, and Lindsey Buckingham. Their best seller album – 'Rumours' has sold over 40 million copies worldwide and continues to be one of the albums that identify the band.
We're so thrilled to jam to their heady beats on November 20th at Dreamfest this year. Stay tuned, don't miss it out, and contribute to the cause!!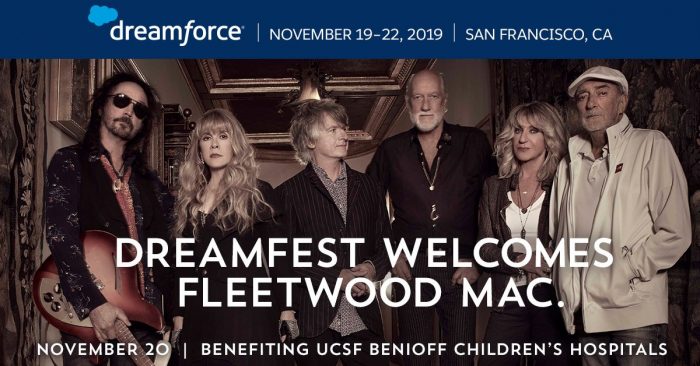 Source: Dreamforce
If you're a newbie, attending Dreamforce 2019 for the first and have no inkling of what Dreamfest is like, here's a throwback to all the greatest bands that have performed at Dreamforce over the years and why it's a must-not-miss event!
Dreamforce Concert: A throwback to the best bands over the years
2. Metallica!
Metallica at Dreamforce concert in 2018 was one of the best news for Dreamforce attendees. It was their second stint at Dreamforce and let us tell you, it was 2 hours of blissful music mayhem that only Metallica is guaranteed to deliver. It was nothing short of goosebumps as Metallica ended with 'Enter Sandman'. One of the best Dreamforce concerts ever!

3. Alicia Keys and Lenny Kravitz
Grammy award-winning singer, Alicia Keys and rock musician Lenny Kravitz joined onstage the Dreamfest in 2017 and got the crowd into quite a frenzy back during the Dreamforce concert in 2017. It was a great night of entertainment and the audience almost forgot the cold as they swung to the music!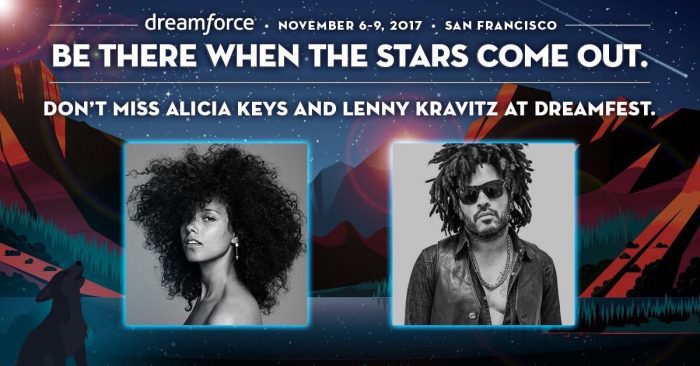 4. U2
Acknowledged as one of the best live acts in the world, U2 graced the Dreamforce concert in 2016 with their live performance. It was quite the experience for Trailblazers attending Dreamforce and marked yet another awesome night for the legendary Dreamforce concerts.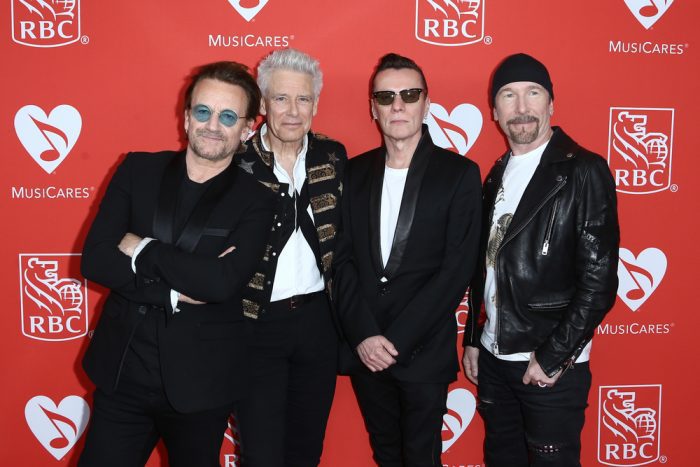 5. The Foo Fighters
Dreamforce attendees were blown away at the sheer awesomeness of the Foo Fighters at the Dreamforce concert in 2015. Foo Fighters were also among the Dreamforce bands who made a re-entry into Dreamforce concerts after an earlier performance at the event.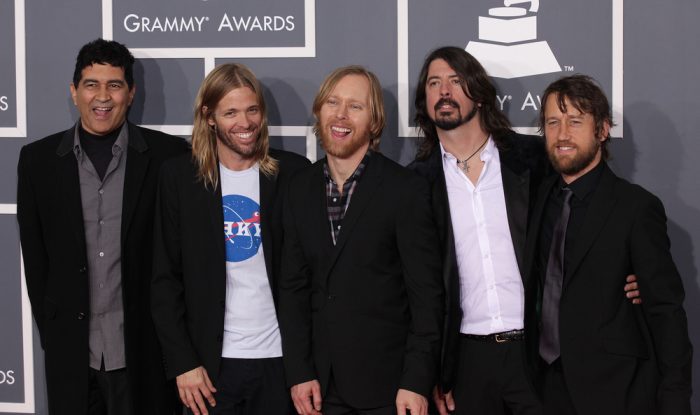 6. Bruno Mars
For music lovers, Dreamforce couldn't get any better. The impressive lineup of singers at the Dreamforce concert in 2014 included none other than the famous Bruno Mars. Rest assured, he had the audience tapping away to his beats. One of the coolest Dreamfest nights ever.
If you've ever doubted how fun a work conference can get, Dreamforce is the event to clear them all! Dreamforce concerts have always had an amazing line up of bands and musicians and they never fail to amaze the attendees every single time and this year's Dreamforce concert is going to be no different.
So that's the latest scoop about Dreamforce concerts this year. We promise to update any information we get wind of right here, so do keep checking it out! And while we're on the subject of having fun, here's our guide to the 5 things you MUST do while you're at Dreamforce San Francisco!
---
Don't forget to visit Whatfix at booth #412 at Dreamforce 2019 and get a personalized demo of how we help enterprises accelerate Salesforce Adoption with our interactive in-app guidance. It's our 5th time in a row and we're excited as ever about making new connections, discovering brand new solutions, and having truckloads of fun 🙂
This year we're giving out some exciting and exclusive swags. Register here and get a chance to win them!