Every year, Dreamforce leaves us feeling quite nostalgic and impatiently waiting for the next one. Be it the four days of networking, the dozen exciting activities, the numerous Dreamforce sessions or the legendary Dreamforce keynotes. Filled with inspiration, new ideas, and motivation, the Dreamforce keynotes are delivered by luminaries at the event. It is almost always tied up to the theme that Dreamforce chooses for any given year.
This year's Dreamforce keynotes look even more promising with over 50 visionaries lined up to speak at the event!
In the past, the Dreamforce keynote speakers list has included people like Jeff Dailey, CEO of Farmers Insurance, Ashton Kutcher, Natalie Portman, Melinda Gates, and Marc Benioff himself!
Speakers are finally letting their secrets out and revealing their roles in this year's Dreamforce keynotes. Here's a sneak peek into the Dreamforce keynotes we know of. We promise to keep updating you as soon as we know more.
Stay tuned!
Dreamforce Keynotes 2019: A complete guide for Trailblazers
This is the perfect opportunity for you to find out how entrepreneurs, developers, and partners use AppExchange and accelerate business growth. You also get to learn about all new partner program announcements.
Speakers
Jonathan Holman, Head of Digital Transformation, Santander UK PLC
Trisha Price, EVP Product Development and Engineering, nCino
With technological trends such as AI, VR, and connectivity setting new bars for customer expectations find out how multi-billion dollar companies are catching up by reinventing commerce.
Speakers
Rob Birse, Head of Global B2B E-commerce, Kellogg Company
Gareth Williams, Chief Product & Innovation Officer, Travelex
Find out how communication and media giants are making strides by bringing together AI, innovation, digital engagement, and so much more in the Salesforce Customer 360 Platform.
Speakers
Discover how to build a successful journey for your business with Salesforce. Learn how companies like trailblazers like Nokia,
e.l.f. cosmetics and Salesforce MVPs have been taking companies forward. Stay tuned for this Dreamforce keynote! The
Speakers:
Ekta Chopra, VP of Digital at e.l.f. cosmetics
Ursula Soritsch-Renier, CIO, Nokia
David Giller, Founder and CEO, Brainiate – Salesforce Training and Consulting.
If you're a Salesforce Admin, then this is a MUST NOT miss Dreamforce keynote for you where you get to learn how to leverage Salesforce to its maximum potential and learn practical tips to blaze your trail!
Speakers
Parker Harris, CTO, and Co-founder of Salesforce
Josie Chiles, VP of Admin Relations, Salesforce, Mike Gerholdt, Senior Director, Admin Evangelism, Salesforce
Karene-Sean Hines, Executive Director, Pi-TaP.com
Zarina Varley Scott, Technology and Project Manager, Imperial Capital | True North Dreamin
Mike Gerholdt, Senior Director, Admin Evangelism, Salesforce
Steve Harris, Salesforce Systems Manager, Costa Del Mar Sunglasses
LeeAnne Rimel, Principal Admin Evangelist, Salesforce
This particular Dreamforce keynote is a great opportunity for people to see live demos of the latest technology and get a glimpse into the future of Salesforce Development.
Speakers
Andrew Fawcett, VP, Product Management, Salesforce
And until we have more, here are some of the best Dreamforce keynotes that we've enjoyed in the past.
Legendary Dreamforce Keynotes Over The Years
12. Tech Innovation As A Force For Good
Ashton Kutcher, popular actor and co-founder of Thorn, an organization that uses technology to address the sexual exploitation of children gave quite a passionate discussion about how technological innovations play a crucial role in stopping the worldwide issue of child exploitation and trafficking at Dreamforce 2017. He focused on leveraging technology to bring about positive social changes across the world. That's one among the Dreamforce keynotes we are bound to remember!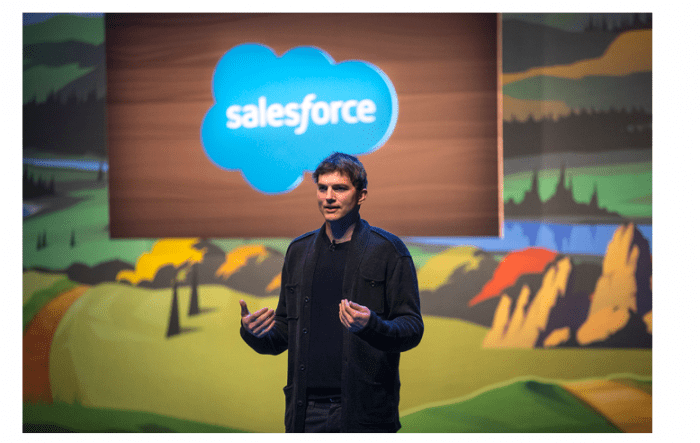 Source: Salesforce.com
13. The Path To Equal Pay
Another one of those memorable Dreamforce keynotes from 2017, this one was by popular actress Natalie Portman. She talked in depth about gender equality in workplaces. She even went on to share personal experiences from the movie industry, the pay disparity, and how she envisions a future with equal pay and equal opportunities.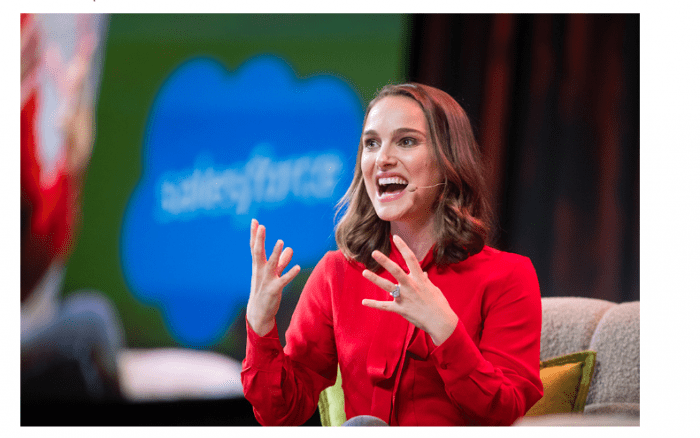 Source: Salesforce.com
14. Education, Tech, and A Little Bit of Politics
Delivered by Hilary Clinton, the former U.S. Secretary of State, this particular keynote was one of the highlights of Dreamforce 2017. She spoke intently about what she called, 'the word gap', which she believes divides children from low-income families from others who are more socioeconomically equipped. She emphasized on the fact that when children are spoken to and read to frequently, it reduces the word gap, helping them achieve more in life. One of the most inspirational Dreamforce keynotes of 2017!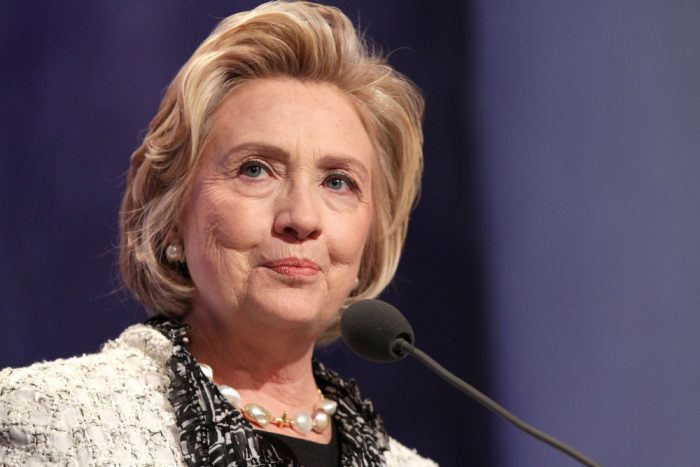 15. Reshaping the World!
A glimpse into how startups today are disrupting industry goliaths and reaching milestones much faster than businesses 20 years ago. Nirav Tolia of Nextdoor, Sallie Krawcheck of Ellevest, Jeff Lawson of Twilio, and Tan Le of Emotiv, four CEOs of disruptive startups who are connecting with customers in a whole new way and changing the world in innovative ways. A must-hear for all those aspiring entrepreneurs out there.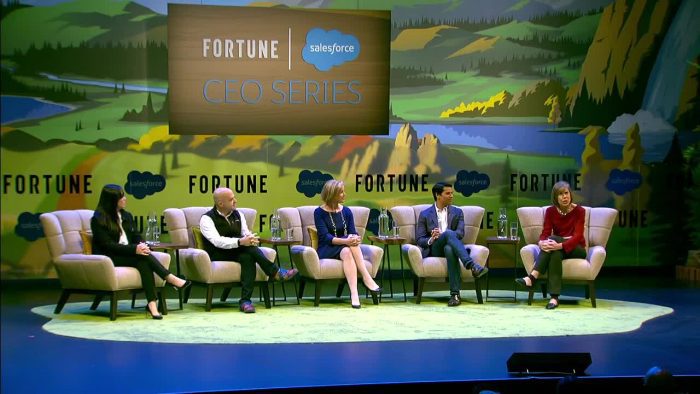 Source: Salesforce.com
16. What's Going on With the World?
Rapper Will.i.am created quite the ripple at Dreamforce 2016. He kickstarted the Dreamforce keynote with a video that focussed on raising money for education. He spoke about diversity and talked about the importance of having techies step up and fill the gap in education and contributing to STEM funding. The rapper managed to stir up people's thoughts and opened their eyes to the blatant gap that existed in public education. He managed to deliver one of the most touching Dreamforce keynotes.
These are the 5 Dreamforce keynotes that we've enjoyed in the past years. If you recall a Dreamforce keynote that struck a chord, do share it with us in the comments!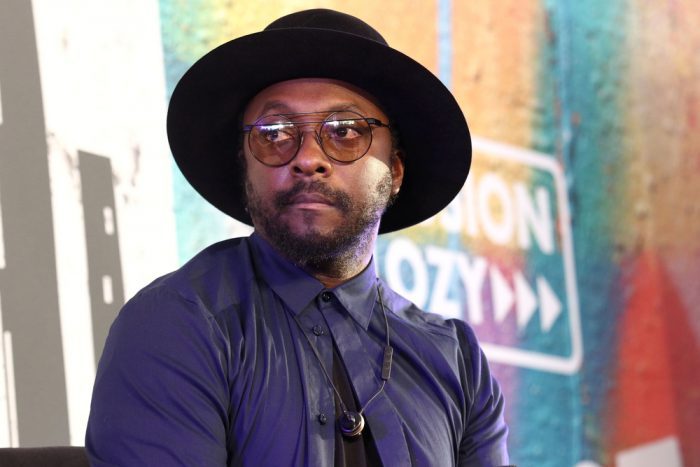 ---
Are you going to Dreamforce 2019 this year? Come meet us at booth #412 and get a personalized demo of how we help to accelerate Salesforce Adoption with our interactive in-app guidance.
Also, we've some exciting prizes coming your way. Simply register here and get a chance to win some amazing giveaways!