When your in-office team suddenly needs to learn how to start working from home, they'll look to leadership for guidance. Every department head, supervisor, and manager needs to be prepared to work closely with their employees to make the quick transition go as smoothly as possible. Those leaders will depend on HR and IT/People Ops to help them navigate both the emotions and the logistics involved.
The COVID-19 crisis is currently forcing teams around the world to make quick and unexpected moves to remote work. However, many factors can lead to sudden shifts to home offices.
As an HR or an IT professional, whether you're supporting a single employee who needs to telecommute due to illness or an entire team that has to sign in from a home office, there are several ways you can make the transition easier for everyone.
Acknowledge That Quick Transitions Are Not Ideal
Normally, companies spend months planning out how to start working from home. In an ideal situation, leadership and HR/People Ops would carefully design remote work policies, set up remote work tools ahead of time, and talk to employees about all the changes. With sudden transitions, you don't have that luxury.
While the timing may be out of your control, the communication plan doesn't have to be. Refer to our 7 Best Practices in Change Management Communication for tips on how to address individual concerns and establish the HR/People Ops team as a trusted resource during uncertain times.
Be clear about expectations, but be understanding and compassionate. For example, "In general, work schedules will be the same as your normal in-office schedules, but we will do our best to make accommodations for things such as caring for a child or a sick relative, etc. You can contact HR to discuss schedule changes."
It's also important to help employees set boundaries for their workday in order to avoid burnout. Studies show that 23% of remote employees are willing to work longer hours at home than at the office, and 22% of remote employees have difficulty unplugging after work.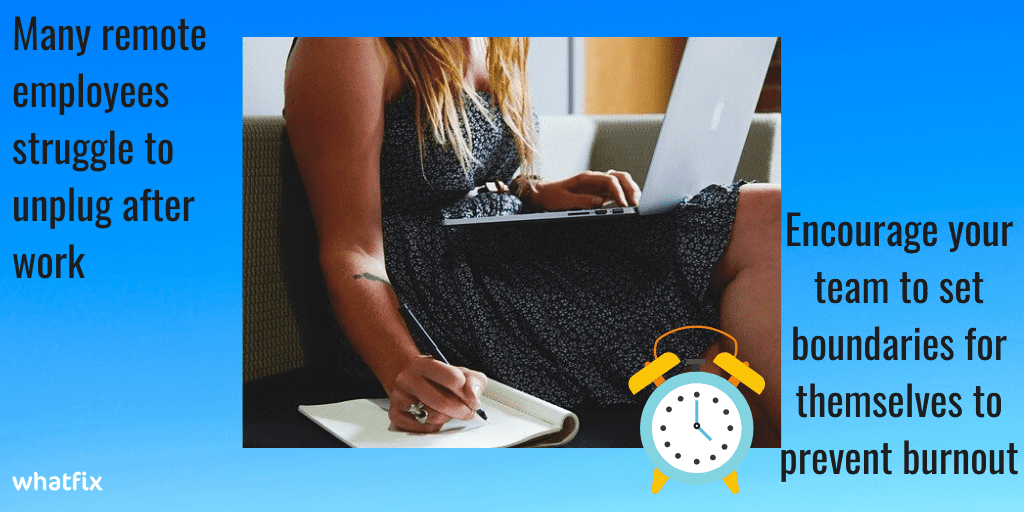 Consider a ramp-up plan that introduces tools, policies, and expectations gradually. For example, instead of trying to force everyone to use Microsoft Teams for all communication and file sharing right away, break it down into milestones:
Week 1 Goal: Every team member sets up a Microsoft Teams account
Week 2 Goal: 50% of files and 75% of communication happen in Microsoft Teams
Week 3 Goal: Full adoption of Microsoft teams, email is no longer used for file sharing or internal communication
A gradual ramp-up not only gives employees time to adjust to the new normal but also gives you the opportunity to celebrate small wins as a team and boost morale in the process.
Pay Close Attention to IT Needs
IT departments carry a heavy burden when transitioning entire teams to remote work. While no one expects HR and People Ops professionals to become IT experts, you can still work with the IT department to help them manage their workload.
Start by scheduling daily and weekly check-ins with IT managers to discuss the significant changes to their workload. Use those meetings to discuss stress levels and identify opportunities to shift team members around for extra support. You may not be able to assist with IT tasks, but you can brainstorm ways to lessen the burden.
Leveraging tools that allow employees to seek out information or troubleshoot on their own is a great way to take work off IT's to-do list.
Use Digital Adoption Platforms to provide self-guided training to employees learning how to use a new software.
Create a "How to Start Working from Home" wiki with answers to FAQs.
Share how-to guides for frequently used tools (e.g., A screen recording showing how to run meetings in Zoom).

Above all, be patient with your IT team, and continually express your appreciation for their hard work.
Ensure Employees Have the Necessary Work Equipment
Not everyone will have a home office waiting for them. Talk with your team about what equipment they need to work from home and coordinate between departments to make sure everyone has the tools they require.
You can make it easier for employees by including a work from home office equipment guide in the "How to Start Working from Home" wiki. In the beginning, you may want to add recommendations for makeshift equipment, such as, "Use a TV tray while working from a couch to avoid hunching over a laptop resting on your knees."
While quick transitions may call for a bit of creativity when it comes to initial home-office setups, improvised solutions should be temporary. It's important to prioritize getting employees proper equipment as soon as possible and to be clear about what the company will and will not provide. For example: "Each employee will receive a laptop, additional monitor, an external mouse, and all of the necessary cables. We will not provide desks or chairs, but employees can submit expense requests for up to $200 to cover home-office equipment."
Unexpected shifts to remote work are likely to put a strain on your budget. Be transparent with your team about any limitations, and let them know what you are doing to address concerns. If the budget does not allow for all the desired equipment right away, worry about the essentials first, and gradually cover additional expenses and provide more equipment over time.
Create Socialization Opportunities
Loneliness and lack of social interaction are some of the top-ranked challenges of working from home. Fostering a sense of community — whether it be through in-person meet-ups or virtual hang-outs — is extremely important.
If possible, organize regular in-person events with the team, and encourage others to meet up in smaller groups. Something as simple as providing employees with a monthly stipend for one lunch out may inspire coworkers to meet up and dine together. Of course, in-person meet-ups should only be used under normal circumstances. Gatherings should not be encouraged until the COVID-19 crisis has been resolved.
When in-person meet-ups are not an option, virtual hang-outs can be incredibly beneficial for remote employees. Try sending out surveys to your team to find out what TV shows, books, and other hobbies they'd love to discuss. Use the surveys to set up themed video calls, and invite anyone on the team to pop in and chat about the theme of the week.


Even small things, such as setting aside 5-10 minutes at the beginning of meetings for casual conversation, can prevent employees from feeling alienated.
Communicate Regularly and Be Open to Feedback
Rapidly moving to remote work is stressful and emotional. It's crucial to maintain an open line of communication with your team and help them navigate the transition.
People-centric change management models like the Kübler-Ross Change Curve and Bridges' Transition Model are excellent resources for handling the emotional response to sudden changes.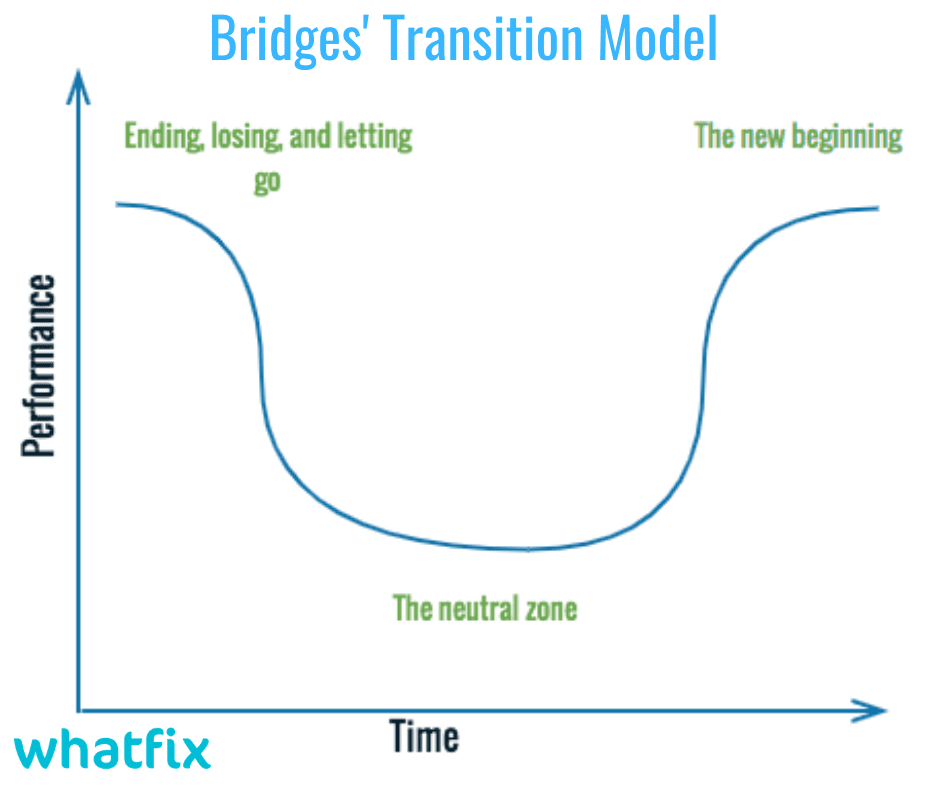 While you work toward what Bridges' Transition Model calls "the neutral zone," be sure to check in with team leads and managers on a weekly basis to see how their direct reports are adapting. Because they work with their employees on a daily basis, the input of leads and managers will help you design a path toward "the new beginning."
Soliciting feedback directly from employees is helpful as well. Each week, send a survey out to the entire team, and ask them what challenges they're facing, how they are feeling emotionally, and what they believe management could do to provide more support. Make sure to allow for anonymous responses so you can get truly honest responses.
Be Ready to Teach Your Team How to Work From Home
The more you support your team, the better prepared they will be to do quality work. Sudden transitions to working from home are never easy, but if you focus on helping your employees be successful, the chaos of the quick change will calm down sooner.
The Whatfix Digital Adoption Platform is designed to accelerate user onboarding and provide self-guided learning opportunities that allow users to learn in the flow of work. Sign up for a demo to see how we can help you support your employees with on-demand training.