Cloud transformation, or moving your applications fully or partially to the cloud, has a number of important benefits. It's easier and faster to scale in the cloud, and it's typically more efficient and cost-effective.
However, you can realize these benefits only if your team fully adopts the new, cloud-based work environment. A recent survey found that 43% of respondents' cloud-implementation efforts had stalled or failed completely. Only 27% felt satisfied with the end result of the transformation.
To ensure that your cloud migration is successful, support your team throughout the process. Employees need to be prepared for the change, kept informed along the way, and given every opportunity for training in the new system.
Here are a few proven ways to support employees during the entire cloud-migration process.
Keep the Lines of Communication Open
As an HR director, it's important to consider how cloud transformation will affect the day-to-day working lives of your employees. The best way to make the transition as smooth as possible is to communicate openly and constantly. Talk to your employees ahead of time so they are prepared for the change, and hold regular meetings or send updates to keep your staff informed throughout the process.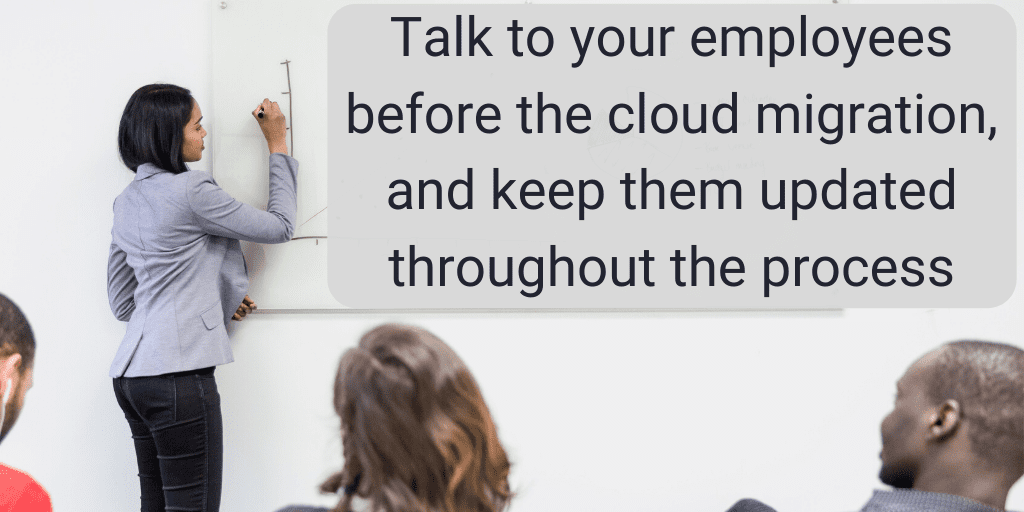 Helping employees feel like they are a part of the change is key for a successful cloud implementation. Before the change takes place, communicate why the shift is happening and how it will benefit them and the company. Lay out what will be expected of them, as far as changes to their everyday workload, and introduce the new training they can lean on to learn the new system. Follow best practices for change management communication, such as using multiple channels to send updates.
You can see the impact of one of the major digital transformation challenges, multilevel communication, in Starbucks' implementation of their new digital rewards system. Executives didn't talk to baristas and store employees about the details of the new program. That meant workers couldn't educate customers about how to use it or about the value of the loyalty program. The result? Low adoption rates and millions of customers asking for a simpler program.
Encourage Employee Feedback
Communication goes both ways. Employees are seeing the cloud transformation from a different perspective than executives, and they can add valuable insight to your cloud-migration strategy. Provide ways for employees of all levels to give feedback throughout the process. Their input will help you see where your strategy might need to be adjusted.
This is the tactic that Starbucks took following their initial implementation problems with the new rewards program. They started talking to in-store staff about changes that would be most helpful. Eventually, they used employee feedback when redesigning their point-of-sale system—an update that, according Curt Garner, the CIO at the time, "ended up saving us 900,000 hours of line time a year."
One way to encourage feedback is with an employee-experience management tool like SuccessFactors. This type of tool enables you to send out surveys and collect and analyze user data as employees begin working with the cloud technology. Then, you can address any issues immediately and get back on track.
Create a Cloud Center of Excellence
Making sure employees have a dedicated resource for information surrounding the migration is just as important as open communication. That's where a Cloud Center of Excellence (CCoE) comes in.
A CCoE is a team responsible for overseeing the transformation and implementing strategies and best practices at all levels. Ideally, it should be a small team made up of people from multiple departments, including developers and system administrators, to provide a variety of perspectives. The focus of this team is to make the transition as smooth as possible and to serve as a resource for employees. A recent report on cloud transformations found that 83% of companies believed creating a CCoE was beneficial to their cloud migration.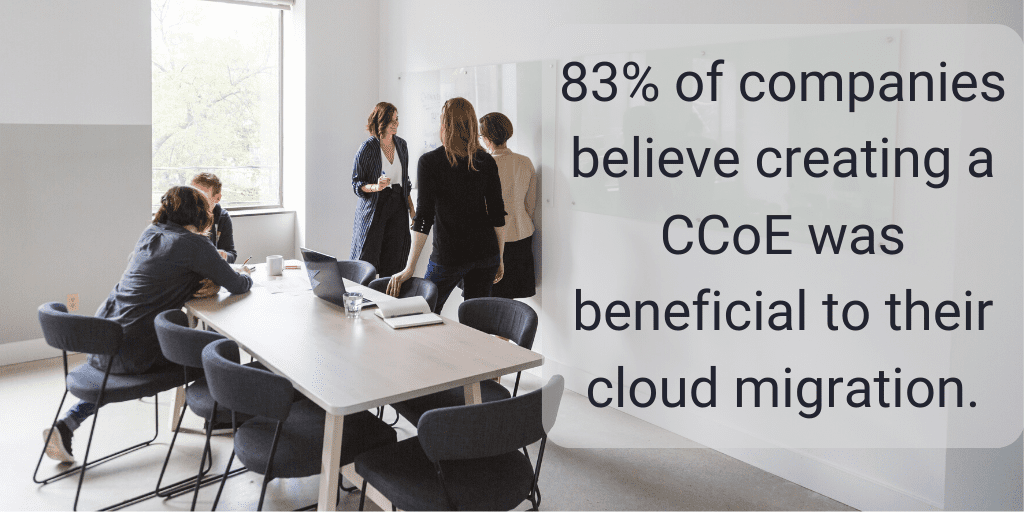 When Dow Jones undertook the huge task of moving its software development and delivery processes to the cloud, it used a CCoE. As a result, the company was able to build a scalable cloud-migration framework that could be used across departments, and it significantly improved software delivery speeds.
Leverage Closed Cloud Sandboxes
If you want employees to get comfortable with new technology, give them a way to practice using it. For cloud technology, this means setting up closed cloud sandboxes for them to experiment with. A sandbox is a closed environment in which you can practice using the technology without making permanent changes. Either the developer or an administrator can delete the sandbox, if necessary, so mistakes never go live.
Studies show that learning by doing results in higher retention rates. Cloud sandboxes give employees a place to learn through hands-on experience. They can make and test application changes and new features independently before making them widely available or public to other users.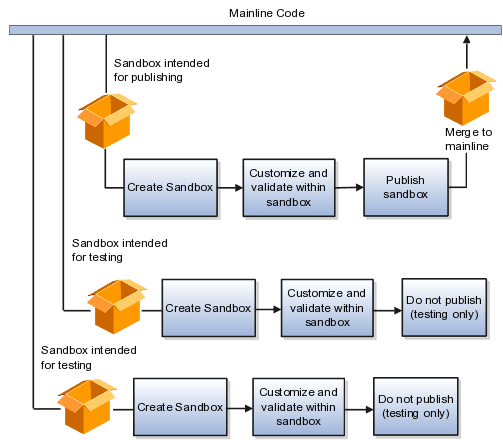 See if your cloud provider offers sandbox features. With Oracle Sales Cloud, for example, you can create and customize completely isolated sandboxes for practice development. When an employee finishes developing a feature, they can either publish it, which sends it out of the sandbox and into the live application, or they can delete it.
Implement Peer-to-Peer Training
Some people will naturally pick up the new workflow faster than others. Use this to benefit the team by encouraging peer-to-peer training. As employees learn new skills and become comfortable with the technology, have them train newer or less digitally savvy teammates. Not only will this help employees adopt the technology faster, but it will foster a collaborative environment of knowledge-sharing.
Peer-to-peer training is cost-effective because you don't need to hire an outside company or trainer. It's also a relatively frictionless training method. A survey by Degreed found that 55% of workers prefer to turn to their peers for help compared with just 28% who prefer to use the employer's learning management system (LMS). By setting up peer-to-peer training, you're enabling employees to learn from people they know, in an environment where they are comfortable.
Create small teams with people from a variety of skill levels, and have them work together when learning the new technology. You can further support employees by assigning an experienced onboarding buddy to help new hires learn the ropes.
JetBlue Airways took this a step further with their JetBlue Scholars program. The company promotes on-the-job, peer-to-peer training by having senior employees act as mentors to newer team members. The company pairs this training with online courses to upskill employees and help workers earn college degrees.
Offer Incentives to Reskill
Employees will need to learn new skills to work productively during and after the transformation. This can be intimidating, but by pairing formal courses with incentive programs, you encourage employees to complete training quickly and efficiently.
One of the easiest and most common incentives is reimbursement for training. See if your cloud provider offers courses or certifications, and offer to reimburse the employee once they complete the course. Working with your cloud provider is a great way to ensure that your employees are gaining directly relevant skills they can apply right away.



To encourage peer training and team collaboration, try group incentives. For example, managers could bring in a catered lunch or designate half a day for the entire team to complete their cloud training courses. This gives the team a concrete goal to work toward and incentivizes them to help one another go through the training quickly. Gamification elements such as badges and points are another popular method to incentivize training.
Telecom giant Comcast used Spoke, a learning management system, to increase adoption of their new Xfinity mobile app among employees. The LMS used gamification, including badges, contests, and prizes to inspire employees to finish courses. As a result, Comcast saw 5.5x increase in course completions.
All of these strategies share a common goal: help employees understand and adjust to the changes that come with cloud transformation, and support them as they learn new skills.
Improve Adoption Rates by Supporting Employees
Just like any digital transformation effort, cloud migration comes with its own set of challenges. In order to increase your chances of success and get the maximum ROI, you have to get employees on board with the new cloud technology. Setting up training systems like cloud-based certification courses and closed sandboxes will help your team make the migration more quickly and efficiently.
However, perhaps the most important factor is making sure employees have a support system in place. Keep lines of communication open throughout the process, and make sure employees know where to go with questions or to give feedback. All of these efforts will lead to a smooth and seamless transformation.