There is a BIG reason why Dreamforce is the most anticipated conference every year!
Any guesses?
You don't need to ponder much and I am not going to beat the drum about its amazing sessions, keynotes, parties and networking opportunities.
The BIG reason why it's the most anticipated conference is that those 4 days change you as a professional.
ADD_THIS_TEXT
This is something that I realized after I was back from Dreamforce, last year. I am truly glad about it. Just because now I know how to gear up for Dreamforce 2016. 🙂
Flashback to Dreamforce 2015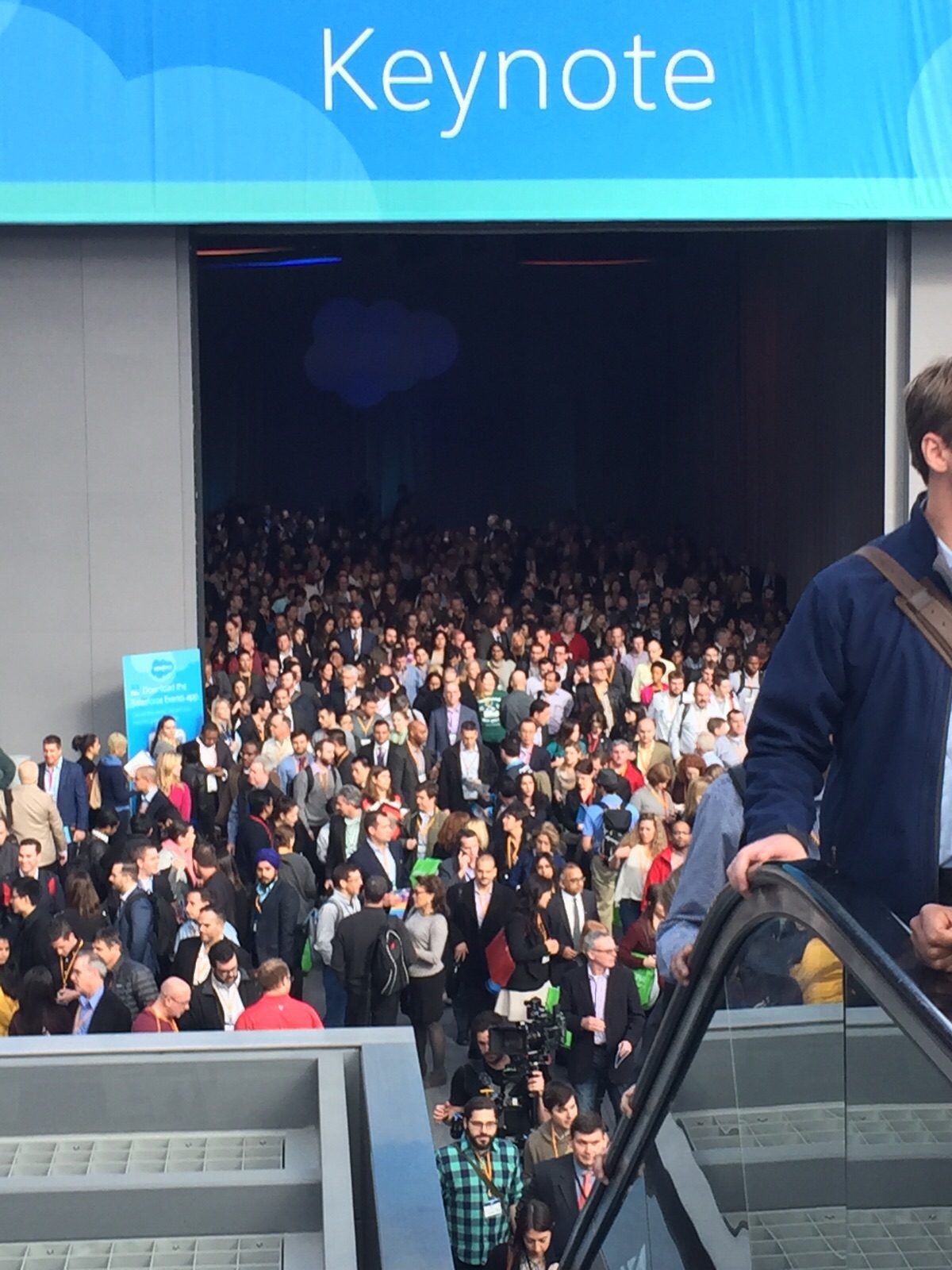 At the start, as I reached San Francisco, I was super excited. Thanks to all the amazing marketing by Salesforce, the Dreamforce team and the community. But then, once I was at Dreamforce, everything daunted on me as a revelation. The excitement merged with the professionalism in me and all of a sudden I felt like I could woo anyone with my product demo.
My company, Whatfix, had an Exhibitor booth last year. And I was one of the reps manning the fort. The nervousness and excitement were at their peak when I reached Moscone Center on the first day and saw the stage and arena. The expo hall was crowded with companies from across the globe, all with the same aim – showcasing their product in front of the hundreds of thousands who were attending the conference.
Seeing all of this, my mind was flustering with questions. And I felt a little overwhelmed as well.
My mind shot up questions like:
1. Will this event be a success in terms of the ROI?
2. Does it make sense for a company with as few as 40 customers to present in front of a global audience at such a large stage?
3. Will we be able to handle so many prospects?
4. Will the flyers to be distributed be enough?
5. Is my attire appropriate for the event?
And yeah, it kept on buzzing.
And then, the event started. Or rather all hell broke loose. A humongous crowd started pouring in. Within a few minutes, I became busy as a bee.
One of the best parts was seeing different emotions of the prospects who came to our booth. Most of them were surprised when they realized something like Whatfix existed.
If you're wondering about us, Whatfix (by the way) is a tool that allows you to create interactive walkthroughs on any website/web application. While allowing users that ability to create content without any coding, we're able to make products like Salesforce self-serve (and other Enterprise web apps as well) and thus reduce the training efforts and save a lot of time.
Some of the expressions of the prospects I met, went from – surprise ''OMG, this is killer, where have you guys been hiding all this while?'' to "Does this mean I need not create training material every single time, even if the product UI changes?"
One of the best ones was from a dashing young man who told me, "Thanks a lot, man!, now I won't have to break up with my girlfriend because of my late night calls. Whatfix can automate the training for the multiple time zones that I handle." It  almost had happy tears then.
Not that all of this was totally unexpected. But the volume of people attending the event was and still is beyond imagination. (I'm guessing this year would be far more than last year)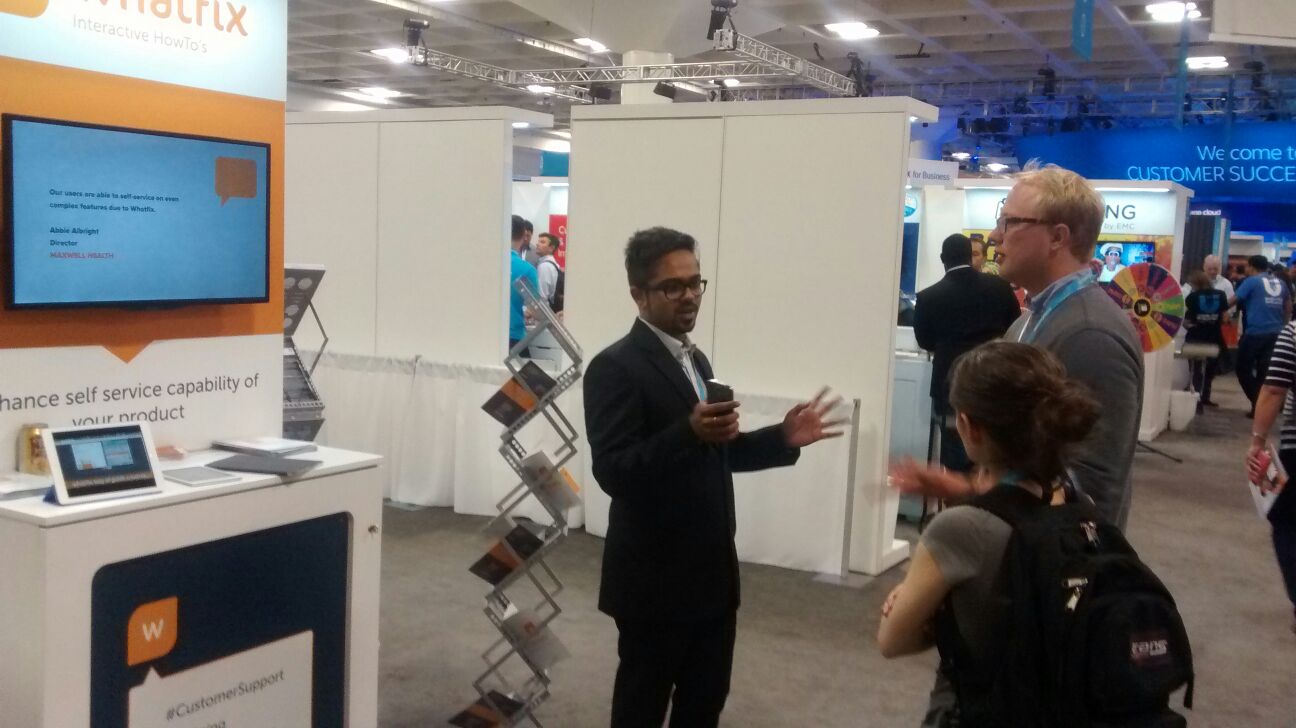 Our booth design with the video running on the screen was intriguing to people who walked by. It generated curiosity of the sorts that people wanted to know what we do. That resulted in 1000+ odd conversations in the 3-4 days. It was overwhelming indeed for a team of 4 people. And despite all my zest and zeal, at the end of the day, I started to lose my voice, my feet felt cold and I needed a hot water therapy.
But, all was expected without any complaints.
With 100s of short demos over the 4 days, we were able to pitch our product to approximately 500 individual companies and got amazing results (post-Dreamforce). The awareness and branding we received were out of the world. We weren't able to measure some of it as the users who found us busy demonstrating, simply lifted a flyer and left, (probably) came back through the lead form on the website.
So, what changed in me?
It was the experience itself that instigated the change. Being present at one of the largest events in the world, your confidence level skyrockets. You start thinking on your feet and feel the maturity to tackle all kinds of questions, naturally. Once you get into that state of mind, you work towards that sole goal – to utilize the opportunity to the max!
Talking to thousands of individuals, pitching them your product, understanding their pain points, getting feature suggestions, and much more in a matter of a few minutes of conversation, simply evolves you as a salesperson. And it gives you a plethora of amazing product ideas.
All the more, it amplifies the trust you have in your company and the product that you are selling.
I'm glad that all of it bore fruit. Leads converted to customers and now we are all set for another Dreamforce. Last year, I got so used to being at Dreamforce that I was humming demos in my sleep, even after the conference ended.
This year, my team and I are already exhilarated. Especially because, this time, we have a larger booth as a Bronze Sponsor, better preparation and gear and an unwavering attitude to make the most out of the conference.
Before I wind up, there are few things I want to share with all sales guys at Dreamforce.
How to make the most out of Dreamforce 2016
If there is one thing, that I regret from last Dreamforce, it's that I didn't get to go around much. But this time, we have a larger team and I am hoping to utilize the opportunity to the fullest.
Here are few things you must do to make the most out of Dreamforce 2016:
1. Try and attend the Keynotes – Last year, the highlight was the keynotes from Marc Benioff and Satya Nadella. This time round, apart from Benioff's annual keynote, we have Melinda Gates, Billie Jean King, Tony Robbins and many more.
Make sure you find time to watch these awe-striking luminaries on stage.
Check out this list of awesome keynotes at Dreamforce 2016.
2. Socialize in places other than your booth – You will not make the most out of Dreamforce, if you stand by your booth at all times. Try moving around the Expo hall or maybe go over to the Dreampark. Beer, Lounge chairs, and plenty other people to mingle is a sure shot thing at the Dreampark.
3. Experience the Dreamfest and the concert – There is a reason why Dreamforce is the most happening conference every year. That is, Salesforce never leaves any stone unturned for this mega event. Last year the Dreamfest Concert headlined The Foo Fighters, The Killers, and Gary Clark Jr. And Dreamforce 2016 is headlined by U2. Isn't that good enough a reason?
4. Parties are everywhere – San Francisco is infested with parties during Dreamforce. If you are going, then make sure that you RSVP and try and attend at least a few.
Here's a list of all the must-go-to parties at Dreamforce 2016.
5. Swags of the event – Last year, I literally felt like crying when I saw prospects walk out with flooded bags of Dreamforce goodies. This year I am prepared. Just as an added incentive, last year the Swags of the event included a Maserati (from Accenture), a Tesla (from Apttus), a lot of Apple watches, Beats headphones and well, a lot more.
All that said, make sure you are well prepared with your clothing, few good pairs of shoes (you are gonna stand an awful lot) and whatever else you need to get through the 4 days. Stay hydrated always and be awesome as ever!
Cheers. Have a kickass Dreamforce!
---
If you are coming for the conference, do drop by the Whatfix's booth #134 at the Moscone Center. I'd love to meet you and show you how Whatfix can simplify User Onboarding, Training, and Support for your organization.
To schedule a meeting with me at Dreamforce 2016, click here.
For the latest updates on Dreamforce 2016 from Whatfix, sign up for the special newsletter below.