RealPage Inc. has solutions for all kinds of property managers, but the amount of software they provide is overwhelming. With RealPage, your employees can take your customers on a digital tour, process their paperwork, and receive payments. They can access market analytics and make predictions. They can even provide renter insurance and create websites for your listings.
But your employees can only do all that if they know how to use the property management software efficiently. And with an inefficient RealPage training program, your agents could be underperforming as a result of confusion.
While RealPage has some existing training materials, you can further accelerate your agents' time to competency with in-application training provided by a digital adoption platform (DAP). You can set your agents up for success by creating in-application walk-throughs and enabling 24/7 self-help features.
4 Challenges with RealPage Training
All of RealPage's amazing end-to-end software solutions become useless if your employees don't know how to use them or they take too long learning how to make them work. Here are some specific problems you will encounter if you don't have a comprehensive RealPage training program:
1. Too Many Features
RealPage has so many features that it's hard to keep track of what each software does and how that piece of software works. And most of the existing training material in their learning management system (LMS) is merely demonstrative. They provide a product learning portal with videos, articles, workshops, and webinars to teach you how to use their features, but all that becomes confusing if you don't know where to start.
2. Inadequate Customer Support
As stated, RealPage has a lot of training materials to encourage self-help solutions, but their customer support can be inadequate at times. User experience with customer support has been mixed—some say it's great, others say that the experience has been subpar. On top of that, their self-help solutions don't always yield results, with some queries pulling up little to no search results.
3. Quite a Few Bugs
As with all software, it's impossible to have everything working exactly as it should. So it's no surprise that RealPage, a 23-year-old piece of software, has some recurring bugs that are difficult to solve. You need to clearly communicate known productivity-hindering bugs to your team so that they aren't confused about what to do next. You also need to announce important workarounds for existing bugs to make sure your team stays effective despite the issues.
4. Poorly Rolled-Out Updates
RealPage regularly introduces updates to stay current, but not all of the updates are as intuitive as hoped. Updates developed with the best intentions end up slowing down your employees and further confusing them. There is little to no training material for poorly rolled-out enhancements and interface changes, so when your employees encounter a new feature they don't quite understand, they'll need to get in touch with RealPage's customer support team, which isn't always online.
3 Ways Whatfix Can Accelerate RealPage Training
Despite all those challenges, RealPage is still a powerful property management tool—all you need is the right product training program and accessible content to make it work for you and your company. A DAP like Whatfix can make sure that your employees will always find help whenever they need it, right in the RealPage system—they won't need to go anywhere else. Here are some specific ways a DAP helps your employees learn faster and more efficiently:
1. Whatfix Provides RealPage Training for Your Employees to Use all Application Features
With Whatfix, it's easy to tell your team what features they need and how to use those features by creating walk-throughs and announcements. Walk-throughs are step-by-step guides that show your employees which buttons they need to click and which blanks they need to fill in to complete a certain process. Walk-through windows also have room for text and videos so you can explain to your employees why they need to do certain things.
You can create walk-throughs to guide your employees through each step for RealPage products that you use every day. Employees who learn by doing understand processes faster than those who merely watch videos or demonstrations.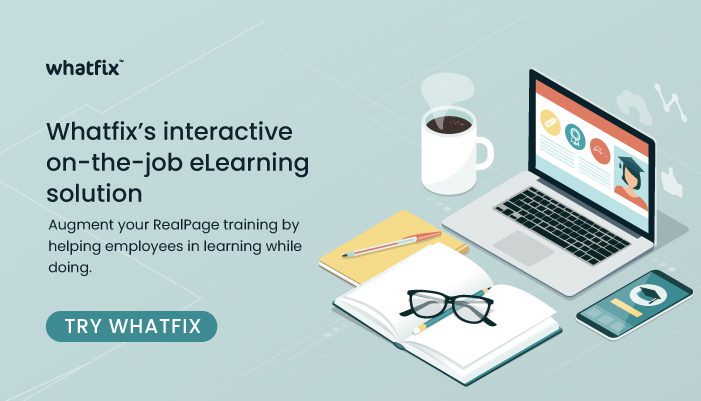 After all, humans remember 75% of things that they do while they remember only 5% of things that they listen to.
You can also easily automate form processing by using Whatfix's autofill and data validation features. You can pre-fill blanks and install drop-down menus for forms with similar answers or answer types for certain blanks.
2. Whatfix Encourages Your Employees to Turn To Self-Help Solutions
One of Whatfix's major advantages as a DAP is its proprietary aggregated self-help menu. Whatfix technology allows you to install a little menu tab on the right-hand corner of your page that your employees can access at any time. That menu can contain all the content that you've created internally and all of RealPage's existing help content. It makes sure that all information can be accessed in one place so that your employees can always find what they're looking for without leaving the RealPage application window.
While RealPage has a lot of training content, its lack of search accuracy renders its self-help solutions less effective. An aggregated self-help menu will do two things:
Integrate with any existing LMSs and compile all self-help documents in one place to increase search success rates and thus increase self-help success rates
Surface entries contextually, based on the user's role and the page that they are on (e.g., someone who handles insurance and someone who handles sales will see different self-help menu entries on the home page).
Whatfix also monitors unsuccessful search queries so that you can find out where your employees need more support. Whatfix will let you know if your employees are searching for "How to set up a 360˚ apartment tour" and coming up with zero search results, which will allow you to create more content where needed.
Enabling your team to help themselves wherever they are in the world saves time by increasing productivity and redirecting time away from support.
3. Whatfix Lets You Make Announcements for Known Bugs and Their Work-Arounds
You need to communicate known bugs and upcoming updates with your team so that they're not caught off guard. After all, software that doesn't work as it should hinders employee productivity. You can make sure that all of your employees know that a certain bug exists by integrating in-application contextual pop-ups and announcements. That way, you can easily make sure that everyone knows the best practices you've found when dealing with said bug.
When employees enter a certain window with a known bug in the RealPage application, Whatfix will make it so that a pop-up announcement explaining existing bugs and their workarounds appears before the employees can proceed. For example, if you know that RealPage crashes upon pressing a certain button, you can let your employees know to avoid that button.
Whatfix Accelerates Employee Onboarding and Training for Property Management Tools
RealPage is such a powerful tool, but it becomes useless without the proper training programs in place to make sure that your employees are maximizing the software.
With Whatfix, you can make sure that all your new hires know how to use the necessary RealPage products and that your existing employees are never blindsided by bugs and updates. Instead of spending days or weeks learning how RealPage works, your agents can simply open the tool, run a walk-through, and learn how to get things done.
So what are you waiting for? Book a demo to learn how Whatfix can accelerate RealPage training and help your employees perform at their best, all the time.