For the rest of the world, September may be the month when Fall season starts, but at Whatfix, September is when we schedule our latest product release.
In this release, we are bringing in more convenience while further enhancing efficiency when using Whatfix, with updates across deployment, content management and smaller yet crucial features.
Let's dig into it, shall we?
Deploy and Update Whatfix with One-Click Extensions

You may want to hold on tight, because this is a big one! You no longer have to depend on your CSMs to manage your extensions. Managing extensions is now possible from within your Dashboard. Less dependency, more efficiency is the mantra. Please note the minor differences for the different browsers.
You can find 'Manage Extensions' in the dropdown menu under the 'Settings' icon.
Firefox, IE: Similar to Chrome, at the very first instance, you will see a 'Generate' button in the Firefox card. For subsequent updates, you will see an 'Update' button. In Firefox and IE, a downloadable installer file will be generated instead of a URL.
Edge: To generate the extension for the very first time, you will have to contact your CSM. However, for subsequent updates, an 'Update' button will be available in the Edge card. If this button is not visible, please contact your CSM.
For existing users of IE and Edge, 'Push to Production' button is no longer available as the same has been included in the 'Manage Extensions' feature.
Chrome: This is the default browser for Whatfix. At the very first instance, you will see a 'Generate' button, which will generate a URL having the Extension ID. For subsequent updates, the 'Generate' button will be replaced with an 'Update' button.
Chrome Store typically reviews the update before rolling it out. Post-review, the extension update in the browser takes around 6 hours. In the near future, we are aiming to shorten this post-review update time to around 30 minutes, allowing you to get to work quicker.
Safari: You will have to contact your CSM to generate and/or update the extension.
For existing users of Chrome, a 'Regenerate' button will be visible. Existing users continue to download zip files and upload it to the Chrome store like before. 
To switch over to the new one-click process, contact your CSM for details.
Translate Whatfix Content Directly from Your Dashboard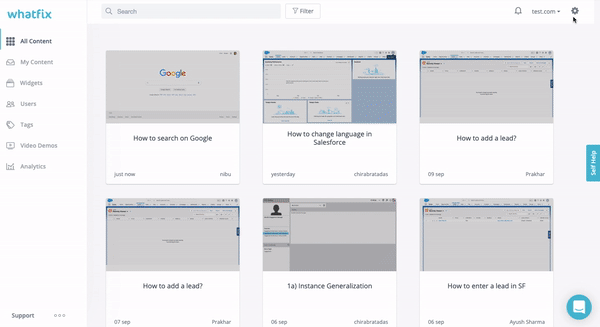 We want to offer you more options for translating your content into different languages. With this release, you can translate your content directly from within the Whatfix Dashboard.
Go to the Languages option in your Settings. Every language that has been added is hyperlinked. To translate into a desired language, please click on the language to open a new page. Here, you will find all your existing content. On the left-side, you will find a list of all content types. Make the necessary selections to start translating.
If you use an agency to support you with language translation, we have further simplified the process for you by creating an additional user role – Translator. This role only has access to your dashboard to translate content. So you can rest assured knowing that the Translator user role is not authorised to modify anything else in your dashboard.
New Search Filters to Easily Find Content in Your Dashboard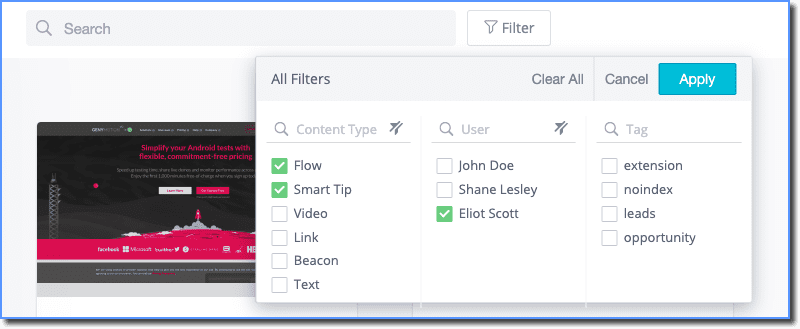 You will love this update, if you are managing large amounts of Whatfix content. Searching and accessing content on your Dashboard has been massively simplified with the help of additional search filters. Now, you can filter content based on the content type, the users or the tags that you have assigned when creating content. Additionally, you can also apply a combination of the above three filters to make your search even more specific and accurate. You can even search through your content just by applying filters, without having to enter a term in the search bar.
Instantly Generate Multiformat Content in Multiple Languages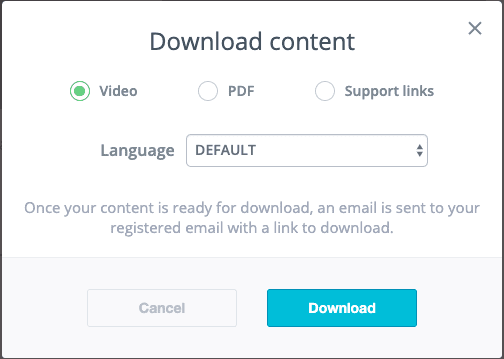 Multiformats is one of the favourite features of our customers and we want to see their love grow. So, we've decided to enhance this even further.
As you know, Multiformats allow you to instantly and automatically convert your Whatfix content into multiple formats – articles, PDFs, videos, URLs, Slideshows. We believe everybody has their preferred learning style, and this should not be a barrier. Similarly, language should also not be a barrier for learning, developing and supporting – especially when the team is spread out globally. So, with this update, you can now download all of multiformat content in any language that you require in just a couple of clicks. Less effort, less translation hassle but drastically higher value to you and to the entire organisation.
Currently this is supported for dynamic content formats – slideshows, articles and support links, as well as static content formats – auto-generated videos and PDFs.
New Beacon Styles for Effective Communication of Important Updates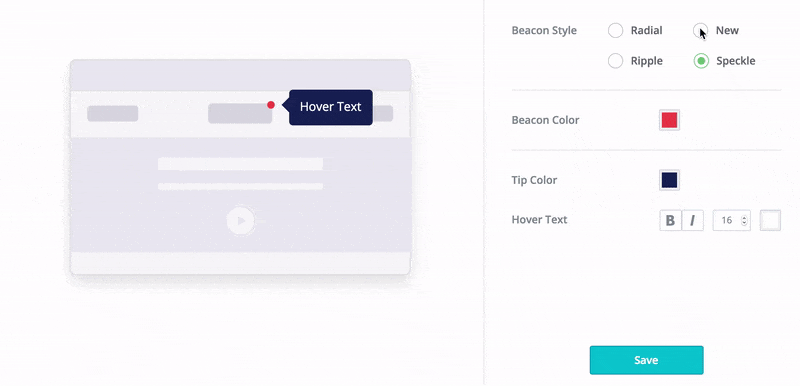 Beacons may be our most compact widget, but they sure pack a powerful punch. From communicating important updates to highlighting changes, they align and calibrate the entire team. So we thought, how about we crank it up a notch?
We have added 3 additional animation styles to help you capture your users' attention faster and engage them more effectively. You can choose from Radial pattern, Speckle pattern, Ripple pattern or just plain old text that reads 'New' – whatever floats your boat.
Improved Navigation in Walkthroughs (Beta)
With this update, you can now go back and forth in any Whatfix walkthrough using the 'Back' button. Whether you want more clarity or change what you entered in the previous step, you just have to click 'Back'.
Please note, this is currently in beta. You can contact your CSM to try it out.
Easier Tagging of Knowledge Bases
You can now add tags to the knowledge base content you've decided to integrate with Whatfix. When adding a knowledge base, you will find a third field called 'Tags'. So, you will no longer have to select the knowledge base content from your dashboard and tag them. Simpler and more efficient, isn't it?
Preview Mode Access for Editor User Role
Until now, only Account Managers and Content Managers had access to Preview mode. With this release, we have extended this access to the Editor user role as well.
Enhanced Self Help Search for More Accurate Results
The search capability with Self Help has been enhanced with a more robust algorithm that not only searches through the title and the body of the content being searched, but also searches through variations of the search phrase that has been entered. This means the search capability is wider now.
Safari 12 Extension Support
Whatfix now supports the Safari 12 browser.
Please contact your CSM to generate an extension that is safari 12 compatible.
---
Upcoming Enhancements
Content Search within the Dashboard will offer Quick Access of all your Whatfix content.

'List View' in the dashboard will offer a more compact view of Whatfix content.

Share Whatfix content via email, chat, or any other medium to anybody in your company without leaving the Whatfix Dashboard.

Manage your Whatfix content more efficiently. Soon, you can better plan your content release across different environments and reuse previous versions of the created content.

Cross-App Self Help Search will help you find information not just from your knowledge base but also from other enterprise applications that you have.

Multiformat videos will soon support voice-over in any language, reducing the manual effort needed in creating content. It will also enable users to learn in their preferred learning style.

WCAG 2.0 for all end user facing widgets
---
Contact your CSM to know more, email us at [email protected]
If you are a Whatfix customer, please access the release notes here.