As the cases of the coronavirus are multiplying across the world, almost every enterprise is enabling a remote work environment for employees since offices are closing to prevent the spread of the virus.
The outbreak of COVID-19 has triggered a practice of Telecommuting across the world, creating a new line of telecommuters, many of whom have never worked from home before.  The good news is that you are more likely to get a lot done with Telecommuting since a Harvard University study found that people who are given the freedom to "work from anywhere" were around 4.4% more productive. 
Coronavirus could be the catalyst that gets employers to adopt Telecommuting on a more permanent basis in the future. The rise of Telecommuting during the coronavirus outbreak is a reminder that the technology can help enterprises manage business risks even during bad times such as this. Telework or a remote work environment can enable firms to reduce the risk of losing productivity, and keep the employees connected to the office and their teams while working remotely. 
Before we go ahead with the details of this worldwide business change, let's look at the basic definition of telecommuting. 
What is Telecommuting?
Telecommuting is a working arrangement between an enterprise and employees where the employee work from home, works remotely, or remote work in any location outside the office. The employees, in this case, work via telecommunication channels like phones, instant messaging applications, emails, video conferencing, etc.
According to a report from FlexJobs and Global Workplace Analytics, the percentage of people Telecommuting grew by 159%, from 2005 to 2017. Also, Gallup has found that flexible scheduling and work-from-home opportunities play an important role in an employee's decision to join an organization. 
As Telecommuting keeps growing, employers rely more on technology to bridge the communication gap between managers and employees in a remote work environment and increase employee productivity. To make Telecommuting successful, you need to empower your employees with the right digital tools, and more importantly, provide them with a Digital Adoption Platform to maximize the adoption of these tools and ensure that productivity is maintained even while working remotely. 
How Could Telecommuting Increase Employee Productivity?
Telecommuting enables flexible work from home which increases employee output since there is less travel to and back from the office, less fatigue from not having to be stuck in traffic, fewer accidents, fewer distractions, interruptions, decreased stress, and fewer workplace politics to stress about.
A Stanford GSB experiment on China's travel agency Ctrip showed that there was a 13% improvement in performance from people working remotely. Also, the rate of employee resignations dropped by 50% and the company reported that it made about $2,000 more profit per person at home. 
Additionally, a 2019 survey by Airtasker found that on average, employees working remotely worked 1.4 more days every month, or 16.8 more days every year, than those who worked in a regular office. The survey found that Telecommuting not only benefits employees by eliminating their daily commutes but also increases productivity and leads to a healthier lifestyle.
This coronavirus crisis can be seen as an opportunity to think about how the future of work needs to evolve in your organization. 
Pros and Cons of Telecommuting
Pros of Telecommuting
Telecommuting gives the workforce freedom to work from home according to their productive work hours.

Telecommuting gives employees more flexibility to balance work life and personal life.

Census Bureau

data from the American Community Survey shows that Americans spend an average of 27.1 minutes commuting every day, for a total of over 200 hours, that is, almost 9 days each year is spent commuting

According to a survey

, remote employees are much healthier. On average, they clocked in 2 hours and 44 minutes of physical exercise each week that is 25 minutes more each week than office employees. 

Telecommuting allows employees to escape the office stress and focus on the work at hand, increasing productivity. According to a FlexJobs

survey

, out of 5,500 professionals, 66% agreed that their productivity improves when they are NOT in office;
Cons of Telecommuting
Some people face a hard time focusing while telecommuting. They have to keep themselves extremely self-motivated and push continuously.

Telecommuting can sometimes lead to isolation due to a lack of social interaction. According to a report by

Buffer's 2018 State of Remote Work

, the biggest struggle that remote workers face was loneliness.

Brainstorming during a conference call and holding team meetings on video calls need some getting used to, especially for senior members who are not much familiar with the latest technology. According to the Buffer report mentioned above, collaboration and communication was the second-most commonly reported issue amongst the remote employees while telecommuting.

There is a lot of software and tools to work with while you are telecommuting which can be overwhelming. Telecommuters require a more robust support and training system(like a DAP) to maintain their productivity. 
Prepare for Telecommuting: To-Do List for Organizations
Employee Training 
In order to adopt Telecommuting, the managers need to know how to communicate and collaborate with virtual employees and vice versa. This requires an understanding of the right technologies that can facilitate the desired interaction. Also, employees need to be well educated and trained on how to use these collaboration tools and other enterprise software to get full value from an employer's investment in them. 
Having your telecommuting workforce use these software proficiently is critical to every organization's functioning. Unfortunately, some of these are too complex and outfitted with too many features which is not something that everybody can learn easily and immediately.
And providing one-time training is not a solution for the long run since it is not easy to grasp so much information at one time without applying it practically. This poses a challenge to the employee's productivity since they do not have any other team members physically present with them to help with any issues they face.
This challenge is now being addressed by a new category of technology known as Digital Adoption Solutions (DAS) (like Whatfix). These solutions focus on providing interactive, in-app guidance for enterprise software.
They have proven to reduce the time required to onboard and train employees by providing personalized flow-based learning in real-time, simplifying the user experience, and facilitating seamless software learning. Telecommuters can be benefited from these solutions as it allows them to learn at their own speed and in their flow of work, without any external help from colleagues.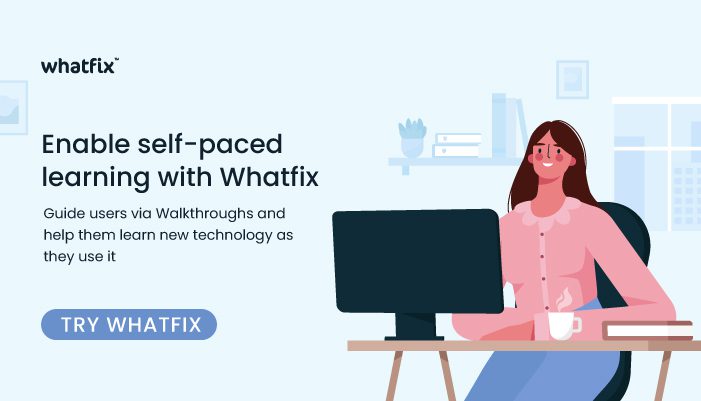 IT Security & Privacy
Maintaining cybersecurity is a challenge for companies that are shifting to telecommuting because of the pandemic. When employees work remotely, leadership teams are wary of the use of shadow IT. This happens when remote workers use applications that are not sanctioned by the IT department, creating significant inefficiencies and posing security risks to the companies. 
In order to prevent this, employers should consider conducting a thorough audit of all the tools used by employees who work from home. HR leaders can work with the IT dept to select a secure and reliable platform, considering the employee feedback on all the apps they find easy to access.
If you are using DAPs, HR and IT teams need to make sure that enterprise applications and DAPs are compatible with multiple browsers like Chrome, Firefox, Safari, etc. Extensive remote testing needs to be done to ensure that neither these applications nor the DAP is gathering any personally identifiable information ("PII") data. Whatfix DAP does not gather any PII and is secure as it provides each enterprise client with a dedicated browser extension.
Also, integrating all sanctioned collaboration tools into a single centralized location can be another step towards mitigating the existence of shadow IT. This way, leadership teams can be sure that employees use the most up-to-date and secure software solutions.
Communication and Collaboration
Figure out the best ways for employees to contact you at any point in need while they are telecommuting. Set regular check-in calls with them to keep a check on any issues they are facing and to avoid disruption in the productivity of your employees. You need to make yourself as approachable as possible to your remote workforce so that they do not feel stressed or isolated. 
Also, good communication and collaboration tools can add tremendous value to successful telecommuting by bridging the communication gaps between the team members. Some examples of the same are Slack, Zoom, Groove, ProofHub, Microsoft Teams.
Constant Support and Services 
Make sure that your employees do not face any technical issues with any application while telecommuting. Providing constant support is very essential to keep your workforce engaged and productive at all times. As discussed above, Digital Adoption Platforms can help with the same by enabling in-app guidance in real-time without having to raise any support tickets and wait for long periods for the resolution of queries. 
Telecommuting has a lot of benefits for both employers and employees. While the employees who telework can save expensive commuting costs, be more productive in less time, and spend more time with their family, the employers can save infrastructure costs and enjoy employee satisfaction in their organization.
With telecommuting here to stay for at least a few months, it is crucial to ensure uninterrupted consumption of enterprise applications to truly derive the benefit of this practice. 
If your telecommuters are feeling overwhelmed with the digital world, request a demo of Whatfix now and learn about our in-app guidance and constant support that can boost digital adoption in your organization.