Salesforce adoption is not another empty metric for organizations – and it's definitely not as easy as it sounds.
Salesforce user adoption is the simple act of enabling a user to use SFDC's full CRM capabilities by creating strategies around onboarding, training, and continued development.
The process of creating a Salesforce adoption strategy is nerve-wracking, time-consuming, complex process that in adverse cases, leads to the biggest scare for any manager/admin – low ROI. 
However, by virtue of its native integrations with many other applications, Salesforce is already in a prime position amongst enterprise CRMs – meaning many adoption strategies exist to reach your help your organization find ROI.
According to a report by Salesforce, "Implementation of Salesforce will increase sales win rate by 26% and sales revenues by 28%."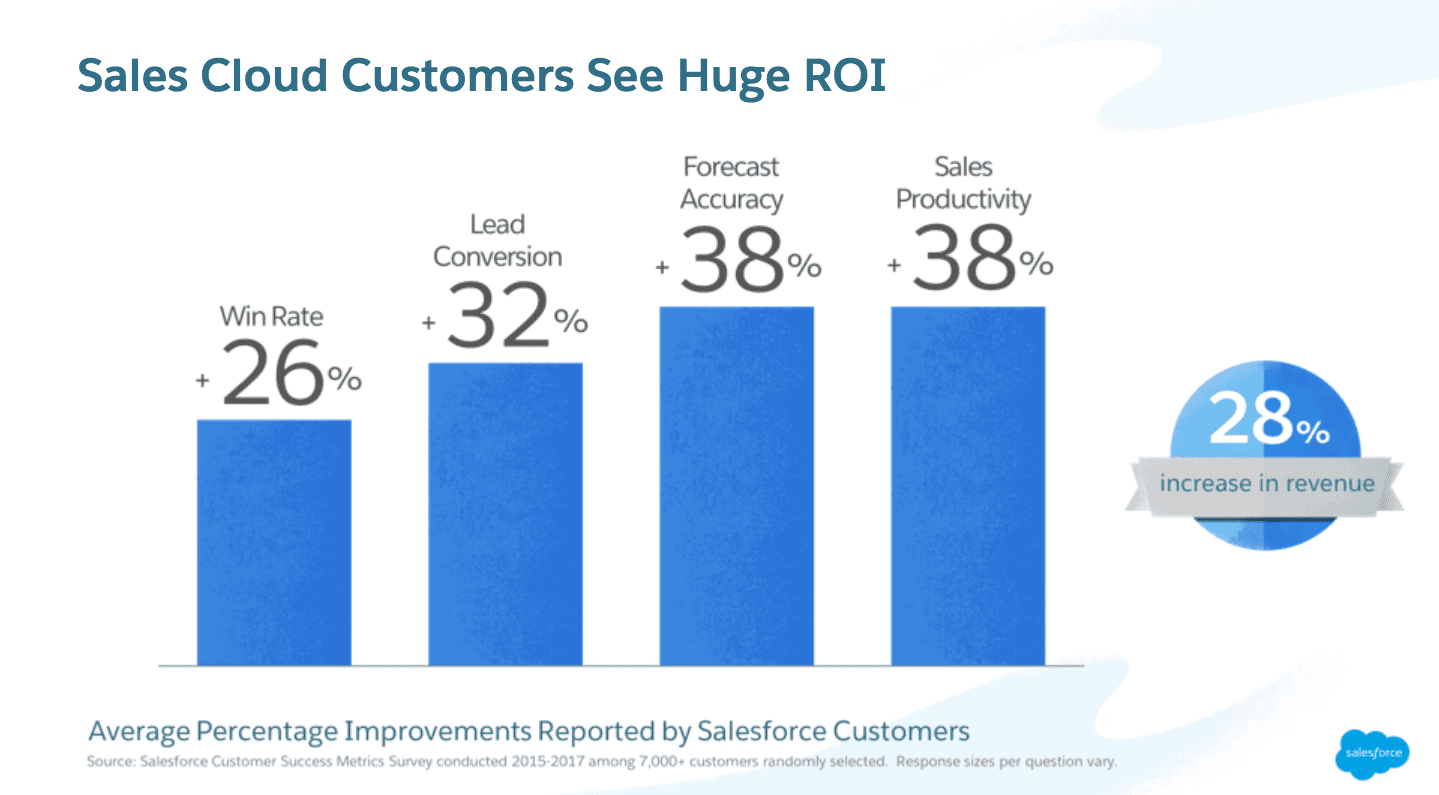 What are the best Salesforce adoption strategies in 2021?
Show leadership buy-in
Understand and learn from your end-users
Create a long-term Salesforce adoption strategy
Establish training priorities
Pre-plan your Salesforce adoption training
Answer WIIFM and WDIMTM questions
Start with a Salesforce pilot run
Encourage interaction with the Trailblazer Community
Continue to drive Salesforce onboarding
Provide on-demand in-app Salesforce training
Create disadvantages to not using Salesforce
Identify automation opportunities
Recognize, reward, and repeat
Measure Salesforce usage
Track data quality and accuracy
Gather end-user feedback
Track business performance
Of course, this impressive return on investment is greatly affected by your user adoption success or failure. To find the benefits of Salesforce, employees need to use its CRM to its full potential. Salesforce is a powerful CRM with a wide array of capabilities.
However, only around 50% of CRM features of tools such as Salesforce are used by employees of the companies that pay for it.
Only
50% of CRM
features are used by employees of organizations paying for the CRM platform.
How Salesforce Adoption Influences Your ROI
The best part of creating a Salesforce adoption strategy is that no matter where you are in your Salesforce journey, you can get started right away. Be it that you're considering buying Salesforce, working on implementing it, or even have been using it for years; the adoption process would be fairly similar.
When implemented properly, CRMs can provide a return of up to $8.71 for every dollar you put into it. But if you want to maximize your ROI, you'll need to create and follow through with a solid Salesforce adoption strategy.
Build an effective Salesforce adoption strategy with our free guide!
Download our holistic guide to improving Salesforce adoption at your organization for insights on building a comprehensive and effective adoption strategy.

17 Best Salesforce Adoption Strategies in 2021
How do you encourage your workforce to use Salesforce to its full potential? We've broken the process down into three phases and included 17 Salesforce adoption strategies.
PHASE ONE: Planning & Strategizing
This phase is before the rollout of Salesforce. It will explain the different must-have strategies to iron out the wrinkles in your  strategy right from the start.
1. Show leadership buy-in
If your leadership doesn't understand and support the change, you can't expect employees to either. Getting support from influential senior-level team members is one of the most effective Salesforce adoption strategies you can employ.
When your leadership is enthusiastic about Salesforce, they can lead by example. As they demonstrate a personal interest in using all of Salesforce's features, they will motivate their team members to do the same.
Leaders can show buy-in by starting conversations in Chatter, sharing reports and insights made possible by analytics, regularly reviewing Salesforce adoption metrics with their team, and celebrating active users.
2. Understand and learn from your end-users
The first step of crafting your Salesforce adoption strategy is to understand your end-users. You are empowering them to do their jobs in a better way with Salesforce, for that you need to first learn what they need on the CRM to do their jobs effectively.
Before you begin the migration, talk to your team about what challenges Salesforce will address. It's important for employees to see Salesforce as a solution to common problems as opposed to just another tool they will be forced to use. If you know that your sales team gets bogged down with non-sales-related work, show them how Salesforce automation can eliminate a variety of data-entry tasks.
Next, ask your employees which parts of the current system they like and don't like. Gathering this valuable feedback early on helps you develop more personalized Salesforce adoption strategies. Armed with this knowledge, you will be able to highlight Salesforce features that appeal to specific individuals and/or departments. For instance, if your sales team loves using LinkedIn to source new prospects, you could prioritize training that demonstrates the LinkedIn integration that pulls connection contact info directly into Salesforce.
3. Create a long-term Salesforce adoption strategy
Implementing Salesforce is generally a long process. Depending on the size and spread of your organization, it would easily take an average of 6 months to a year to successfully implement the CRM.
Don't make the mistake of abandoning your users shortly after the migration. Salesforce adoption requires ongoing efforts. Plus, not all training will be an immediate success. You may need to take a step back to review what works and what could be improved upon before adjusting your game plan.
Try using change management plan templates to track and analyze efforts that promote Salesforce adoption. With templates, you can map out different training methods, brainstorm tools that could ease the transition process, and set useful milestones, so you can keep an eye on the overall progress of the migration.
4. Establish training priorities
Your employees cannot master every Salesforce feature right away. Avoid overwhelming them with all-inclusive training by breaking training into easier-to-digest segments. Start by arming all Salesforce users with basic knowledge, such as how to manage their individual accounts and navigate the Salesforce menu. Then, you can prioritize training based on what each team needs to perform their daily duties.
For example, your sales team will need to learn how to add and edit leads before they can begin building detailed reports. Likewise, your marketing team must understand how to create audiences before they can launch any email marketing campaigns.
Map out each planned training segment before you begin the implementation process.
However, don't be afraid to add in additional or follow-up training throughout the transformation. No training should be considered complete until your team fully comprehends the subject matter.
Getting up to speed in Salesforce takes time. On-demand in-app guidance is a great way to supplement training as it allows users to learn in the flow of work at their own pace.
Below: See an example of how to use Whatfix's interactive in-app guidance to improve user adoption of Salesforce.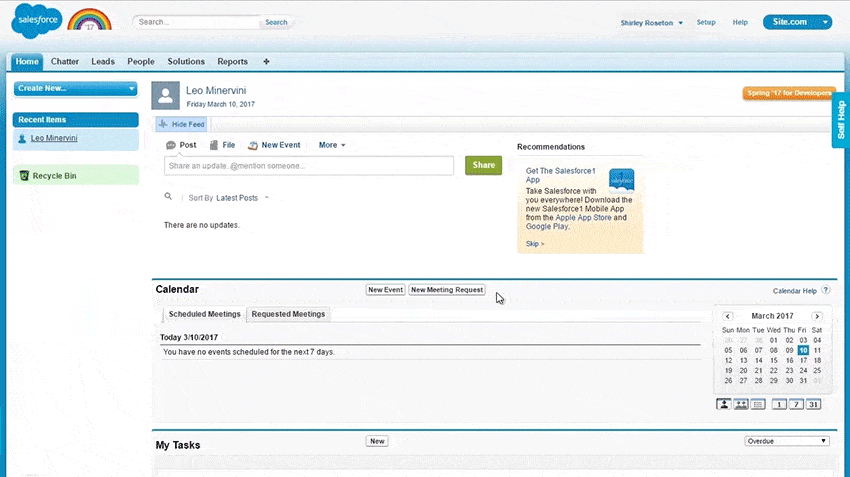 5. Pre-plan your Salesforce adoption training
Once you have established initial training priorities, it's important to plan out additional training needs. Consider using our change management tools and training templates to map out the process.
When designing your Salesforce adoption strategy, think about the following questions:
What kind of training should you give to your workforce?
Training methods might include mediums such as video, written instructions, one-on-ones, group trainings, walkthrough demos, etc.
What tools do you use to provide the training?
Tools could include a digital adoption platform, employee training software, or a centralized knowledge wiki.
How long should the training be?
Avoid dumping too much information on your team at once. Keep meetings to 30 minutes, break written instructions into smaller chapters, and limit videos to two minutes or less.
What modules of Salesforce should it cover?
Refer to your training priorities and build upon previous training. For example, once users know the basics of Salesforce Chatter, you can show them how to create an issue directly from a Chatter conversation.
How to ensure maximum knowledge retention with your Salesforce training?
Make feedback and analysis an integral part of every training. Talk with your team, not at them, so that everyone feels comfortable asking questions and voicing concerns.
Moving on, let go to the next phase. Where I'll explain the best adoption strategies and practices to follow for a newly rolled out Salesforce.
6. Answer WIIFM and WDIMTM Questions
Although you could be knee-deep in Salesforce implementation, there could still be people in your organization with the question, "What's in it for me?" (WIIFM).
People need to be personally motivated to change, so present benefits that apply to their specific role (WIIFM). Your sales team will likely be more excited to make the switch after they hear that Salesforce leads to an average 26% increase in sales win rates. Your customer service team, on the other hand, maybe more interested in using AI-powered chatbots to provide instant customer support for common inquiries.
Of course, employees also need to understand their role in the Salesforce adoption process (WDIMTM). In this case, the WDIMTM for the sales team could be that they need to migrate all current contacts into Salesforce over the course of two weeks. For the customer service team, the WDIMTM would be the requirement to transfer active CS tickets to Salesforce within that same time period.
After the initial implementation, the next phase is overcoming the dreaded Salesforce implementation dip.
PHASE TWO: Tackling the Salesforce Implementation Dip
Once the initial enthusiasm wanes, your users are at a high risk of backsliding and reverting to old systems. These Salesforce adoption strategies will help you prevent this common issue.
7. Start with a Salesforce pilot run
Instead of rolling out the Salesforce migration to hundreds of employees at once, start with a pilot run. Pick a group of end-users for the exercise, provide them with the adoption and training materials that you have planned out, and let them use the CRM before anyone else in your organization.
Design a feedback-gathering system that helps you identify pain points and take note of which training strategies are best received. Working with a small group will help you identify the kinks in your Salesforce configuration, gaps in your adoption and training process, and give you an idea of what you can expect with the software implementation rollout.
8. Encourage interaction with the Trailblazer Community
For more than a decade, the Salesforce Trailblazer Community has provided a place for Salesforce users to discuss features, ask questions, and share tips. In 2018, we spoke with the woman who spearheaded the Trailblazer Community project, Erica Kuhl, about the value of this collaborative tool.
This self-help platform reduces frustration and confusion by giving employees a go-to resource backed by millions of experienced Salesforce users. By encouraging your team to engage in conversations and share ideas with the Trailblazer Community, you can avoid wasting time on repetitive training while also harnessing the power of Salesforce advocates within the community.
The platform gives users immediate access to networking opportunities, informative white papers, and helpful webinars. As your employees interact with peers and Salesforce experts, they will gain confidence in the value of Salesforce that will motivate them to make use of all of the available features.
9. Continue to drive Salesforce onboarding
When a new employee onboarding is done correctly, it leads to higher job satisfaction, organizational commitment, decreased turnover, better performance levels, career complementing, and lowered stress. This also applies in the case of introducing a new software in their lives, on which they are expected to work on a daily basis.
Employees need to feel confident in the tools they use; otherwise, they'll seek out alternative ways to perform their job duties. Because Salesforce is always updating and releasing new features, you must stick with your users long past the initial migration period. In order to avoid implementation dips, make your Salesforce onboarding an ongoing process.
Onboarding might include numerous techniques and, more importantly, some amount of trial and error. Take a look at our Salesforce Onboarding Best Practices to design a plan that suits your organization. Be sure to incorporate tools like learning management systems (LMSs), digital adoption platforms, or gamified LMSs like Trailhead.
10. Provide on-demand In-app Salesforce training
When it comes to training, most people think about closed classrooms, whiteboards, and an instructor who goes on talking. Well, when you have money, time, and productivity at stake, such traditional methodologies may not be the best bet.
You need to train your sales and marketing people on Salesforce. And that has to be quick, effective, and moreover scalable. Digital Adoption Platforms is something that can help you in such a case.
Digital adoption platforms like Whatfix provides your end-users with on-demand, real-time, contextual help within Salesforce itself. Done using their core technology called Interactive walkthroughs and its supporting widgets, Whatfix helps end-users onboard, train, and learn the functionalities of platforms like Salesforce with ease and efficiency.
Here's an example of how it works on Salesforce: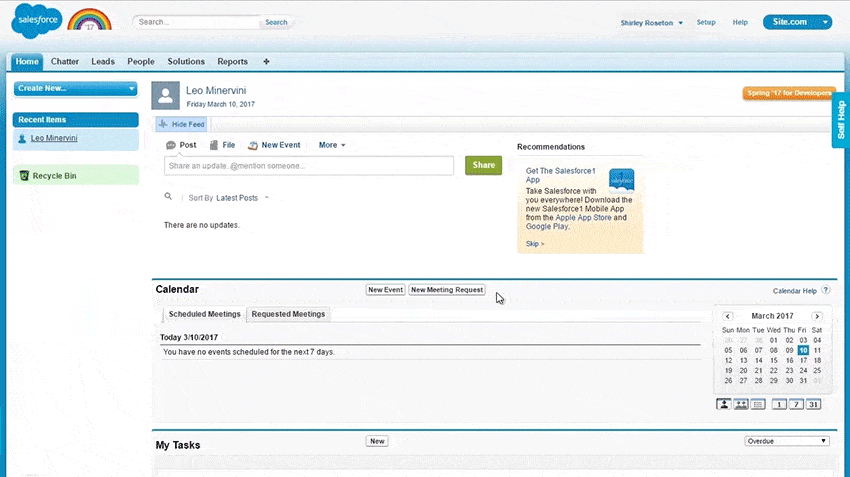 Digital Adoption Platforms like Whatfix has few other benefits that make it stand out of the other training methods. That is the ease of creation, documentation, and distribution.
Using Whatfix's omnichannel integrations, you can create walkthroughs with ease, document it in different media formats like video, PDF, links, slideshows instantly, and distribute it to various channels like helpdesks, blogs, etc.
Interested in trying out Whatfix for Salesforce? Get a free trial here!
11. Create disadvantages to not using Salesforce
While you do not want to punish your team for resisting the move to Salesforce, highlighting the disadvantages of not using it can be an incredibly effective motivation technique. Use Salesforce for essential tasks so that employees who do not use the system risk missing out on important information.
Here are a few ways to strongly encourage the use of Salesforce:
Manage all performance reviews through Salesforce dashboards.
Only communicate with the team through Salesforce Chatter.
Schedule all meetings in the Salesforce calendar.
Use third-party integrations that tie users back to Salesforce (e.g., DocuSign or HelloSign for all e-signatures or QuickBooks to run financial reports within Salesforce).
12. Identify automation opportunities
Nothing kills enthusiasm quite like repetitive, low-value tasks. Keep your team engaged with Salesforce by showing them how automation take care of non-selling tasks and give them more time to focus on connecting with prospects.
Start by identifying automation opportunities. Intercom explains how to do this by using a time and motion study. The idea is to find tasks that are low value but also high-touch so that automation has the optimal impact.
Highly effective automation solutions include:
AI-powered chatbots – Employing chatbots to automatically qualify leads frees up sales agents' time while still ensuring high-quality leads.
Sync Salesforce cases and Jira issue tracking – Make it easier for the sales and support teams to communicate about bugs and avoid duplicate data entry with the help of the Jira integration.
Automate file storage – Internally, you may only use Salesforce, but many companies need to use external storage such as Box or Dropbox. Create an automation that automatically copies documents in Salesforce to the external storage site as well.
13. Recognize, reward, and repeat
All throughout the Salesforce adoption process, it's important to recognize and reward efforts to fully embrace the CRM.
Recognition can be in the form of incentives, prizes, or even a shout-out in the common forum. The idea is to show your employees that you notice and appreciate the work they are putting in to learn Salesforce.
Use Salesforce dashboards to track how frequently users log in, conversations initiated in Chatter, opportunities created, etc. The dashboard can serve as a virtual scoreboard that showcases the Salesforce rockstars in your organization.
PHASE THREE: Measuring the effectiveness of your Salesforce adoption
One of the best things about Salesforce is that you can set up your metrics for adoption within the CRM itself using custom-made dashboards. The customized dashboards can be built out based on the pattern of your adoption and will help you understand the problem areas where your users are not as effective.
14. Measure your Salesforce usage
This is simply the basic factor of how well your users are adopting Salesforce. To measure this you can use some of the custom-made dashboards available in Salesforce or else be very specific.
A few of the important adoption and usage metrics to monitor include:
User login rates
Record creation/updation rates
Contact creation/updation
Opportunity creation/updation
Activity completion
Open/Closed tasks
Chatter usage
These can be measured on a weekly/monthly basis to learn where your users need assistance. This will also help you determine what kind of training can be given to the user to iron out the common problems.
15. Keep track of your Salesforce CRM data quality and accuracy
Accurate, consistent, and complete data is what makes Salesforce your organization's powerhouse. The accuracy (or inaccuracy) of data entered into Salesforce is a useful indicator of how well your users understand Salesforce's capabilities.
Inconsistencies in the quality of data are a clear sign that users either do not comprehend the functionality or are not convinced of its usefulness. Use data quality reports and follow-up conversations with your team to determine if additional training or support is needed.
16. Gather end-user feedback
The best and the most common way to know whether your end users are satisfied with the Salesforce implementation is to ask them. This could be done via surveys, Salesforce Chatter groups, or even through specific polls.
Remember, Salesforce adoption is a long process, so it's important to check in with your employees at regular intervals. Task key leaders with gathering feedback, both anonymously and in group settings. While some users may feel completely comfortable discussing their frustrations publicly, others may prefer to submit suggestions through an anonymous survey. Provide avenues for both preferences.
Collect end-user feedback and engage in discussions with your team to figure out how to solve problems. Involving your end-users will make them feel heard and give you the opportunity to prove that you have their best interests at heart.
17. Track business performance
Just because employees are logging in, doesn't mean they are using Salesforce effectively. To achieve maximum ROI, you must go beyond counting actions and track the results of those actions.
Instead of simply counting the number of calls made, take it a few steps further and look into the time spent on calls, the types of calls made, and which calls led to a closed deal. When you drill down into the details of every user and action, you can identify patterns and determine which behaviors lead to successes and which result in missed opportunities.
Conclusion: Make Whatfix a Part of Your Salesforce Adoption Strategy
Achieving optimal Salesforce adoption rates is a lengthy process, but it doesn't have to be incredibly labor-intensive. Supplement your Salesforce training initiatives with Whatfix's digital adoption solutions. The self-guided learning options, in-app guidance, and customized walkthroughs will ensure that your users have constant access to useful training materials.
Increase end-user Salesforce adoption with Whatfix
With Whatfix's Digital Adoption Platform, create in-app learning flows, contextual training and onboarding, and self-help knowledge bases. See it in action below.