What is change management, exactly? While there is no set definition, organizational change management refers to how companies plan, implement, and solidify changes. By acknowledging that transformations are challenging and require ongoing supervision, organizations pave the way towards effectual change.
Though every change is unique, all alterations to a company's status quo will involve communication, planning, training, and inevitable resistance. Change management resources make things such as implementing new software, re-designing business processes, rearranging departments, and on-boarding new employees easier through structured guidance.
Primarily, these resources force you to see the alteration from various angles, consider everything that will be affected by it, and truly understand its purpose.
In this guide, we'll cover a variety of change management theories, best practices, and tools.
1. What is Change Management?
Organizational change management refers to how company transformations such as altering the organizational hierarchy, introducing new processes, and integrating a new software, are conducted. It is the process of adapting to, controlling, and implementing change.
If you plan to centralize your sales department, processes and CRM application, for example, change management should be used to make that transition run smoothly. The process aims to help people adjust and smooth out the path to a successful process and CRM adoption. Managing this transition well ensures that your marketing employees will be prepared to move forward in their new roles.
Change management theorists and institutions continue to research in order to better answer questions like "what is change management?" and "how can I successfully implement change?" Stay up to date with the latest by following top change management professionals.
2. Change Management Models
Change management models are concepts, theories, and methodologies that act as guides for successful change. They are not checklists, but rather frameworks that help ease transitions, manage reactions, and encourage change adoption.
Think of change models more like a compass and less like a turn-by-turn GPS. Most models do not include a sequential list of steps. Instead, they provide a framework to refer to throughout the transition. Rely on the model to point you towards your "True North," which is where the alteration has become the new norm.
Choose a model based on the type of modification your organization is making. People-centric changes, such as revisions to the company vacation policy, benefit from emotions-based models like the Kübler-Ross Change Curve or the Bridges' Transition model. Both models acknowledge emotional reactions while also providing guidance for working past them.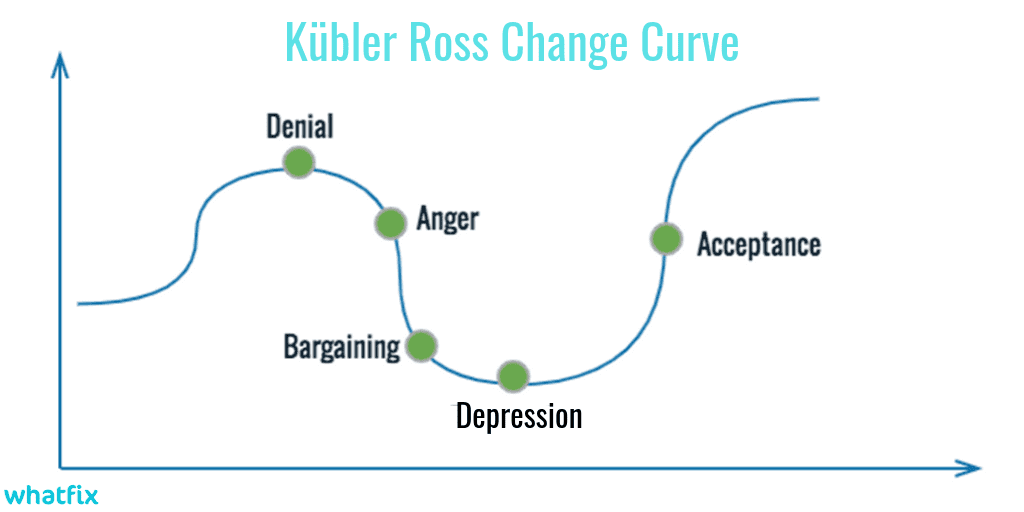 The ADKAR model, on the other hand, is an outcome-oriented model that is designed to limit resistance. By anticipating common barriers, this method helps identify pain points early on and prevent frustrating delays, even if it means slowing down the transition.
For more time-sensitive modifications, the enhanced Kotter's 8-step model is a great option. Kotter's enhanced model focuses on creating a sense of urgency and accelerating transformations by working through all eight steps simultaneously.
When the time comes to choose a model (or models) that will best suit your particular transformation, start with these 10 Proven Change Management Models.
3. Change Management Communication
Talking about change can be difficult, but communication has a huge impact on the success (or failure) of a change. Approach adjustments as a conversation instead of as an announcement. After all, the people affected by the change are the ones who will be responsible for solidifying it as the new norm, so their support is crucial.
MIT Sloan School of Management senior lecturer Peter Senge once said, "People don't resist change. They resist being changed." When reworking how your company operates, talk with your team, not at them. People need to see the change as a positive evolution versus negative behavior modification.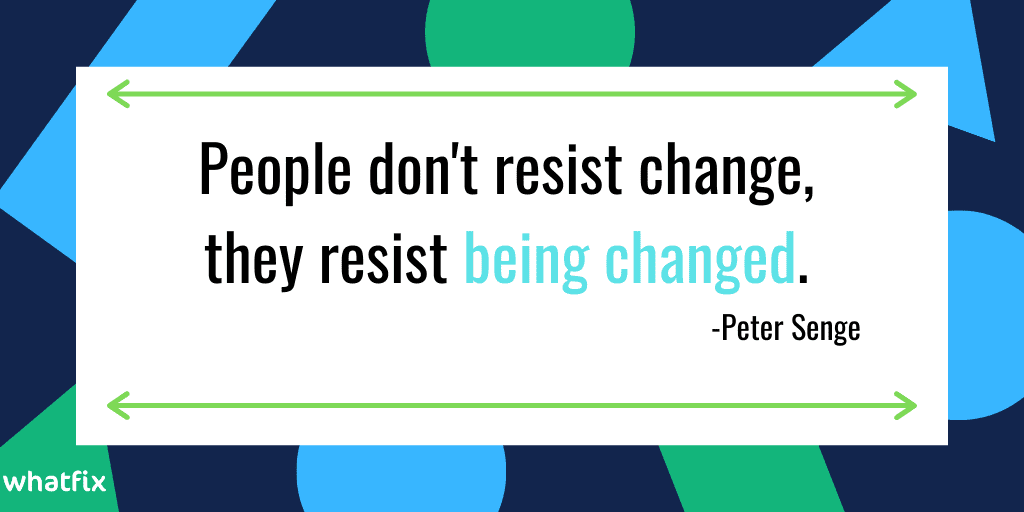 Even if the goal is to rectify a problem, present the shift as a benefit, not as a punishment. For instance, if your organization is altering your personal days policy because last-minute time off is causing productivity issues, communicate that adjustment positively, not negatively:
Negative: Employees aren't giving enough notice for personal days, so we will now require a minimum of one week's notice for non-emergency personal days.
Positive: In order to better prepare team members for absences, we will now require a minimum of one week's notice for non-emergency personal days. Before taking the time off, employees must prepare their team to meet any deadlines that occur while they're away. By requiring additional notice, we can limit stress for in-office team members.
When you provide specific details and explain the need for the change, your employees will be less likely to resist. Your employees will also appreciate being given some in-application training in the flow of work on how to request such advance leave. This is something they are not likely to request very frequently, hence will not remember traditional 'one and done' training approach. You can also build confidence by having trustworthy leaders communicate with smaller teams. If employees hear about the policy change from their direct supervisor, for example, they won't feel as if a faceless senior executive is forcing them to change without considering how it will make them feel.
This attitude shift is a useful starting point for change communication, but it needs to be bolstered by a concrete communication plan. We've put together a collection of best-practices to help you codify your communication strategy—be sure to review these 7 Best Practices in Change Management Communication so that you can design an actionable strategy.
4. Types of Organizational Change
In order to implement an effective change management process, you need to understand the type of transformation you wish to make. That is to say, what works for one type of organizational change may not work for another. Learn how to identify different kinds of modifications so that you can design your strategy accordingly.
Here are a few types of organizational change:
Strategic transformational change – These large-scale modifications involve major shifts such as updating the company mission statement or changing the business model.
People-centric change – Revisions that deeply affect people might include reworking roles and responsibilities, adjusting leave policies, or bringing on new hires.
Structural Change – Mergers and acquisitions are the most common reason for this type of alteration as they call for eliminating role redundancies and redefining teams.
Remedial change – These reactionary corrections occur when unexpected issues such as loss of talent or customer complaints need to be addressed immediately.
Each of these types of change carry with them their own unique set of best practices, so in 4 Types of Organizational Change, Explained, we'll dive into each type in depth—providing concrete examples and proven advice on how best to handle a variety of situations.
5. Change Management Certifications
There is a vast array of change management certifications available. Of course, a certification is only as valuable as the level of expertise needed to earn it. If you are looking to consult with a change management professional, it's important to know which certifications are worthwhile.
First, understand the difference between certificates and certification programs. Generally, earning a certificate requires passing an exam only (no training, though training may be recommended). Certifications, on the other hand, require training programs and often ask for proof of experience, in addition to passing an exam.
Certificates and certifications allow experienced professionals to prove their expertise. If you are considering hiring a professional, familiarize yourself with the top certifications within the industry. Once you know more about the qualifications, you can confidently choose a certified professional that can customize a solution for your company.
To help you get to grips with the landscape of certifications available, we compiled a collection of the most valuable training resources going. Take a look at these 7 Change Management Certifications Worth Your Time to decide which certifications align with your needs.
6. Change Management Planning
The change management process is complicated but made possible with a solid change management plan. And although all organizational changes are unique, the beginning stages are similar. Start with templates to gain the birds-eye-view you need to build an efficient plan.
In the beginning stages, templates guide you through justifying changes while forcing you to see the process through the eyes of others. As you move through the transformation, templates allow you to set and monitor deadlines, identify problems before they arise, and keep a track record of successes and failures.
To help you get started, we've pulled together a collection of useful templates, each designed to function as easy-to-follow blueprint for change management. Work through these 6 Essential Change Management Plan Templates so that you can design a plan catered to your specific change.
7. Best Practices in Change Management
Before you announce upcoming modifications, it's important to consider everything from how you will announce it to the type of support you'll provide throughout the transition.
If you can't visualize what success looks like, how can your employees? Be sure to outline the end goal(s) as well as several milestones along the way. Figure out what the light at the end of the tunnel looks like and then design a path to reach it.
Remember, change management models can be valuable assets as you design that path. Practicing continuous communication throughout the change can also keep the transformation on track and moving forward.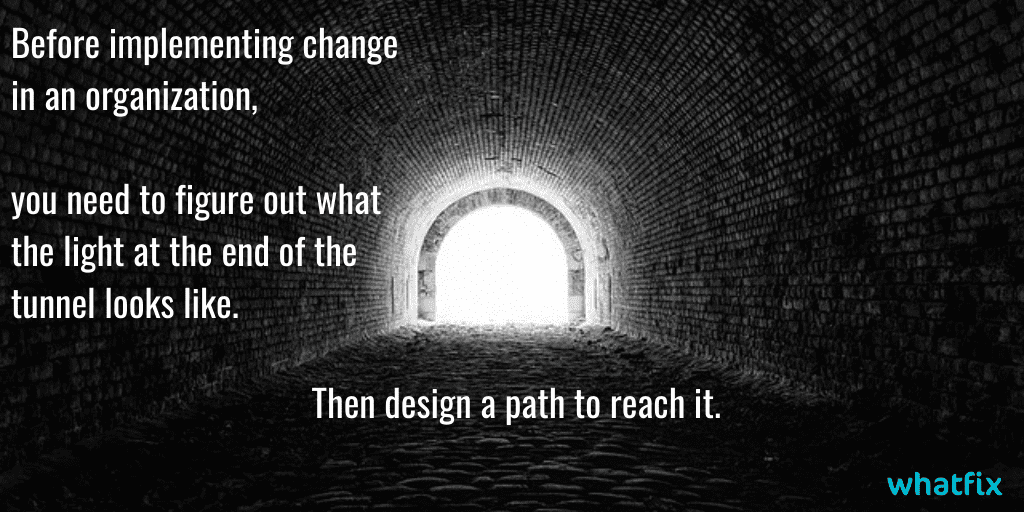 There's no substitute for learning from the mistakes (and successes) of others. To help you filter through the collected experiences of other change managers, take a look at these 5 Change Management Best Practices so you can feel confident in your implementation process.
8. Change Management Tools
Shifts large and small in how companies function call for sharing a lot of information and, often, providing additional training. Whether that information aims to help employees understand a new process or learn how to use different software, change management tools can provide invaluable support.
Internal wikis are a great way to centralize information. Using a variety of tools such as Whatfix, blogs, and video tutorials is a great way to break up the monotony, but internal wikis make it simple for employees to find the information all in one place. Likewise, all internal communication should be easy to access and review. Internal forums and group chat channels keep communication transparent and save you from having to repeat yourself.
Custom training tools like Whatfix Digital Adoption can administer specific guidance to employees while they learn the ins and outs of new software. Recorded walkthroughs, answers to common questions, and other useful resources can be saved within the program, as well as added to a resource wiki.
Ready to build your own change management tool-stack? Take a look at these 15 Change Management Tools to Effectively Manage Organizational Change, which are designed to help companies through different organizational changes.
9. Resistance to Change
Where there is change, there is resistance. However, if you anticipate barriers, you can create a strategy to move past them.
To combat resistance, you must first understand the root cause. Your strategy for handling resistance rooted in emotional reactions will differ from one designed to address fear of the unknown. Work to understand the reasons behind objections so that you can determine the best course of action.
Thankfully, the challenges your organization will experience aren't unique. In Common Causes of Resistance to Change in Organizations we dig into what's truly behind the most common types of resistance and provide guidance on how to work through each one.
Customize your change management process to your organization
Everything from shaking up the company hierarchy to adjusting to a new software requires detailed planning. Use this guide to ensure that you address every aspect of the transformation and work towards a successful change project—whatever the intended outcome. Don't forget to contact us to discuss how we can customize a change management solution for you that boosts productivity, provides detailed training, and speeds up your digital transformation process. Want to see how in-app, contextual, personalized, interactive and real-time guidance can help you sustain change as a service, start your free trial of Whatfix.
Want to save these change management resources, or share them with a colleague? We've compiled each of the articles featured here into a convenient PDF download. Click here to download The Complete Guide to Change Management for Enterprise Organizations.