Research firm IDC forecasts that "By 2018, nearly one-third of the worldwide enterprise application market will be SaaS-based, driving annual revenue to a whopping $50.8 billion, from $22.6 billion in 2013."
That being predicted, you would agree with me if I said that the hyper growth of the enterprise cloud platforms is no joke. In fact, these SaaS enterprise platforms have become an integral part of our day to day work-life. So much that any newer technological upgrade on/for them is expected to improve the way we perform at work.
This article is dedicated to one such technology known as Interactive walkthrough that is speeding its way through the cloud, making a mark on all the SaaS, PaaS platforms as a must -to-have tech. To give this tech the significance it deserves, I'll explain it in detail through a story.
The story is actually, pretty intriguing! (It had plenty of research into it, so I'll vouch for it.)
Through the story, I will tell you how and why SaaS Enterprise giants like Salesforce, ServiceNow, and Oracle adopted Interactive walkthroughs to simplify their platforms. And how this tech has become more of a necessity and a medium to streamline user experience across their customer lifecycle!
If you are an avid user of Salesforce, Oracle or ServiceNow, then feel free to jump the gun to that section. Although, I would personally recommend you to read all three parts to get the maximum takeaway. Here are the quick links to the parts:
Salesforce – Changing Salesforce's Content Strategy With Walkthroughs
Oracle – In-app Guided Learning For Oracle End Users
ServiceNow – Taking Out The Guess Work To Configure ServiceNow With Guided Setup
As a bonus takeaway, I'll also throw in some intriguing ideas on what the future of this tech looks like and how you can create such walkthroughs on any web platform. Since the big guns are knee deep into it, you might as well dive in too!
Now before I begin, let me set up a premise for the story.
Why Walkthroughs Are Becoming A Necessity For Enterprise SaaS
Back in the day, when bloatware lead to the surge in the popularity of SaaS, little did we know that the software-as-a-service model would overshadow all the other models.
All that the bloatware did was to create a necessity that made people adopt the cloud, for storage. The obvious reason being that you wouldn't want to spend a bomb on getting an overpriced hard drive for storage, especially if you could do the same in a virtual storage environment.

The interactive walkthrough is now creating a similar kind of necessity for the enterprise applications. With about two decades of humongous growth in revenue and size, the frontrunners in the game (like the ones I mentioned above, are expeditiously moving towards this approach. The clear-cut reasons being – to simplify their overly sophisticated applications, and to cut costs on their user onboarding, training, and support.
Delving a little deeper into the story, let me show you how this need became a necessity for these applications.
Salesforce:
Changing Salesforce's Content Strategy With Walkthroughs
It was a fine summer day of 2015 when Salesforce dropped its Release Notes which highlighted a new feature to the platform called Walkthroughs. Salesforce explained it as, "a series of interactive steps that guide you through a task or feature." The objective of this feature was to guide and educate Salesforce customers with real-time contextual help within the platform, without the need for them to refer to any external resources.
Why did Salesforce introduce walkthroughs?
Because their customers no longer had the patience to read online help or user guides.
Salesforce came to this conclusion after an extensive research to determine the content types that engaged their customers most.
Here is an intriguing find as per the case study compiled by Gavin Austin, Principal Technical Writer, Salesforce.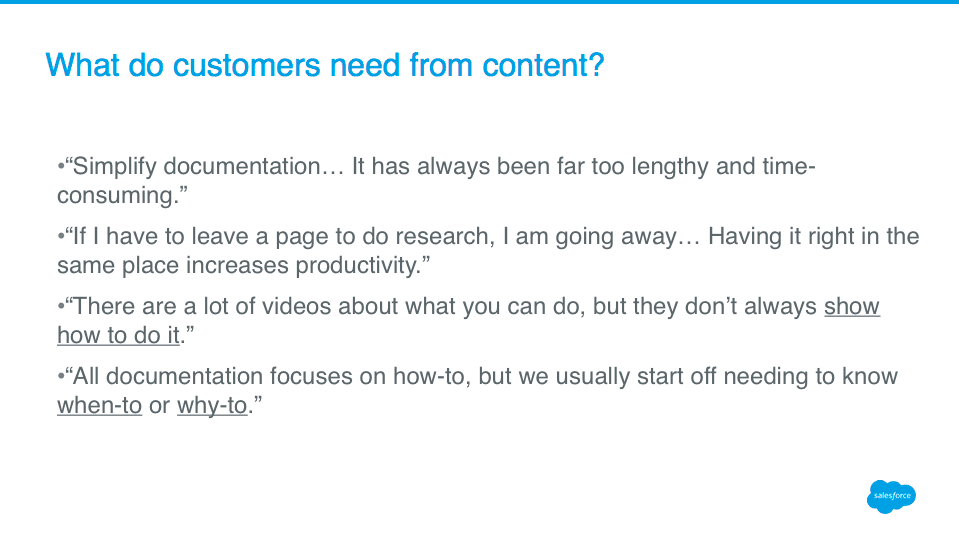 The resulting change in the content strategy lead to the advent of Salesforce Walkthroughs. The nifty interactive content that moved beyond traditional documentation, engaging Salesforce customers in real-time as they used the platform.
Currently, Salesforce walkthroughs are available on the preliminary level in both Classic and Lightning. But it still remains as a basic version to its counterparts.
Yes, the counterparts! That's the fun fact – Salesforce was late to the walkthroughs party!
Even before Salesforce introduced walkthroughs, platforms like Whatfix had begun to help users with their real-time interactive guidance on the platform.
The necessity that the real-time interactive guidance catered to was specific.
Salesforce needed a proactive help solution like walkthroughs. Especially because, with the expanse of features border lining a bloat, Salesforce was becoming difficult to use for many of its customers.
Salesforce onboarding and training sessions conducted for Salesforce were costly and not scalable.
Support queries were escalating as the number of users increased.
The arena was wide open, way before Salesforce introduced walkthroughs. And that is where Whatfix and the likes fit in perfectly.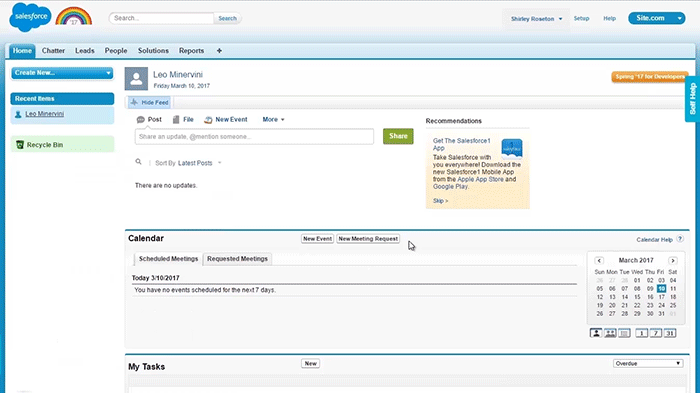 Now, such third party solutions have overshadowed Salesforce's own walkthroughs (early mover advantage) and are now capturing this nascent market of interactive guidance amongst the CRMs.
The interesting bit is that many Enterprises have already begun to use them widely on their personalized Salesforce CRM.
Here's a Case study that shows how BMC Remedyforce uses Whatfix on their customized Salesforce CRM
With the current demand for this technology, it is highly likely that walkthroughs on Salesforce will soon emerge to be sophisticated and more robust. The way it helps companies with Salesforce training and adoption will be another critical factor to this boom.
Oracle:
In-app Guided Learning For Oracle End Users
In 2014, Bersin by Deloitte released an epic infographic that showcased the challenges faced by the learning professionals. It visually depicts two key trends that have significant implications for L&D professionals and incisively presented the way a modern worker learns.
The infographic explains that "1% of a typical work week is all that employees have to focus on learning and development." It also explicitly mentions the deteriorating attention span of the modern workforce, which is indeed a startling fact, especially because software nowadays is sophisticated and require time to master.
As per L&D experts, one way out to manage this scenario is to use blended learning approaches that are engaging, intuitive, configurable, and helps employees train and learn while on the job.
Piggybacking on this brilliant concept, Oracle introduced guided learning back in 2016. The solution ensures that their end users understand how to navigate and use the Oracle apps efficiently. Available currently on their cloud products such as Oracle HCM, Talent Management, ERP, Procurement, Sales, SCM and CPQ; Guided learning is a cost-effective way to manage user productivity and drive adoption of the Oracle apps.
Why did Oracle introduce guided learning?

The crux of guided learning is to help users use the Oracle apps efficiently, making them realize the value of their investment in the Oracle suite of apps.
Guided Learning helps Oracle create and maintain an efficient and scalable platform to train a large number of end users, spread across the globe in their own time, through interactive contextual help. Much like interactive walkthroughs, guided learning is a way that allows users to be trained by doing, rather than learning from monotonous static content.
To check out Oracle University's guided learning, click here.

Although similar to Salesforce's walkthroughs, what makes Oracle guided learning different is its approach towards training the employees. Salesforce may have ushered in with the idea of changing its content strategy. But, Oracle took a different approach to it. Making it an arsenal to train Oracle users and make sure they are comfortable with their apps quickly.

ServiceNow:
Taking Out The Guess Work To Configure ServiceNow With Guided Setup
The latest version of ServiceNow, i.e, Jakarta caused quite the stir when it introduced its custom Guided Tour Designer. Albeit, a necessity for the implementation, onboarding, and training of the ITSM for a long time, it took a while for ServiceNow to get its guided tour right.
The attempt to streamline the configuration started way back with the ITSM guided setup, which gamified the implementation phase of ServiceNow. It helped their customers get their ducks in a row and empowered them to self-serve while using the platform. Following which they expanded it across the HR application domain, providing a nifty gamified experience to onboard the users effectively.
Supplementing it, ServiceNow introduced the Guided Tour Designer, which is more or less like Salesforce walkthroughs and Oracle's guided learning. The designer allows you to build tours on ServiceNow apps, helping user onboard the platform and training them effectively in real-time.
Why did ServiceNow introduce guided tour?
The sole reason is simplifying the complexities of the platform. As it is, ServiceNow is used by thousands of users every day. Finding help in ServiceNow's monotonous, verbose documentation is a menace as it is. was strenuous. Getting started with the platform being equally difficult.
Quite often, users get flustered thinking on how to learn so much and reciprocate the actions every time they use the platform.
The "Take a Tour" option makes leeway to help users with this concern, by empowering them to learn while doing, contextually. The top side of this feature is that the training costs and support requests would take a plunge. And the time to productivity will plummet.
But, the downside is that ServiceNow's adaptation of interactive walkthroughs is still at a basic level. (Much like Salesforce.) The walkthroughs created by the Guided Tour Designer can only work on single page lists and has a scathing bottleneck – i.e., the difficulty to create them for customized ServiceNow implementations. (Which is pretty much most of the enterprise based applications.)
Tackling these challenges, options like Whatfix provides a wide array of features with a much mature interactive guidance solution on ServiceNow.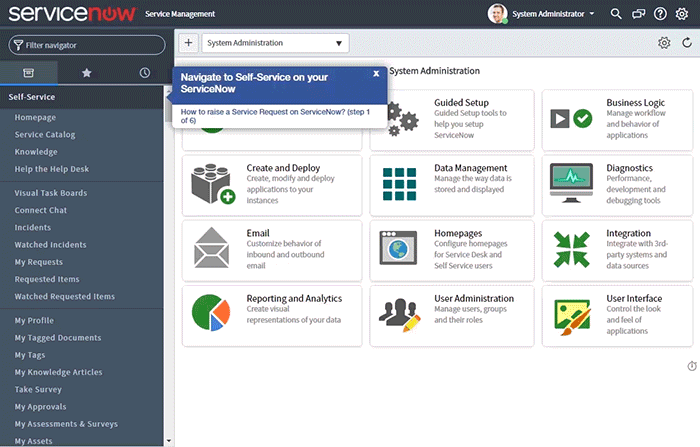 But yes, ServiceNow will definitely keep upgrading this feature of theirs in the upcoming versions. Especially because of its huge potential to streamline ServiceNow training, onboarding and providing its users with a proactive in-app help.
Also Read: The Swiss Army Knife For ServiceNow Training & Support
Now, as promised here are the bonus takeaways! (You might definitely want to read this one!)
Takeaway!
Did you notice that the walkthroughs on the three enterprise solutions featured in the article cater to three distinct problems?
Salesforce took up the idea to reinvent their content strategy, Oracle introduced it to make their training and support more efficient, ServiceNow built them to give product tours to their users helping them navigate on the platform.
That's three use cases, solved by a single solution.
Now, think of walkthroughs as a solution for all onboarding, training, engagement, and support woes across your customer lifecycle!
I'll give you a few instances to solidify my argument.
For Onboarding – Use walkthroughs to introduce the features of the platform (product tour) to your user, helping them perform all the basic tasks effectively.
For Training – Use walkthroughs to make sure that the knowledge is retained even after your employee training sessions. Emphasize on 'learning while doing' to make sure that your employees are training efficiently.
For Support – Use walkthroughs to solve user queries quickly instead of making the users hunt for the answers in your knowledge base.
If you are already impressed with the usefulness of these Interactive guided walkthroughs, then you could either have your tech team build it themselves or use Codeless Interactive guidance solutions like Whatfix. Companies across verticals and geographies like HP, AAA, Booking.com, NASA, etc., use our product to achieve this.
Intrigued? Sign up for a personalized demo right away!