Yes, the digital revolution has already happened and it is affecting everything around you. It is changing the way businesses operate, how consumers make purchasing decision among other things. IoT, AI, VR and many such adaptive technologies have radicalized how consumers interact with brands and have transformed the customer experience. This has heavily impacted business models and strategies.
Modern businesses are facing the need to transform themselves according to consumer demands and to develop a digital transformation strategy to sustain growth. It all starts with identifying customer needs, tracking them throughout their journey by making good use of CRM software and other marketing and customer experience building tools.
The Digital Transformation
In a nutshell, Digital Transformation is the behavioral mutation originated by increased technical globalization and easy access to online content and services. Earlier when there were limited channels to reach customer for businesses, now the customer is at an advantage with millions of channels connecting him/her to the many service providers. These phenomena drastically change market opportunities and even buyers' needs.
The Digitally Conscious Customers
A business serves a specific set of customers that buy their services or products. Nonetheless, all business strategize about how to retain existing customer base while acquiring more. Today, customers are more conscious and have access to mounds of information about products and services being traded around them.
Companies worldwide admit that a big part of their consumers consists of millennials, the most tech savvy, and digitally empowered generation. Uber, Starbucks, Domino's pizza, Coca-cola, Audi and countless other giants are connecting with their users via numerous apps, websites, discussion forums, idea sharing portals and more. The technologies such companies employ are generally designed to deal with every minute of interactions throughout the customer lifecycle.
What is Digital Customer Experience?
Customer experience is nothing but the quality of a customer's interactions with any business. And so, digital customer experience is the impression left by the customer as a result of the digital interactions between him and the company.
Clearly, it is indispensable for businesses to connect with consumers across various touch points from time to time, and guide them throughout their journeys together. Basically, they should increasingly pay attention towards how to deliver a superior experience to their users.
Simple as it sounds, isn't it? Well, it is undeniably easier said than done. Landing upon the right strategy to create a digitally superior brand that delivers an excellent online experience to tech-savvy customers is what all businesses are struggling with today.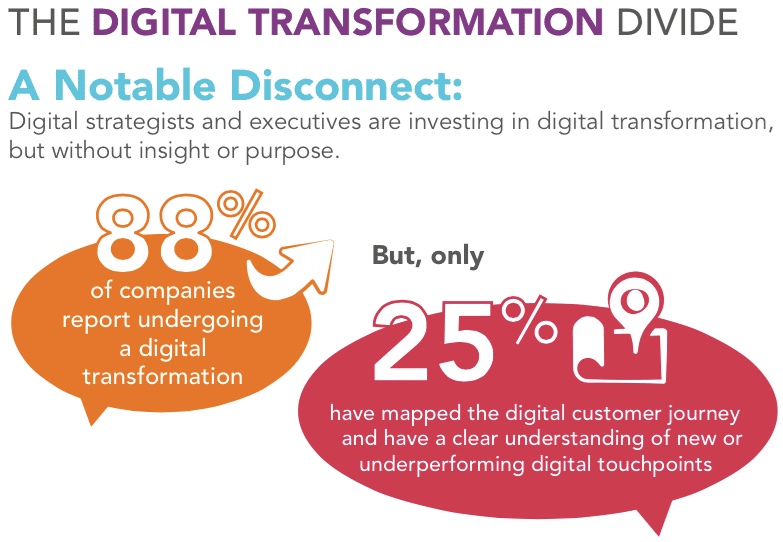 How Digital Transformation Impacts Customer Experience?
To attract the digitally empowered customer now, companies are required to articulate digital business strategies to deliver mind-blowing customer experiences. The transformation provides the customer with multiple options and choices for any product or service they wish to purchase. That is, businesses that provide inferior quality and experience to users are at a definite risk of being replaced by ones who deliver better.
Consequently, in order to survive and grow, businesses need to:
Identify different sets of buyers and their journeys
Educate them
Get back to them and follow up
This process shall enable them to find out the right value they can provide the buyers. For easier operations, these practices flow-through systems there are existing technologies such as CRM software, CMS, sales and marketing automation and analytics tools, and more that businesses can use to enhance the quality of experience they deliver.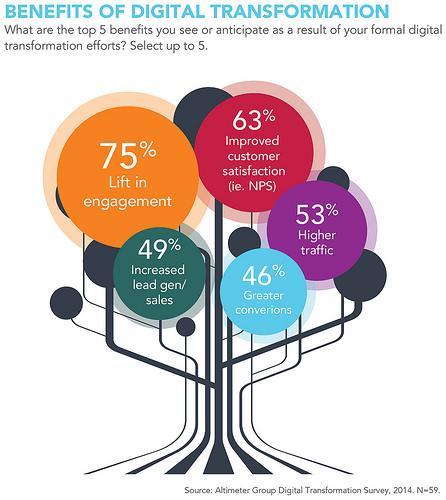 How can you use Digital Transformation to Alleviate your Customer Experience?
Build and use buyer personas to understand what prospective customers are thinking and doing
Focus on personal customer relationships. Run various campaigns to connect with them emotionally and appreciate them. (Don't forget the automated THANK YOU emails and messages)
Offer them online purchase discount vouchers or any other reward that makes them come back to you again
Always be open for customer's feedback, in real time if possible!
Live Chat! Do you have it on your website? That's the quickest way someone who lands on your website can connect with you
Use technology to the fullest. CRM software is something that'll keep you organized throughout a buyer's journey with you
Personalize! Make customers feel that you have built your product especially for them and ask if they require anything more from your product
Be transparent. Never confuse your customers. Take their reviews and dedicate a section on your website to publish them
Offer them free trials and online accessibility, if it's relevant to your business
Social connectivity. You must have a presence at places where your clients spend most of their time. Create profiles on social media platforms and engage with people
Along with the traditional strategies used, include inbound marketing and social selling
Artificial Intelligence is no more a thing of the future. You may think about how you can implement AI with your customer services. Be it a chat-bot, a smart lead scorer or anything else that gives you a competitive advantage. Take full advantage of these happenings to keep up with your users
And there is more to it. Here is what Forbes suggests about attracting customers in the digital age.
CRM Software and Effective Customer Experience: The Correlation
Now that you understand the reason why it has become indispensable for businesses to connect with consumers across various touch points from time to time, you need to know how technology can simplify your task of customer experience management. Here are the basics of delivering a pleasant experience:
Maintaining a timely communication
Providing quick support and troubleshooting
Easily collect customers' queries and complaints and respond to them
Keeping in touch with them via emails, chats, etc.
Reports, analytics and customer insights and more
A CRM software would help you simplify all this with additional features to your advantage.
Bringing it All Together
Businesses nowadays are in crucial need to evaluate their impression by measuring efforts against the responses they receive. Next up, they need to work on refinement and optimization of their business strategy in a way that enables them to deliver a superior experience to the next-generation tech-savvy consumers. Indeed, this exercise demands root level organizational and skill transformation along with a cut above CRM software on the technology part. So, roll up your sleeves and get ready for customer experience innovation!
---
Guest Author: Fretty Francis
Fretty Francis works as a digital marketing executive at SoftwareSuggest, a software recommendation platform. Her interests include online CRM software, helpdesk software, photography, and food. In her spare time, she likes to travel and catch up on her reading.